Stocking stuffers are plentiful for those who love beauty and fashion — and that's a problem! We're faced with so many small gift ideas, from fun nail colors to fake eyelashes, that it's almost overwhelming. Next time you head out to fill those stockings, you can take some blinders with you — because we've made a list of the top five stocking stuffers for fashionistas.
1. Fashion Tape Gun
Fashion Tape Refillable Gun, $7.99, JoAnn Fabrics
Wheather you're fixing a hem or keeping bra straps hidden, fashion tape is a fashionista's best friend. This hypallergenic fashion tape is available at JoAnn fabrics for $7.99. It comes with a refillable pretty-in-pink floral dispenser. Your fashionista can keep this in her purse or in a desk drawer at work, as a preventative step to avoid any and all wardrobe malfunctions.
2. OPI Avojuice Lotion
OPI Avojuice 6-Piece Assorted Body Lotion, $9.49, DiscountBeautyCenter.com
This six-piece lotion set with a Breakfast at Tiffany's theme is a nice buy for $9.49. If you know someone who loves silver cinema and/or loves the smell of fragrant lotions, she'll love this set. Depending on your budget, you an gift the whole set to one person, or split it up and gift one or two lotions at a time.
3. Spiced Apple Shower Gel
Spiced Apple Shower Gel, $5, The Body Shop
Your fashionista will gladly indulge in this sweet-smelling, apple shower gel from The Body Shop. As you'd expect from a Body Shop product, this lather-full gel moisturizes the skin and leaves it soft and sweet. You also have the option to make this a bigger gift, by adding in other products from the spiced apple collection. There is also a body scrub, lotion, fragrance oil and a small kit full of these assorted treats.
4. Compact Mirror
Best Day Ever Compact Mirror, $8, Charming Charlie
What fashionista wouldn't want a compact mirror with a positive message? This adorable accessory has "Best Day Ever" in gold letters on the front and features two mirrors on the inside. Choose this as high-quality, simple gift for a younger fashionista and the perfect addition to a girl's mobile makeup kit. At $8, this a great gift for all ages.
5. Gel Manicure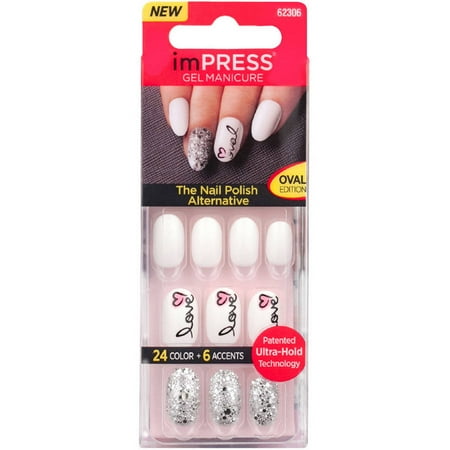 Impress Oval Edition Gel Manicure, $5.97, Walmart
These nails make wonderful, high-quality gifts that will be much appreciated by nail decor lovers. This set comes with two accent designs: silver sparkles and the word 'love' in a fun script. They're festive enough to wear through the holidays and New Year's. For under $6, these nail sets are ideal for stocking stuffers, Secret Santa gifts, or holiday party door prizes.
What are your favorite stocking stuffers? Let us know below!
Martha-Raye is a senior at the University of Delaware, majoring in Environmental Studies. She loves fashion and music, especially eco-fashion. In her spare time, she sews, works out, and snuggles up with Netflix.
Latest posts by MarthaRaye (see all)