Our content contains affiliate links, so know that we might earn a buck or two if you click and buy :) !
Step 3: Start Posting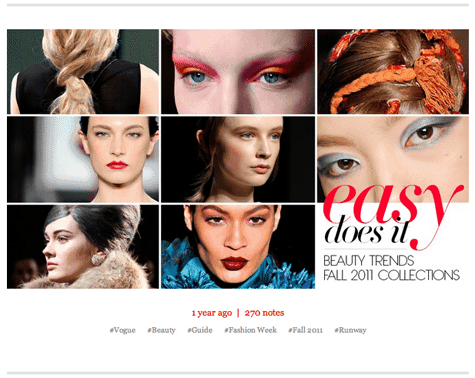 Image via Vogue Tumblr
You can start posting right away with Tumblr. It's so easy. Tumblr walks you right through it, giving you a few sample posts and prompting you with a suggestion to upload your own photo. It's as simple as attaching a document and inserting some text. Like we said, you don't have to be a technical genius to create a beauty blog on Tumblr. If you can write an e-mail and attach a photo, you've got it made.
As far as content for your beauty blog, we suggest uploading gorgeous, high-resolution pictures that appeal to you. Whether it's your favorite celebrity's hairstyle, a product you love, or eyeshadow you're dying to try, blog about it. Remember to credit your sources and seek permission to reproduce photos if you are unsure.