Our content contains affiliate links, so know that we might earn a buck or two if you click and buy :) !
6. Create Your Own Happy Hour –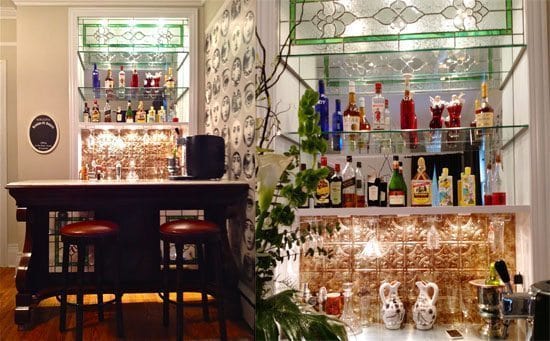 Building a mini-bar in the living or dining area immediately inspires entertaining, while answering to that cool autumn air that has us wanting a nightcap somewhere cozy. Just a couple of shelves with glasses, wines and liquors or a one-stop-shop bar stand can easily transform a corner. If you're tight on space, try a vintage drink cart on wheels with an antique mirror table-top for a taste of old Hollywood glam.
7. Clean up your clutter–Spring may be the instinctual time for cleaning, but you can easily give your home a fresh feeling for fall by getting organized. Try stores like Marshalls and HomeGoods to stock up on cute box organizers that will eat up your extra papers, magazines and items that have no place on your tables and desk.
8. Lights, camera, action–The type of lighting in your home sets a mood faster than any song, perfume or throw pillow can. We all know we look great in golden lighting, so make sure you've got a lamp or two that emits a glow worthy of your own closeup. Sometimes this change is a whole new lamp and other times it's as simple as a new light bulb. If it's the latter, try Edwardian bulbs, which are making a major comeback, for that perfect glow.