September was a looong time ago, and ages ago in the fashion world, so don't feel bad if you've already forgotten what the hot trends are. Need to brush up on your spring/summer must-haves before hitting the stores for your spring looks? Here's a little review of what's hot this season.
1. High-Waists and Wide Legs
Meet your new day-to-night bestie. Spring's sleek '70s-inspired jeans look cool again after almost a decade of skinny-jean world domination. Wear 'em with wedge heels and a tucked-in top to look long and lean.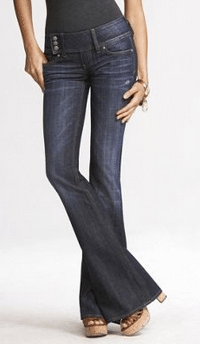 ReRock Flare Leg Extended Tab Jean, $98, Express
2. Perky prints, lots of them
The whole anything-goes look continues to be a winner. Back in September, nearly every designer used this handy rule of thumb: Stick to one or two colors (or a few in the same family) when mixing and matching to avoid the crazy-lady look, but by all means, wear a floral dress, a patterned jacket and textured accessories, too.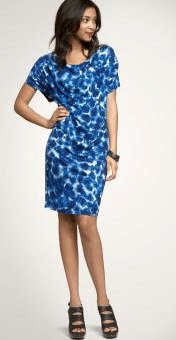 Impressionist Print Drape Dress, $60, Gap
3. Something sheer
The gauzy stuff was all over the Fashion Week runways way back in September. Our advice for wearing this trend in real life? Steer clear of the X-rated looks that leave nothing to the imagination. Wear a totally solid top over something sheer so you've got a sexy, filmy layer peeking out underneath.
Fluxus Sheer Asymmetrical Top, $38, Bluefly
4. Crop Tops
Crop tops made a small impact last year, but they've gained momentum for Spring 2011. This is very much a high-summer 2011 look, one great for the hottest of weather and party atmospheres, such as festivals. It's risky, but it's fabulous fashion, especially with your high-waisted wide legs.
Polka-Dot Crop Tee, $39, Bebe
5. Japanese Inspiration
One sure way to stand out in a crowd? Sport spring's vibrant Japanese-inspired pieces including obi belts, kimono-like coats and satiny pieces in festive blues and pinks (just not at the same time, or it looks too costume-y).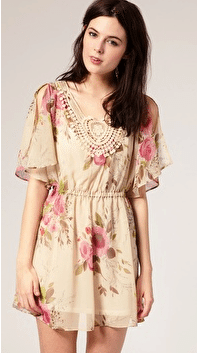 River Island Lace Trim Kimono, $72, Asos
6. Neutrals
Sand, buff, beige—call it whatever you want, but we've seen boatloads of clothes in barely there pales on the spring runways. If you think wearing neutral shades head to toe will wash you out (or make you look naked) wear another color up top like always-chic black or a flattering red.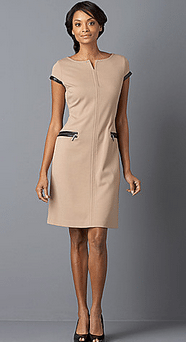 Anne Klein Camel Ponte Dress, $88, Lord & Taylor
7. Preppy Accessories
Dig through Mom's (or Grandma's) closet to find oldies but goodies such as ladylike watches, woven bracelets, tasseled loafers and a natty striped tote. Wear these once-out-of-date accessories all together (the more the merrier!) and look totally 2011.
Marc by Marc Jacobs Preppy Nylon Key Pouch, $48, ShopBop
8. Citrus Hues
Orange ya glad vibrant citrus hues are big for spring! Okay, so that was lame, but seriously, we're especially psyched because the hot new color makes updating last summer's cobalt and aquamarine clothes a total cinch.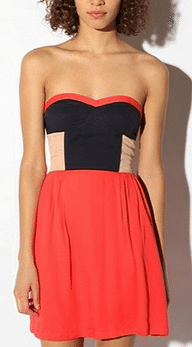 Sparkle & Fade Colorblock Dress, $59, Urban Outfitters
9. The 60's
Win major cuteness points in the tricky First Impressions round by wearing a hip A-line-shape coat in a bright, cheeky color. 60's inspired looks are super ladylike, accentuating curves and fostering femininity.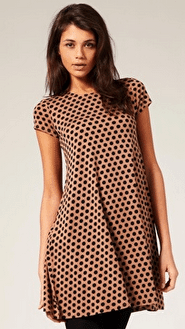 Print Jersey Swing Dress, $41, Asos
10. Comfort
So long, bandage dresses! Arrivederci, can't-sit-down short shorts! Michael Kors told said, "It's time to get rid of all those painful heels and too-tight dresses." Come spring, stores will be chock-full of looser, easy-breezier shapes like long, billowy blouses and swingy dresses. All we can say is Phew!