I've always had a love-hate relationship with shorts. When I was in college, my motto was "the shorter the better," and whether they were cotton, jean, or track, my shorts were always several inches above my knee (and likely barely one below my butt). This look, however, has been shed as I've traversed in to my mid-to-late twenties. Probably in direct correlation with my development as an adult and  a professional, my shorts have gotten longer. Luckily, bermuda shorts are your perfect companion for spring time — and ladies of every shape, height, and weight can find a hot look.
Bermuda Shorts Trend for Spring
Solids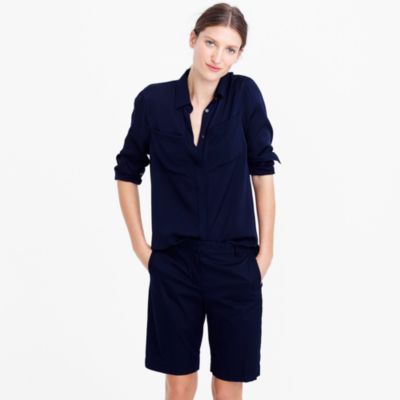 The easiest bermuda shorts look is the solid color. I love dark blue — it goes with everything, and looks a little more relaxed than solid black options. My favorite tones are from JCrew. This length and monotone suits every shape and size, and they are only $49.50. If the solid color look isn't your thing, team your navy bermudas with a white or patterned top. Throw on a pair of casual canvas sneakers, and you're good to go.
Denim Bermuda Shorts
Considering this is the best thing to do with your old jeans, the bermuda jean short can be a free transformation or a worth-while splurge. The distressed look is super casual, so go with something more than a boxy t. This striped tank is just enough to keep this look from being sloppy.
Patterned Bermuda Shorts
The perfect accessory to any outfit is the pattern. Pair these with a simple top and your favorite wedges and you've got a look that doesn't need much else.
Updated 3/2016
Sallie lives somewhere between the sun and the ocean in Santa Monica, CA. She fills her days with creativity, hard work, and deep thought. Sallie can be found eating, running, writing, and sharing about it all on her blog and newspaper column.