Confession. We're not big fans of linen here at TBF (seriously, who has the time to worry about ironing a garment- twice a day?), so imagine our utter excitement over the emergence of light weight, breathable fabrics for Spring/Summer 2012. We're talking about flirty chiffons, graceful silks, and breathable cottons in colors that would turn Lilly Pulitzer's head.
So, for Spring 2012, fashion is going to keep it "Light and Fluffy". What I mean by "Light and Fluffy" is that fashion is going to be easy and not add much drama in your style life. With fabrics that are easy and flowing, that means you'll stay cool, even when it's not (cause, even though it's like the tundra out there now, it will get hot… someday). As my mother says, all women need a bit of "circulation" in our under carriage when it's 90+ degrees.
So this season is all about the chiffons, silks, and other fabrics that promote movement and, more, importantly, breathability. Stay away from the heavy polyester wraps and other unbreathable (yes, we made up that word) synthetic fabrics that will cause you to sweat.
Spring Fashion 2012 : Top Picks for Keeping it Light and Fluffy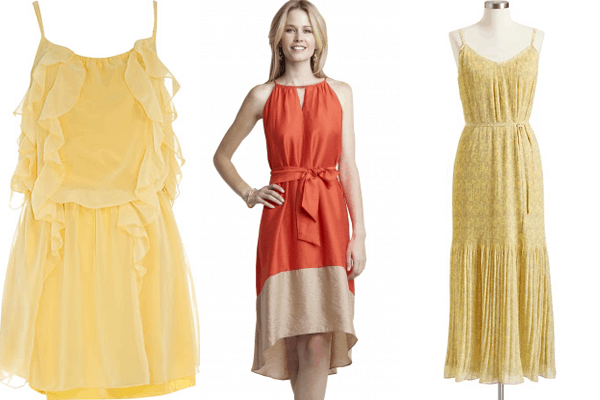 Spring 2012 Fashion: Easy Summer Dresses

1. Yellow Ruffle Chiffon Dress, on sale for $21.00 at Dorothy Perkins
2. Color Block Tie Waist Dress, $98 at The Limited
3. Women's Printed Pleated-Chiffon Maxi Dresses, $44.95 at Old Navy.com
Spring Fashion 2012: Flowy Tops

1. Asos Curve Shirt with Drop Collar, $50.13 at Asos
2.Scalloped Sheer Floral Top, $19.99 at CharlotteRusse.com
3. Orange Pleated Front top, $49.00 at DorothyPerkins.com