Our content contains affiliate links, so know that we might earn a buck or two if you click and buy :) !
6. Shake It Like a Polaroid Picture. The Polaroid camera is another great investment if you're a frequent party hostess. Have guests take their own fun pictures and ask them to put their photo into your guestbook and write a personalized message. Guests can also then take photos to bring home. By the end of the party, you'll have a hilarious photo album of your party, and your guests will have a memento of the night to bring home.
7. Get Your Game On. Don't underestimate the power of an old school game: the truth is, not many of us ever grew out of them. Get a school-size poster board and break out the Pictionary. A few drinks in your guests and everyone's not only an artist, but they're having a rip-roaring time, too.
8. Hey Mr. DJ. Organize your music ahead of time… like, days in advance. Organize it in the evening when you're more in the mood for a party (doing it with your morning coffee may lead to a different playlist). Try to have music that not only you love, but that translates to many tastes. Try a mix from Hotel Costes or Putomayo.
9. Plat du Jour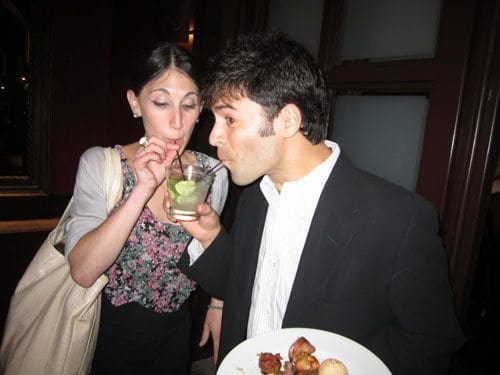 Grab a chalkboard and write down the hors d'oeuvres and drinks on it. The extra attention to detail adds a touch of glam and helps picky eaters decide what to eat. Also, if you can find one, get a slate cheese plate. You can write down the types of cheese directly next to them (cheese labels are also a great idea).
10. Merci Beaucoup. Après the party, send handwritten thank-you cards. Everyone loves receiving mail and this just leaves that last beautiful taste in your guests' mouths.