Admit it, we all want to be the hostess with the mostess. For me, I love hosting parties and half of the fun is preparing for them. I try to put an extra touch on everything I can, from the serving plates to the music and the menu. Of course that isn't to say that hosting a smashing soirée doesn't come with a little stress. The quest perfection is a tough one but I've found that the following ten tips help not only limit my stress but also ensure I will be the hostess with the mostess, at least for a night!
Host a Smashing Soiree!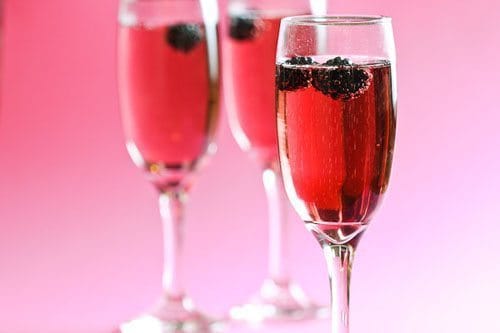 1. It All Began with an Apéritif. There's a certain je ne sais quoi about an aperitif that feels so indulgent. A little something to whet the appetite for yet another drink. The French master (this one with the kir and kir royale) serving this at a party is not only impressive but also beautiful. A kir is a dry white wine with black currant liqueur mixed in (you can substitute it with raspberry liqueur if you desire) and a kir royale is the same thing but swap the wine for Champagne. Serve in a flute and add a couple of raspberries directly into the drink. Presto! Beautiful aperitif: your party is off to a smashing start already!
2. Decant This. When serving wine, use a decanter. If you're tight on money, load up on "two buck Chuck", Trader Joe's cheap wine. No one will be the wiser when it's in a decanter. It looks beautiful and the shape of the decanter allows even an el cheapo bottle to breathe and taste better.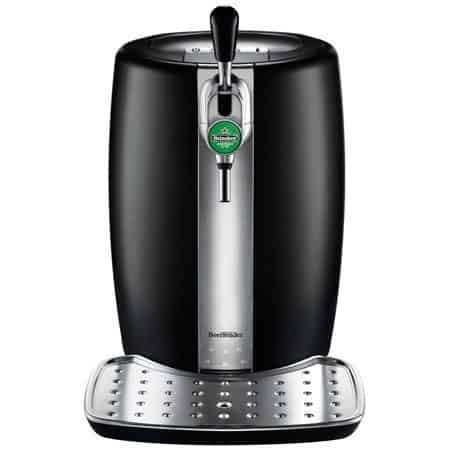 3. What's on Draft. Make the investment in a Krups Beertender if you host frequent parties. This snazzy little contraption allows you to serve beer on draft! Currently, Heineken and New Castle are available in the size this cute little buddy takes. As for the guests at your party, you'll earn mega bonus points when you ask if they want a draft beer, especially from the dudes. .
4. Swell Smells. Choose a couple of in-season bouquets and put them in places like the bathroom and side tables. In addition, light up a couple of fir tree-scented candles. There's something about that scent that brings back cozy childhood memories and will make your guests feel happy and at-home.
5. Party Favors. Make your guests feel oh-so-special by giving them a party favor. It could be a wine tag, a scented soap or even a bag of spices. Little baggies of vanilla bean and sugar with a note that says "sweet of you to come" may be cheesy but it's also adorable.
6. Shake It Like a Polaroid Picture. The Polaroid camera is another great investment if you're a frequent party hostess. Have guests take their own fun pictures and ask them to put their photo into your guestbook and write a personalized message. Guests can also then take photos to bring home. By the end of the party, you'll have a hilarious photo album of your party, and your guests will have a memento of the night to bring home.
7. Get Your Game On. Don't underestimate the power of an old school game: the truth is, not many of us ever grew out of them. Get a school-size poster board and break out the Pictionary. A few drinks in your guests and everyone's not only an artist, but they're having a rip-roaring time, too.
8. Hey Mr. DJ. Organize your music ahead of time… like, days in advance. Organize it in the evening when you're more in the mood for a party (doing it with your morning coffee may lead to a different playlist). Try to have music that not only you love, but that translates to many tastes. Try a mix from Hotel Costes or Putomayo.
9. Plat du Jour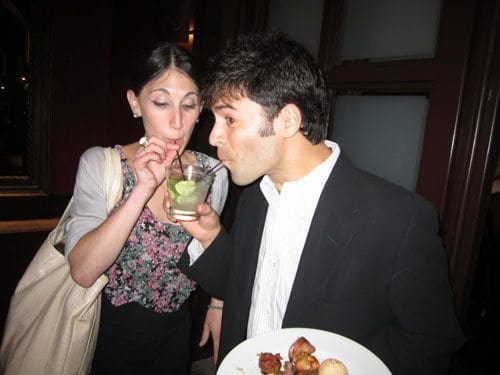 Grab a chalkboard and write down the hors d'oeuvres and drinks on it. The extra attention to detail adds a touch of glam and helps picky eaters decide what to eat. Also, if you can find one, get a slate cheese plate. You can write down the types of cheese directly next to them (cheese labels are also a great idea).
10. Merci Beaucoup. Après the party, send handwritten thank-you cards. Everyone loves receiving mail and this just leaves that last beautiful taste in your guests' mouths.