Our content contains affiliate links, so know that we might earn a buck or two if you click and buy :) !
So…The Revlon Scented Nail Polish Line: Thumbs up or Down?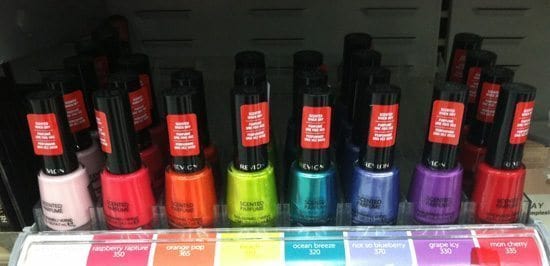 They Nailed It!
Overall, the scents are what they say they are, or at least are never so far off as to smell like asparagus when the promise is cherry. Plus, the whole experience adds an incredibly fun, unique touch to the otherwise ho-hum routine of applying nail polish…not to mention that it smells a heck of a lot better, too!
Sure, your boss may suspect you of an illegal habit what with your incessant pinky-to-nose finger movements and subsequent deep inhalations (or at least think you're an Austin Powers'
Dr. Evil fan). You might start to feel like E.T., extending your finger out all the time for the world to see (and in this case, smell), but in the end, it's no different than when we ladies purposely twirl a section of hair in our hand for the sole purpose of taking a whiff of its just-conditioned strands.
It smells good…so you smell it. It just makes perfect (wait for it) scents.
Have you tried the Revlon Scented Nail Colors, or do you think you'd like to try them? Let us know what your favorites are (and if you liked Raspberry Rapture and Beach as much as we did)!