Our content contains affiliate links, so know that we might earn a buck or two if you click and buy :) !
Get your Glitter On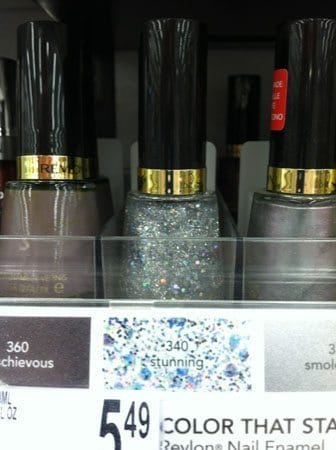 Glitter nail polish is perfect flower "frost."
Ah, gently falling snow as it dusts the landscape.  So Currier and Ives, so winter wonderland-ish.  So . . . tacky if it looks like pine sprigs were rolled in vanilla frosting.  Or worse, the very unnatural gold "snow" look.  I mean, it's pretty, but everyone knows it's not real.  I love that wintry look, but break out the glitter and glue like I use salt: sparingly.  (Who knew? Flowers and health tips, all in one).  Glitter on every petal or down the entire length of every stem is not only time-consuming (let's face it, there's shopping to be done, ladies!) but it's unnatural.  For a fast and affordable glitter fix, I turn to my clear glitter nail polish and dab some on a few leaves.
Use Common Scents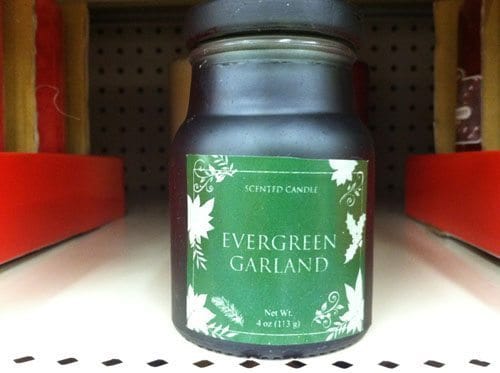 Nice as it is to have gingerbread or peppermint scented candles around, when it comes to making fake flowers seem real, Mocha Mint Melody don't necessarily do much in the realism department.  I like to keep pine or earthy scented candles nearby.  I've tried my best to make my flowers look real so I'm not going to blow it with Cotton Candy Breeze wafting through the air.
Take Your Places, Please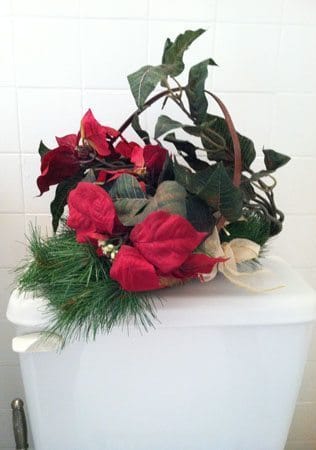 Um, no.
My grandmother used to have fake bowl of fruit on a table at end of a hallway.  Dusty grapes and pears greeted my entrance to the bathroom and it was years before I could bring myself to eat fruit of any kind.  Kidding.  But she really did do the fake fruit/random hallway placement thing and to this day, I try to keep it real.  Seriously, would spruce sprigs really reveal themselves on a toilet tank?  I like to place my artificial lovelies in as realistic a setting as possible: the mantel (of my artificial fireplace, lol), near the door, on the steps outside or near a window.
Pine Trees Don't Grow Presents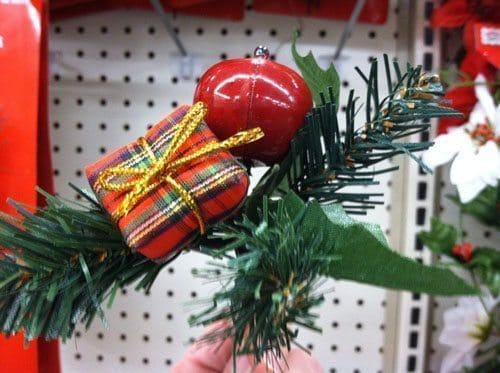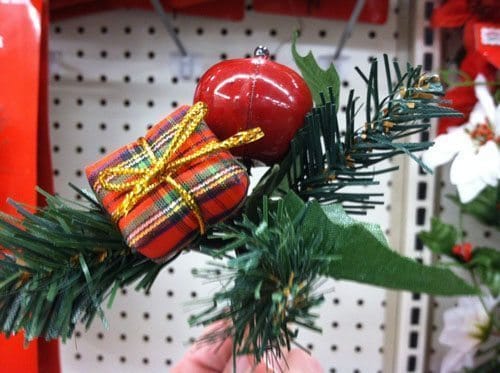 "Ooohhh, look! Money doesn't grow on trees, but teeny gifts do." (Avoid this – it just isn't natural).
I love cute things.  I really do.  Kittens and puppies and those Facebook images of reunited families make me hit the "like" button constantly. However, I'm all about forgoing those extra fake flower elements like glued-on mini presents, bells or ribbons lined with Mickey mouse faces. The vase or bowl they rest in can have a gold ribbon or cute decorative element, but a shimmery elf dangling from a poinsettia leaf is an, er, dead giveaway that these suckers aren't the real deal.  I'm quick to remove, and find other non-flower related uses, for the accessories.
What things have you done to make your fake flowers look real?