You know the realm of fashion is changing when Payless is at fashion week. In recent seasons, the footwear retailer has unveiled its collaborative collections on New York runways previously reserved only for the most exquisite [read: expensive] designs. Christian Siriano for Payless and Lela Rose for Payless, though, have mixed things up, and now Isabel Toledo for Payless promises to do the same.

The spring 2011 collections from the three famed designers are now on sale at Payless stores and online, and we're not going to deny it, we've been holding our breath for this. Let's take a look at the lines one by one.
Christian Siriano
We adore Project Runway's fierce alum and his spring 2011 designs, which is why we wish that Payless hadn't toned them down so much. The retailer has disappointed us in the past by transforming Siriano's orginal work into something more mainstream, and we'd hoped they wouldn't do it again. We understand how Siriano's dramatic creations could be unappealing to many Payless shoppers, but they were so cool!
Two of Siriano's original designs on the runway: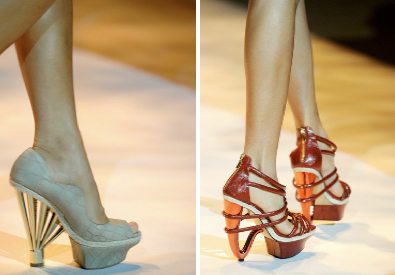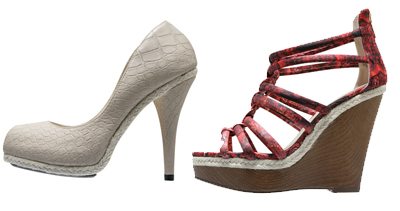 The toned-down versions, $45 and $50 in stores:

The toned-down versions are cute and trendy, but they lack the signature Siriano wow-factor. The masses will love them, but the fashion crowd won't be so impressed, which is a bummer, because not everyone in the fashion world has a thousand dollars to blow on high-fashion footwear. We like the collection (especially the braid detailing), but as much as we want to, we just don't love it. Will we buy a pair just because they're inexpensive, exotic and designed (sort of) by Christian Siriano? Probably.
Lela Rose
The in-store version of Lela Rose's spring 2011 designs looked remarkably similar to the originals, which is perfect for us, because we thought they looked uber chic on the runway. Rose is famous for creating classical silhouettes with a whimsical twist, and that's exactly what Payless has delivered.
Rose's Original designs on the runway: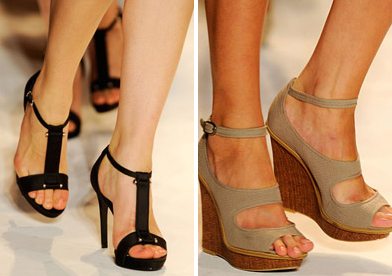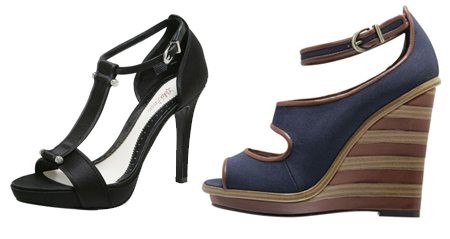 The Payless versions, $45 and $50 in stores:

The spring 2011 collection is simple, classic and appropriate for an array of ages and occasions, thanks to its "old versus new" theme inspired by the city of Lima, Peru, home to cultures and architecture in various stages of development. Payless did a fantastic job of bringing all of Rose's feminine style to its shoppers with shoes that really are Lela. Now why couldn't they have done this with Siriano?
Isabel Toledo
Cuban designer Isabel Toledo is best-known for designing Michelle Obama's inauguration dress, and we have to admit, we think the first lady would totally wear these mesh flats ($35). As far as the heels ($55) go– we'd work it in those.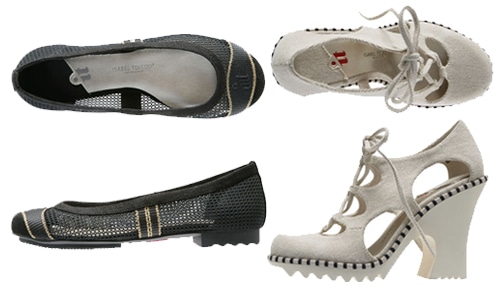 We love the natural fabric Toledo incorporated into her collection, and these shoes look so comfy! Her spring collection left out the frou-frou heels we saw in the fall, but we can get girly from Lela Rose and exotic from Christian Siriano, so we're happy that Toledo created something different. And mesh heels are indeed something very unique.
Overall, Payless offers three very different collections, each with great shoes– though maybe not as great as we saw on the runway. If their goal was to democratize fashion, they nailed it with shoes that are affordable, versatile and gorgeous. Fashion for every woman, every budget, every occasion? Pardon us for getting emotional, but this retailer has us feeling a little inspired.