Our content contains affiliate links, so know that we might earn a buck or two if you click and buy :) !
Best Vintage – Free "P" Star – 8 rue Ste-Croix-de-la-Bretonnerie 75004 Paris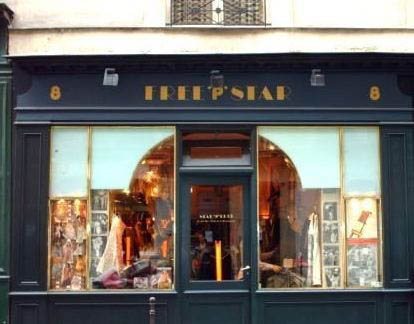 Contrary to popular belief, there are quite a few vintage shops in Paris and Free "P" Star's racks are filled to the brim with treasures just waiting to be found. At this time of year, you'll find tons of fur and leather, all for under $100. There are also bins overflowing with chunky knit sweaters – mostly %100 wool or, if not, a reasonable blend of wool and synthetics. The key here, as with any vintage shopping experience is to bring along your patience and always be sure to take the time to check for holes and stains, etc. But the deals are there for the taking! We know one French fashionista (we won't name names, but she may have red hair) who found a mint green 50's style lambswool sweater with a peter pan collar for the bargain price of just 5 euro (roughly $6 US)!