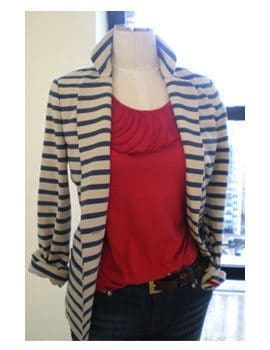 As the weather gets chillier and we all start piling on our fitted blazers and wool knit snoods, TBF decided to check out some spring sport and swimwear at the Nautica Women's 2011 preview event.
Part one of the scoop: Stripes. Expect lots of them and get excited. Though it's not exactly a big stretch from Nautica's typical aesthetic, we still think they did it really well for the warmer weather ahead. Stripes are on bathing suits, tees, blazers, bags, cardigans, dresses and trenches…oh my! And guess what? They're pairing stripes with—you guessed it—more stripes! One of our favorite pieces was a blue and white striped knit blazer that will jazz up any basic.
The scoop, part two: Ruffles. Not the potato chips, of course, but the style element. Nautica has a tendency to be feminine but in an understated way and the ruffles featured in this collection amp up the otherwise-stifled girly, which we dig. The ruffle-embellished tops look great peeking out of some of the chic new trenches or just hanging on the rack, solo, and we think these will be great for the corporate world or a nice dinner out on the town! Plus, let's face it: Ruffles are flirty and fun and what else do you need?
The last trend we saw and the scoop part trios: sequins. Oh, sequins. Don't get us wrong, there are certainly ways to pull them off and look hot. We're just not sure Nautica succeeded. Sometimes there is nothing better than being ever-so-sparkly, but if a girl isn't careful, sequins can cheapen the look of an outfit. Nautica had tops laden with sequin stripes and some with pocket embellishments. Frankly, it just didn't do it for us and we would have preferred to see some other type of detailing or even, well, more stripes.
All in all, the collection was pretty good, though some items were basic to the point of boring. Still, there are certainly some key items in the bunch that can help you step up your spring outfit a nautical knot or two. Sorry, but we had to squeeze at least one ocean pun in there.