When you buy via links on this page, I may earn an affiliate commission. Learn more.
There comes a time in every budget fashionista's life when she decides to outgrow ultra-cheap jewelry. Of course I love that Forever21 stocks fun, cheap earrings and bracelets…but many of those pieces are short-lived. If they don't give me a rash or turn my skin green, they'll end up tangled in the bottom of my jewelry box for the rest of time.
Don't get me wrong. I still love a nice and trendy color pop, like what you might get from SUGARFIX by BaubleBar. But in recent years, I've grown to dislike wearing heavy earrings and necklaces. Plus, my aesthetic has softened from loving style statements to respecting a more sophisticated style whisper.
When it comes to jewelry — for me, anyway — less is usually more. That's why I'm on the mid-range jewelry bandwagon.
Mid-range jewelry is technically "fashion jewelry" — in that it's not made from genuine, solid precious metals. The problem is that there's a massive range of quality within that fashion jewelry space. At one end, you have the Claire's bracelet that's coated with a shiny, gold-colored paint. On the higher end, you have a bracelet that's electroplated with 14k gold. The latter is the territory of the mid-range jewelry line. You'll pay more for the quality, and it'll be worth it.
How to Shop Mid-Range Jewelry
When shopping for mid-range pieces, keep these three questions in mind.
How does the price compare to fine jewelry options?
A mid-range, gold-plated piece should cost you much less than a similar piece made of solid, 14k gold. Sadly, this is not always the way jewelry prices work in the marketplace. A designer line might carry hefty price tags even though the pieces are gold-plated — in that case, you're paying for the designer and not the gold.
The best mid-range pieces look and feel luxurious, but still carry an affordable price tag. My comfort zone for mid-range jewelry is from $50 t0 $125, depending on the piece and the occasion.
How is it made?
You'll have to take the seller's word on how a piece is made, but you should ask the question. Is the jewelry dipped, filled or plated? How long can you expect the finish to last? Are there any special care instructions?
Will the design be wearable next season and the season after that?
Lean towards classic designs that you can wear no matter what's trending. You're paying more for the piece, so you should plan on wearing it over the long-haul.

Mid-Range Jewelry Brands to Watch
Grand Avenue Jewelry
I've been watching Grand Avenue Jewelry since they launched a (successful) Kickstarter campaign as Cy Collection. The standout feature of the line is the delicate, feminine style. These are classic pieces that will complement any outfit, from casual to formal, and season after season.
What I personally appreciate is the lightweight quality of these pieces. The earrings are as light as can be and don't pull on my lobes at all. And I could wear this necklace in the hottest of weather without a second thought.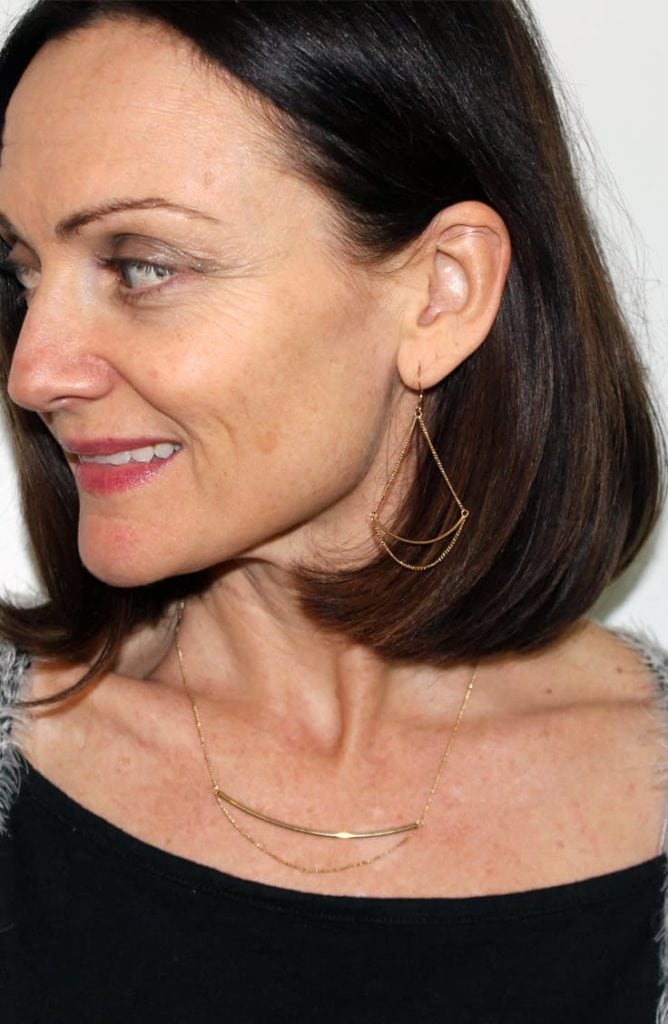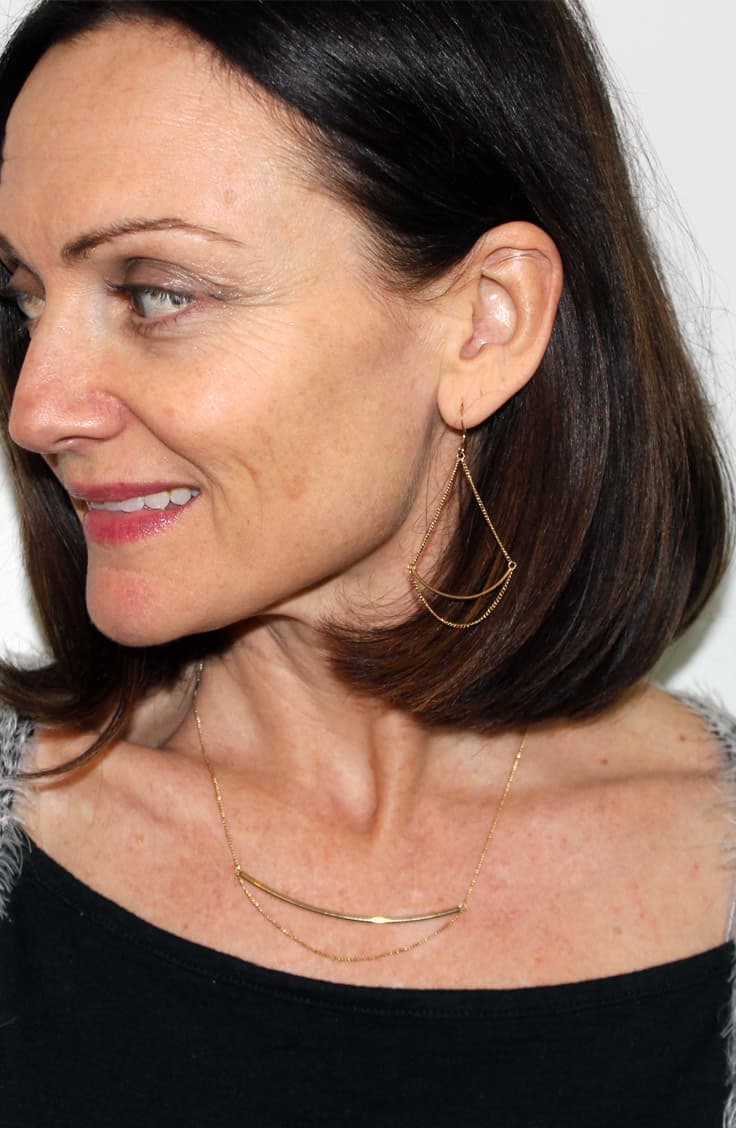 The bracelet set has a slightly heavier quality to it, which is probably for the best. I'm less sensitive about the weight on my wrists and also tend to be clumsy with my hands. For me, any wrist wear that's too delicate runs the risk of getting broken.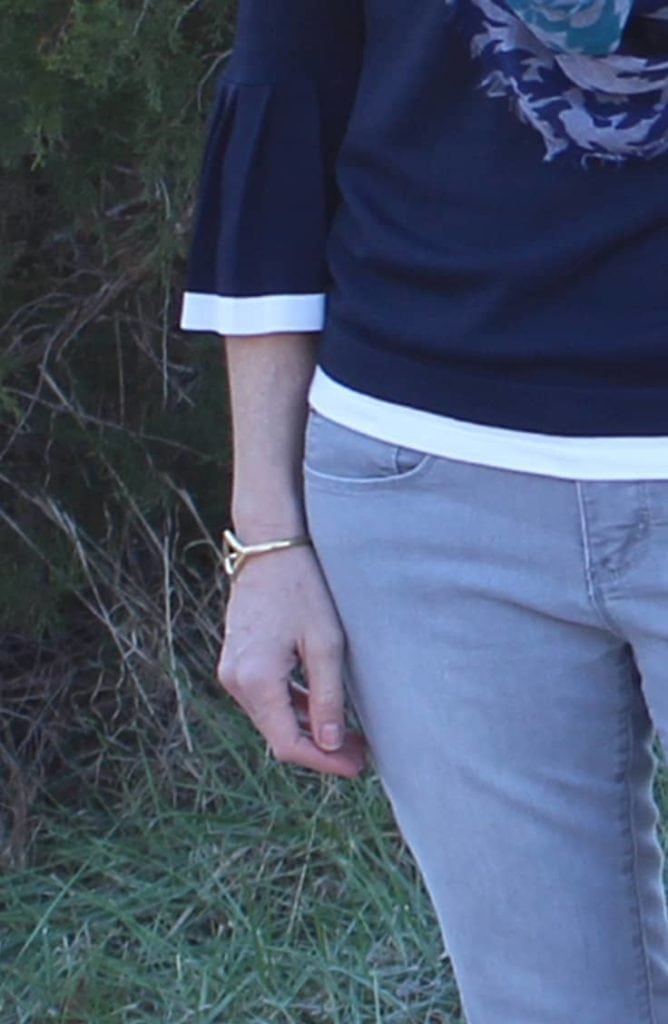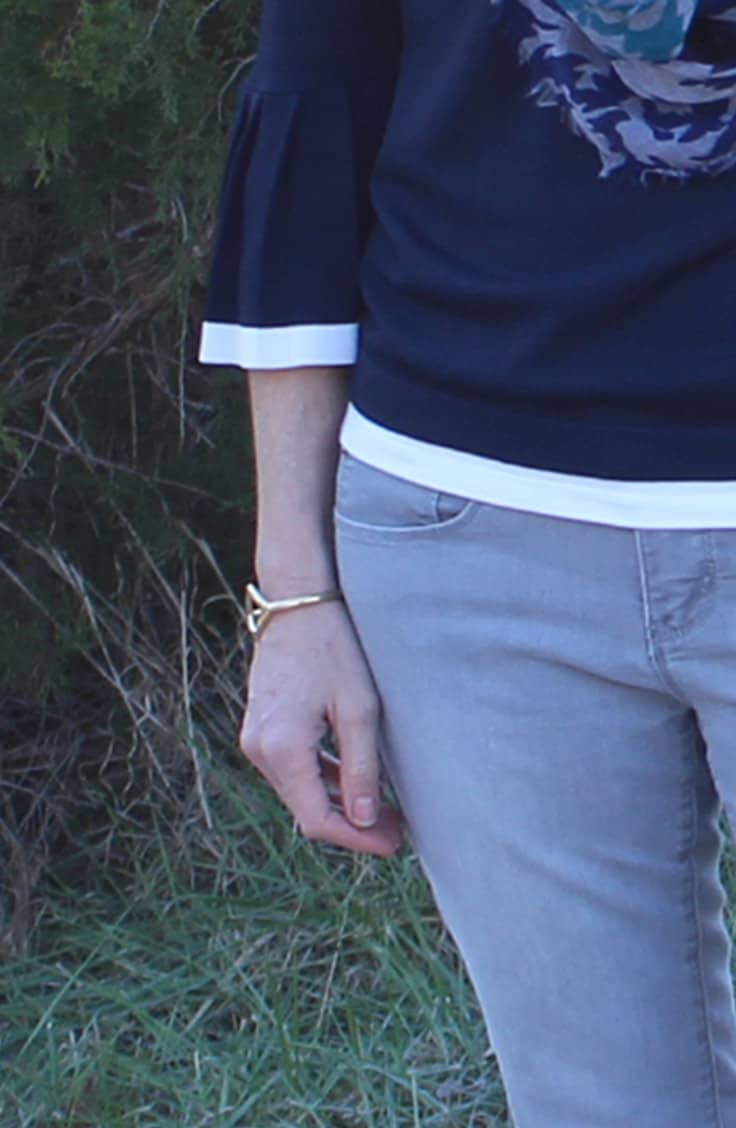 Grand Avenue pieces are plated with two layers of 14-karat gold, for a longer lasting finish. The price points range from about $80 to just over $100. Learn more at GrandAvenueJewelry.com.
Ana Luisa Jewelry
Another line to watch is Ana Luisa Jewelry. You'll find quality pieces with a bit of pop — from splashes of color to interesting shapes and textures.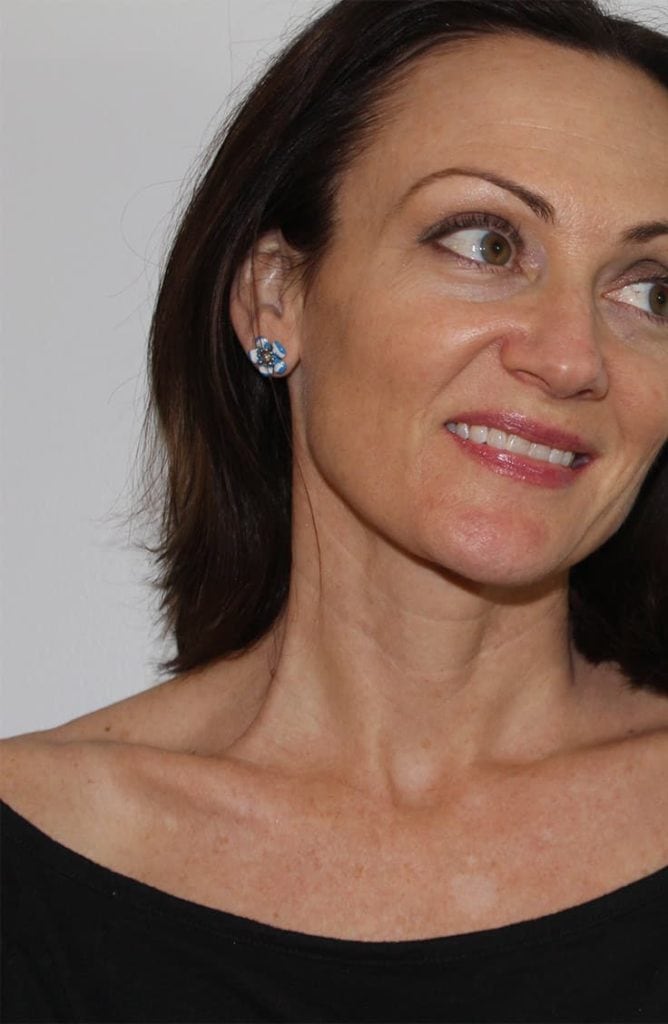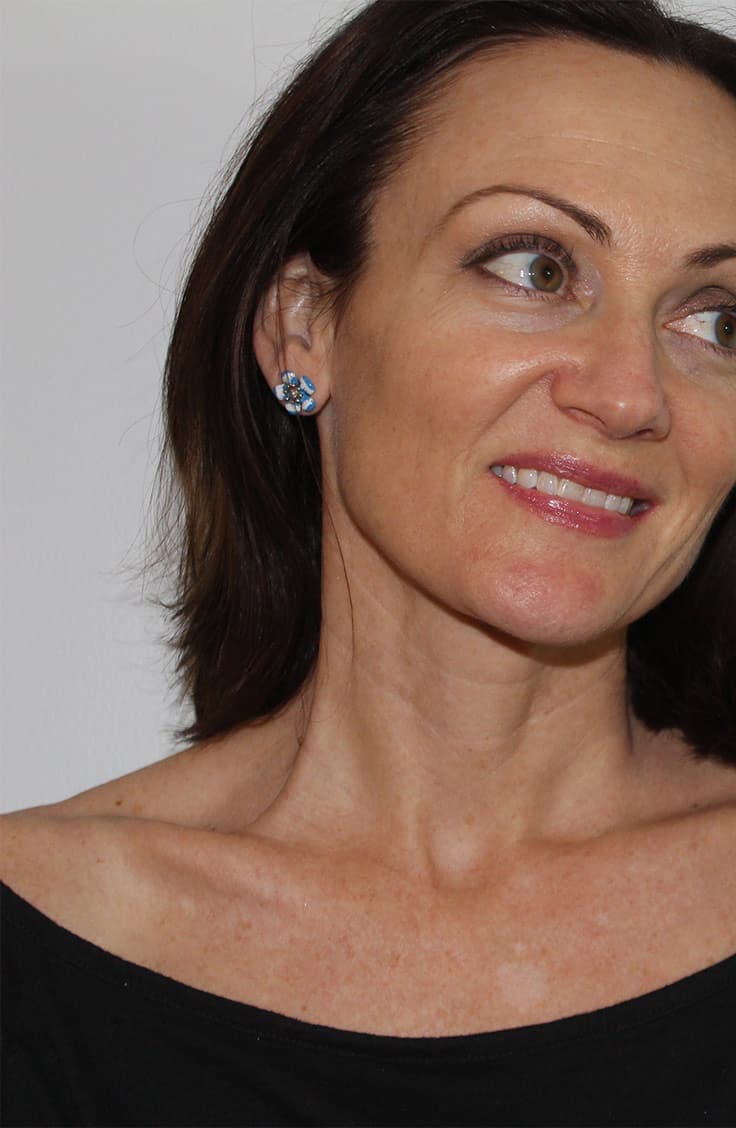 These earrings aren't heavy, but they're not lightweight either. I'd say I wouldn't necessary be drawn to the style of these blue flower earrings — but they sure look nice on. You could wear them to work or to dress up a casual outfit.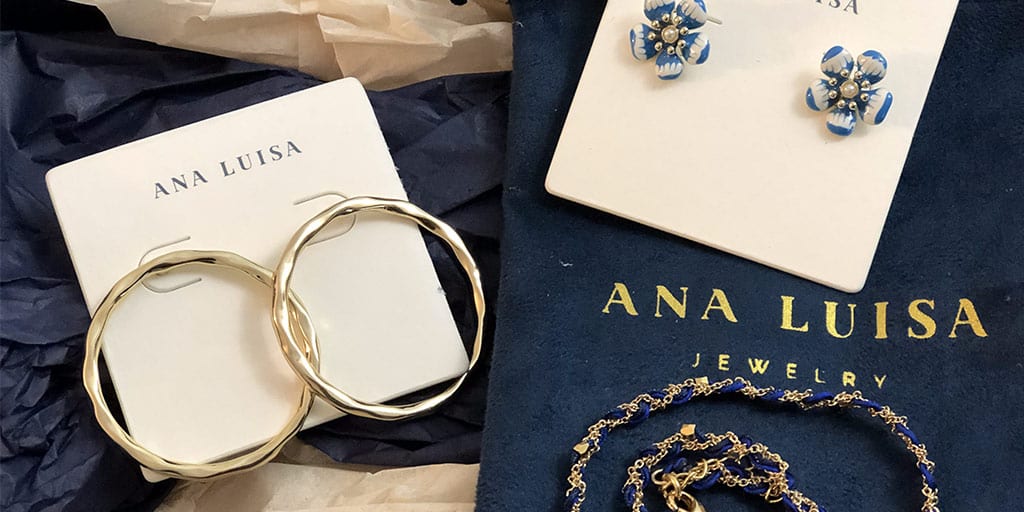 The hoop earrings are interesting, as the hoop faces forward instead of being perpendicular to the earlobe. They're a bit awkward to put on due to the position of the post, but they do make a bigger statement than your standard hoop.
Lastly, the double-wrap bracelet is a nice casual piece that'll add a charge of bold blue to your outfit. I'd reach for this piece in the summertime mostly — when my wrists are bare — to avoid any snagging.
Ana Luisa pieces are priced from $65 and up. Most of the gold pieces are dipped in 14K gold, although they do offer some solid gold and genuine silver options. Learn more at AnaLuisa.com.
Grand Avenue Jewelry and Ana Luisa provided these pieces to me, free of charge, so I could provide you with an accurate review.