Our content contains affiliate links, so know that we might earn a buck or two if you click and buy :) !
The following is a guest post from our friends at Lucky.
As someone who's watched Marie Antoinette way too many times, I love a black satin neck ribbon. At the Chanel couture show in Paris last week, Karl Lagerfeld showed how to make this 200-year-old trend look up to the minute. The trick: Black eyeliner winged out–way out.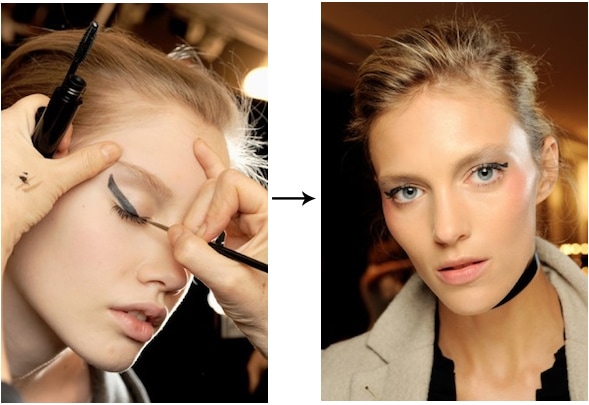 The makeup at the show was really clean and glowy and angelic, with rosy cheeks and lips and just that one dramatic, slightly futuristic touch: a wide streak of liner that tilted up mid-way along the lash line, like a calligraphy dash. (The key element: Chanel Automatic Liquid Eyeliner , which has a soft, tapered felt-tip that makes this easy to do.)
Btw: You can find double-faced black silk ribbon at M&J Trimming. (I can barely sew yet could surf this site until my eyes glaze over.)

For more fashion, beauty, news, and shopping advice, visit Lucky. And here are some other awesome stories –