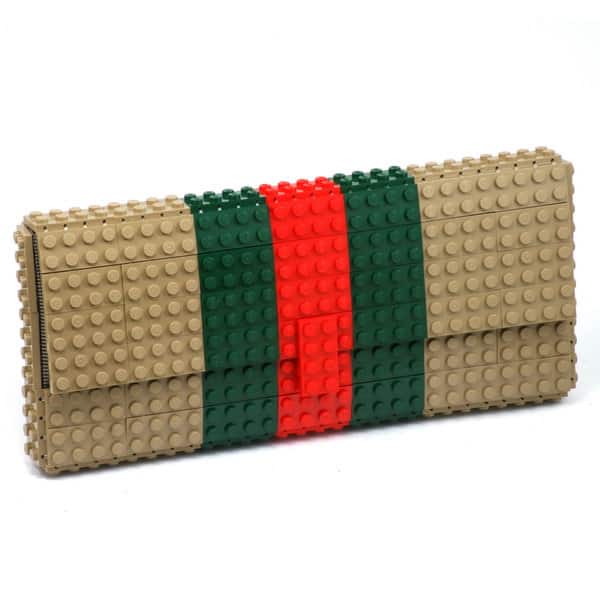 First the Olsen twins had that whole "let's decorate bags with prescription pills" thing happening and now, it's all about LEGO bricks. This time it's not an Olsen brainchild, but that of LEGO jewelry and accessories maker, Agnieszka Biernacka (say that three times fast). Biernacka is selling a limited edition LEGO-made Gucci replica on her site, Agabag, for $204 clams. The LEGO-emblazoned accessory, a.k.a the "Tribute to Gucci Clutch," follows in the footsteps of other LEGO items like her "Tribute to Hermes" black Birkin bag.
I'm all for fun in life as well as in fashion. LEGO bricks bring back nice childhood memories and render adults awestruck (I mean, how cool is the LEGO Statue of Liberty at the Toys 'R Us in NYC's Times Square?) But . . . (yes, there's a "but" in this), I think they belong in toy stores, a child's room or as non-fashion works of art, similar to sculptures that give towns a temporary dose of street spunk.
Gucci Clutch Made of LEGO Bricks: Yay or Nay?
A lovely Merlot in one hand and my LEGO Gucci in the other? Something about that is just, well, odd to me.
Kudos in the creativity department, but let's not forget that while LEGO bricks are synonymous with childhood memories, they're reminders of other things. Dogs and children drool on them, adults scream when they accidentally step barefoot on one. And then there's that $204 price tag. I'll pass.
Here then, are five affordable clutches: they're pretty, fun, practical and void of those plastic Braille-esque thingies, thank you very much.
[imagebrowser id=873]
We're curious: What do you think of LEGO clutches?