Our content contains affiliate links, so know that we might earn a buck or two if you click and buy :) !
Formal Done Right
The gorgeous center front pattern from the top of the neck the bottom of the dress really draws the eye and elongates the body. What stands out about this gown is the formality of it on the surface, paired with the more relaxed details of pockets and a shawl. Who couldn't use pockets in their formal gown?
Style Takeaway
It will be tough to find another dress that has all the elements we love on this one. But if you like this look, go searching for a formal garment that blends a full skirt with gold details, plus some casual elements.
Short and Sheer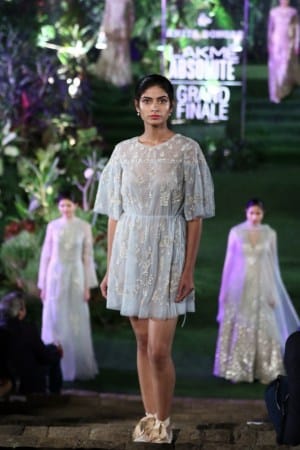 This dress is one of our favorites of the collection because of the robin egg blue, coupled with the gold ballet-inspired slippers on the model's feet. While this dress is sheer, it still has a wistful modesty about it — thanks to that wavy hem and the mid-length sleeves. The cinch at the waist adds definition and keeps this piece from being too floaty.
Style Takeaway
Your choice of shoes with a dress like this is important to the overall look. Take a look at the lace piece below from Indiefit — now picture it ballet flats versus tall, strappy sandals. The flats will give you that modest, wholesome look, and the heels — well that'd be a different entirely.
What do you think about the designs Anita Dongre showed off at Lakme Fashion Week? Let us know in the comments!