Boyfriend jeans are a favorite pick for off-duty models and celebrities. Get the look right and you have an ensemble that's carefree, casual and chic all rolled into one. Get it wrong and — well, it's not the end of the world to have a bad outfit day, but we're just not gonna let that happen. Read on for our dos and don'ts on how to wear boyfriend jeans.
When you buy via links on this page, I may earn an affiliate commission. Learn more.
And at the end, we have five boyfriend jean outfit formulas for you to copy!
Dos and Don'ts of Wearing Boyfriend Jeans
Do roll them up.
Boyfriend jeans have a loose fit, which can easily morph into sloppy. Keep the look tidy by rolling them up loosely to a crop length. They should sit a few inches above your ankle, but this isn't a hard-and-fast rule. Go with the length that feels right, based on your height and the choice of shoes. Better yet, ask a friend for a second opinion.
Do demand a tapered leg.
Pay attention to how the entire jean hangs on your leg after you roll them. You should see an even taper with a slightly tighter ankle. If the jeans hang straight down or even get wider towards the ankle, that's generally going to create an unflattering, blocky look. Blame this on the jeans and try a different pair.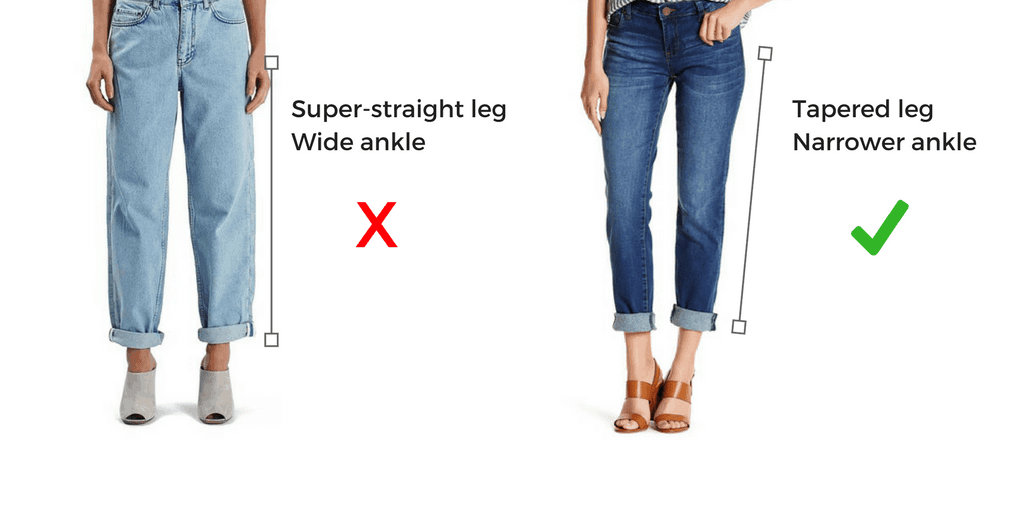 Do experiment with washes.
Models and celebrities favor the ultra light wash boyfriend jeans that have some level of distress to them. In your own wardrobe, mix it up with dark- or medium-wash jeans. Even a colored or white jean (yes, even in winter!) could work well. As for the rips and tears that celebs seem to love so much, go easy on them. Excessively torn-up jeans aren't practical and they rarely look great on anyone.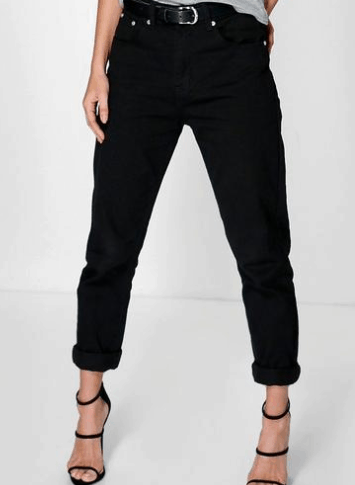 Do wear a belt and tuck in your top.
Boyfriend jeans fit loose and straight, like joggers. A belt and tucked-in top ensures you have a waist, and also gives your outfit an intentional quality. Let the world know you put this outfit together (and you did not just grab stuff from the closet in the dark).
Do have fun with your choice of shoes.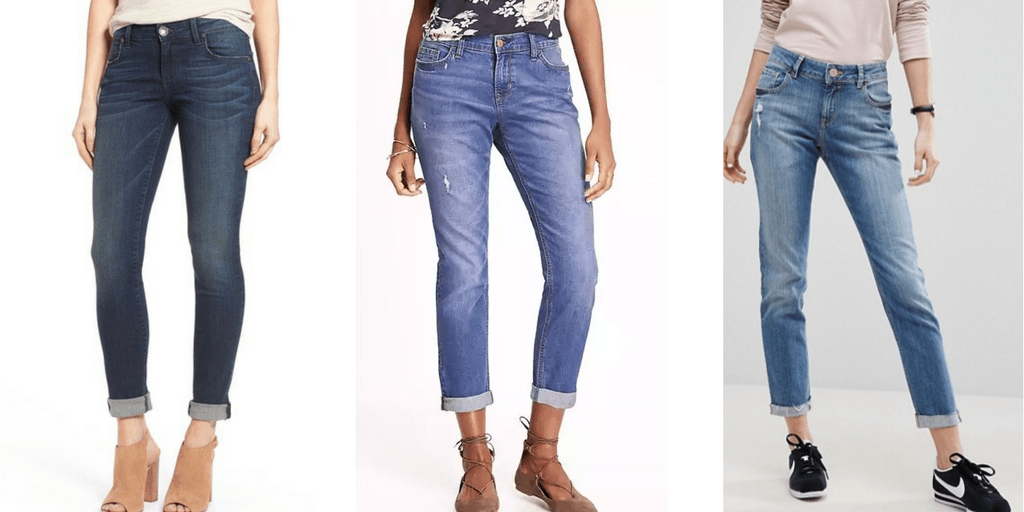 It's hard to pick the wrong shoe for the boyfriend jean. UGGs and tall boots wouldn't work so well, but pumps, sandals, ankle boots, flats and sneakers are all good choices. You could even pair ankle socks with heels for a cute retro look. Have fun with it!
Don't show too much skin.
The two primary ways we see boyfriend jeans gone wrong are:
The jeans are so ripped up that it's not clear how they're staying together.
The jeans are paired with a very tight, very tiny top.
Moral of the story: err on the conservative side here. If you want to show off your legs, wear a short skirt instead. If you want to show off your abs, put on that bikini and head to the beach.
Don't pair boyfriend jeans with flannel.
If you're older than 13, the flannel-top-and-boyfriend-jean combo usually looks a little silly. We're not saying you couldn't pull it off, but it's a challenging look for an adult.
Don't actually wear your boyfriend's jeans.
When I was in high school (in the '80s mind you), jeans were pretty much all tight and high-waisted. I wanted a different look, so I bought a pair of white Levis in the same size my dad wore. I tried to cinch them up with a belt, roll them up at the ankle and wear them with Vans. Now I thought this was a cool look at the time, but a picture from those days proves otherwise. (An early budget fashionista fail!)
It's not likely that your SO (or your dad) will be the right size for you. Plus, there are so many affordable options made for women that you don't need to force it.
How to Wear Boyfriend Jeans — 5 Fun Outfit Ideas
Now that you know the rules, here are five outfit ideas to inspire you!
The Professional: Dark-wash boyfriend jeans + crisp white top + belt+ long blazer + pumps
All Smiles and Sunshine: Boyfriend jeans + floral blouse, tucked in + block heels + big, bright purse
Off-Duty Model: Boyfriend jeans + t-shirt with a fun saying on it + ankle boots + scarf + satchel (bonus points if you can carry a small dog around in that satchel…just kidding!)
This Old Thing?: Boyfriend jeans + solid-colored t-shirt + thick belt + beanie + pumps
Denim x 2: Boyfriend jeans + canvas sneakers + denim button-down top + belt
How do you wear boyfriend jeans? Let us know in the comments!
Love this article? Read Fan Girl: Dos and Don'ts of Wearing Sports Jerseys.