Our content contains affiliate links, so know that we might earn a buck or two if you click and buy :) !
Don't Be Afraid To… invest in good gear.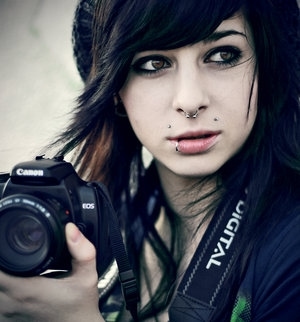 Credit: Camera Monster on Tumblr
As much as you are able to, make it a priority to invest in the tools you need to make your blog as good as it can be. Think about how you feel when you're searching the web and you come across a website with lousy photos or that is difficult to navigate. You immediately sense a lack of professionalism and, chances are, you'll leave the site toute suite in search of another, better executed URL. So, consider you subject matter and gear up accordingly. Want your blog to be photo or video based? Then spend some money on a great SLR camera or HD video recorder. Want to share the written word? You might not need to get actual gear in that case, but taking a typing course or writing class will up your game and keep people coming back for your razor sharp (and typo-free!) wit.
Don't Be Afraid To… go out and meet your peers by attending online or in-person conferences and forums.

Credit: infobarrel.com
The fashion blogging community is made up of some pretty fantastic people who are more than happy to share their knowledge with newcomers. Lucky magazine has started holding conferences for fashion blogger's (FABB – the Fashion and Beauty Blog Conference) as does the IFB with their Independent Fashion Blogger's Conference, and BlogHer is a great online forum full of resources. Just as you now have all the technology to start a fashion blog, you also have endless resources that are just a keystroke or two away – use them!
Fashion blogging is not for the faint of heart and those that do it best are the ones who are committed to making their sites the best they can be. Emily from Cupcakes and Cashmere, Vahni creator of Grit and Glamour are great examples of bloggers who had an idea, the courage to take that idea to the world wide web and the stick-to-itiveness to turn that idea into a successful, professional blog. Follow these tips, and you could count yourself among some very fine company.