Our content contains affiliate links, so know that we might earn a buck or two if you click and buy :) !
5. A Terrace Oasis.
Creating an outdoor oasis is essential. Whether you have a teeny tiny balcony, a yard, or a porch–make it as homey and comfortable as possible. Choose chairs that encourage lounging so you can wine and dine and entertain outside…I take my coffee and breakfast here, my lunch, my dinner, my wine…you get the drill. No outdoor space? Then make one by your biggest window!
6. Consider Carnations. 
Look, I wish I had a budget for fresh, designer floral arrangements replaced every week, but I don't. So you know what? I fill my spaces with carnations. Who says carnations are cheap? Not me, they are beautiful and they outlast just about every other overpriced flower! Most importantly they bring the summer in.
7. Sheer Possibilities.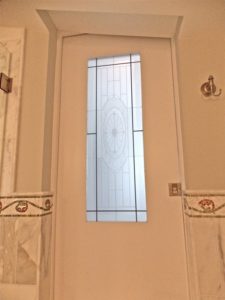 Perhaps the fastest way to lighten up your home (besides paint color) is with window treatments. I use sheer white curtains on nearly all of my windows. In rooms that have little natural light, I had vintage frosted glass designs placed inside doors to leak light–the result? Beautiful, interesting, bright! Here, a windowless bathroom gets a little help from the bedroom on the other side.
Share with us your own home decorating ideas for Summer in the comments below!