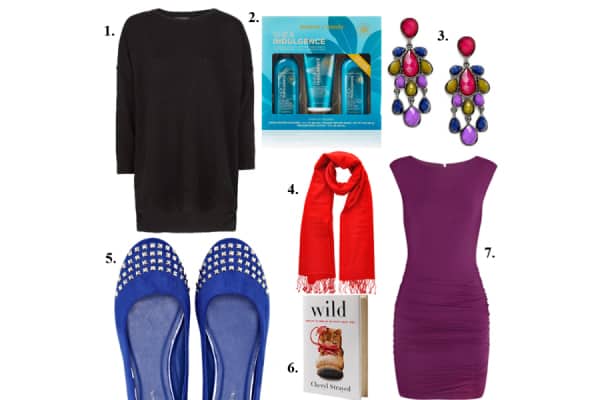 It's that time of year again. That time when you're watching Love Actually one too many times (No judgment), and Mariah's monopolizing your Spotify playlist with what she wants for Christmas. We're nestled into November, and the holidays are just around the corner.
The good news? Ridiculous sales where that sparkly sweater you've been lusting is heavily discounted, Aunt Allie's amazing green bean casserole, and crazy cute cousins. The not-so-good news? Airline tickets that cost half your paycheck, TSA carry-on rules, and trying to pack everything into one carry-on. Needless to say, the holidays are wonderful, but the travel associated with it? Not-so-much. Luckily, we've got a list of 7 must-haves to survive holiday travel.
Your List of Must-Haves for Your Holiday Travels
1. Oversized sweater: An absolute must! It's the holidays! Indulge in seconds (or thirds) of Aunt Allie's amazing green bean casserole, and on that note, yes, have another slice of pumpkin pie. An oversized sweater allows generous servings of all the yummies from family meals.
2. Essence of Beauty Shea Indulgence Collection kit: Let's face it. Hotel soaps and lotions aren't necessarily the best quality. Or maybe you're staying at your Uncle Bob's and his "mystery" body cleanser isn't exactly your cup of tea. That's why we always travel prepared. The Essence of Beauty Shea Indulgence Collection kit includes a cream shower cleanser, butter scrub, and body lotion. Sold exclusively at CVS/pharmacy, we especially love the lotion for hydrating skin without leaving that sticky feeling. All three products are only 3 oz, which means you can carry them on the plane, which means you save money by not checking luggage. #Winning.
3. Statement earrings: A pair of statement earrings can add a bit of glamour to any outfit, whether you're dressing up an old sweatshirt or going out for cocktail hour with your old hometown buds. Plus, they take up little to no space in your luggage.
4. Pashmina: Who can predict the weather? (Um, definitely not the weather app on our iPhone!) A pashmina is warm and versatile, so wear it as a scarf or a wrap when it gets chilly out.
5. Flats: Comfortable shoes are your best friend for travel. For those of us who need to travel cross country (or internationally!), it's best to have shoes that can accommodate long travel days and lots of walking. We still like to keep it stylish, so we like bright flats that add a bit of pop.
6. Reading material: Yes, we're suggesting you keep it old school and bring on a literary companion. Perfect for long bus rides or those free moments you have in between family activities. Cheryl Strayed's Wild is on our list.
7. Go-to dress: Pack that dress that never fails to make you feel awesome. Whether it's a serendipitous run-in with your high school crush that leads to "We should grab drinks" or a night out with just the ladies, you need a "going out" dress, even if you don't have any special events planned.
This post is sponsored by our friends over at CVS Beauty Club. The content and the style, however, are all from TBF. Check out CVS Beauty Club on Facebook and Twitter for more information on their Essence of Beauty Shea Indulgence Collection kit.
Get more Budget Fashionista