Our content contains affiliate links, so know that we might earn a buck or two if you click and buy :) !
French fashion from the times of Marie-Antoinette? Indeed it doesn't get much better than that. Of course I'm interested in the film, one that allows the public to see many sides of the American revolution and its involvement with the French court but, for this purpose, let's learn about the fashion.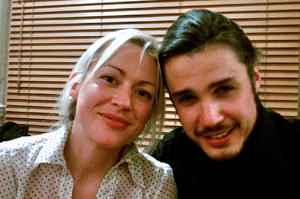 Jean-Christophe and I talking fashion in Paris.
How do we channel the look of Lafayette, Marie-Antoinette and les dames de la cour?
"Bigger is better in this case," says Born. "Fashion inspired from this era and hence this film channels big. Big hair. Big make-up and big glamour. A lot of rouge on the cheeks, bouffante hairstyles and glamorous jewelry and dresses. The movie is inspiring the French to rethink simplicity since this sprouts from a time where simplicity was more or less non-existent in the court."
So what do we take from the film aside from hoping it gets released in the states? A hefty dose of inspiration from the end of the 18th century.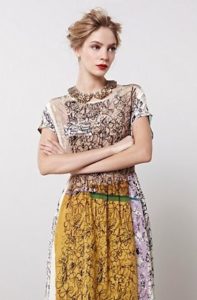 The Daisy Dress from Anthropologie is a great place to start your journey to the French court. Glamorous? Check. Embellished? Check. Camera Ready? Oui, oui.