Our content contains affiliate links, so know that we might earn a buck or two if you click and buy :) !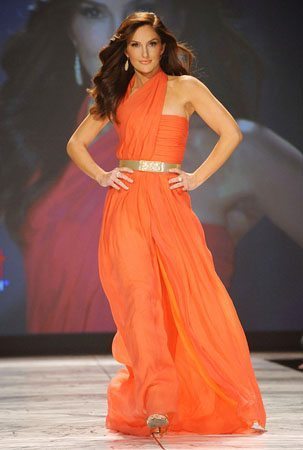 I got to interview Diet Coke® celebrity ambassador Minka Kelly, before she worked the runway. One, she is absolutely GORG in person and two, she never gets tired of her work for women's heart health awareness, whether it be rallying support for the cause through social media, or rocking the runway looking just effortlessly divine. I chatted with her about her favorite workout (dancing) and her favorite workout music (Beyonce). This year, Minka wears a red dress from Oscar dela Renta.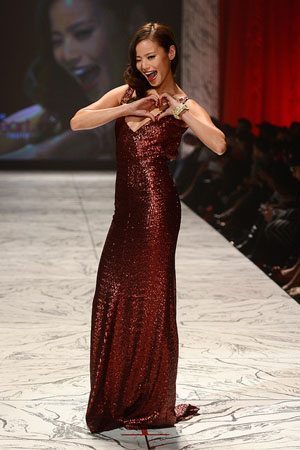 Actress and TV reality star Jamie Chung steals everyone's hearts with her cute heart hand, reclaiming the gesture, at least for a moment, from its perennial association with Justin Bieber. That she's wearing a glamorous David Meister number while she does it makes it all the more adorable.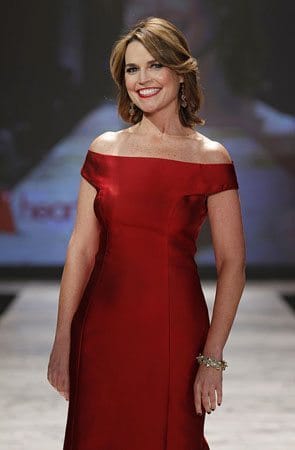 Savannah Guthrie stuns in this off-shoulder Carolina Herrera red dress (loved the bow in the back.). It was awesome to see her in evening wear.
Check out the rest of the gorgeous runway shots at The Heart Truth®'s official Flickr account.
Photo credits: Flickr
About Diet Coke and The Heart Truth®
Diet Coke is in its sixth year as a passionate supporter of the The Heart Truth®campaign, led by the National Heart, Lung, and Blood Institute (NHLBI). This year, Diet Coke is building momentum from the can to the catwalk as millions of Diet Coke packages will prominently feature the hashtag #ShowYourHeart for the first time ever.
The Heart Truth® campaign raises awareness and support for women's heart health programs. Women need to know that it's never too early to begin taking care of their hearts.

This is a paid sponsored post from Diet Coke. However, I'm DEEPLY committed to the promotion of women's health and well-being. Be well, everyone!
Photo courtesy of The Heart Truth®, www.hearttruth.gov, National Heart, Lung, and Blood Institute, National Institutes of Health, U.S. Department of Health and Human Services. The Heart Truth, its logo, and The Red Dress are registered trademarks of HHS. Red Dress Collection is a service mark of HHS. Participation by TBF does not imply endorsement by HHS/NIH/NHLBI.