Things were supposed to be a little different this year at the Grammys (gasp – no sideboob!). CBS and the Recording Academy sent out a dress code memo banning a whole list of over-fleshed styling. But that didn't stop our favorite artists from stirring up the scene. Whether they played by the rules (Beyoncé) or not (Rihanna)– there was a whole lot of something to be seen. Here's our score card for the fashion at last nights Grammy Awards.
TBF Presents the Grammys Fashion 2013 Scorecard
Beyoncé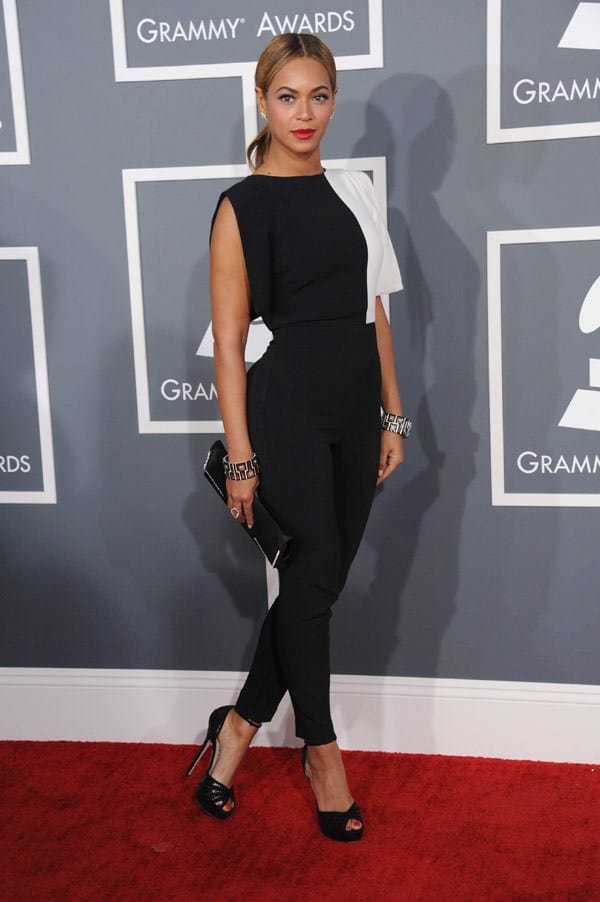 Bey is back with a vengeance! We were mesmerized by her Superbowl spectacle which packed in a 3 hour performance in just 15 mins. And now that geometric black and white jumpsuit shows us she can quickly flip the switch to all class and elegance. Not that we ever thought otherwise.
Rihanna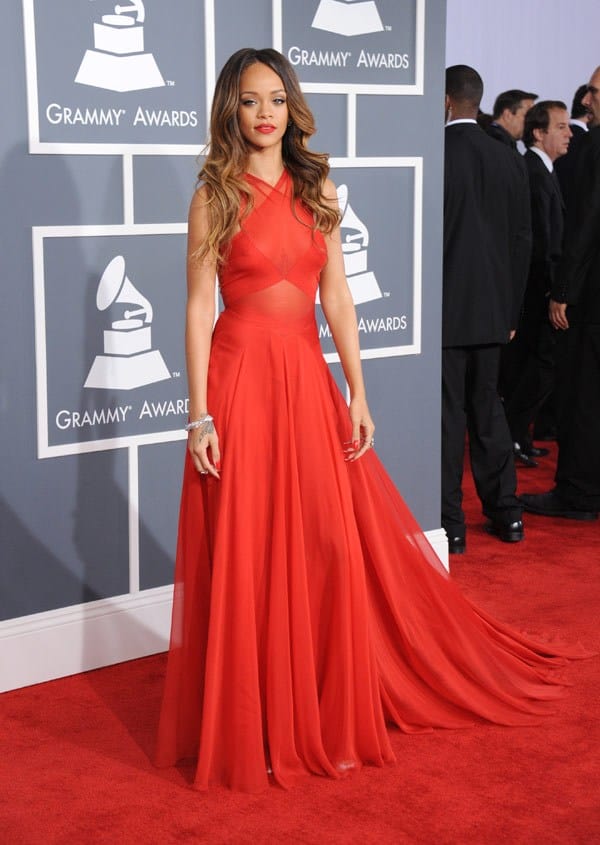 Ri Ri was spot-on with her sartorial choices for the night. The custom, red Alaia gown was simply stunning. And her performance looks were perfection. Now, her love life choices are a whole other story.
Taylor Swift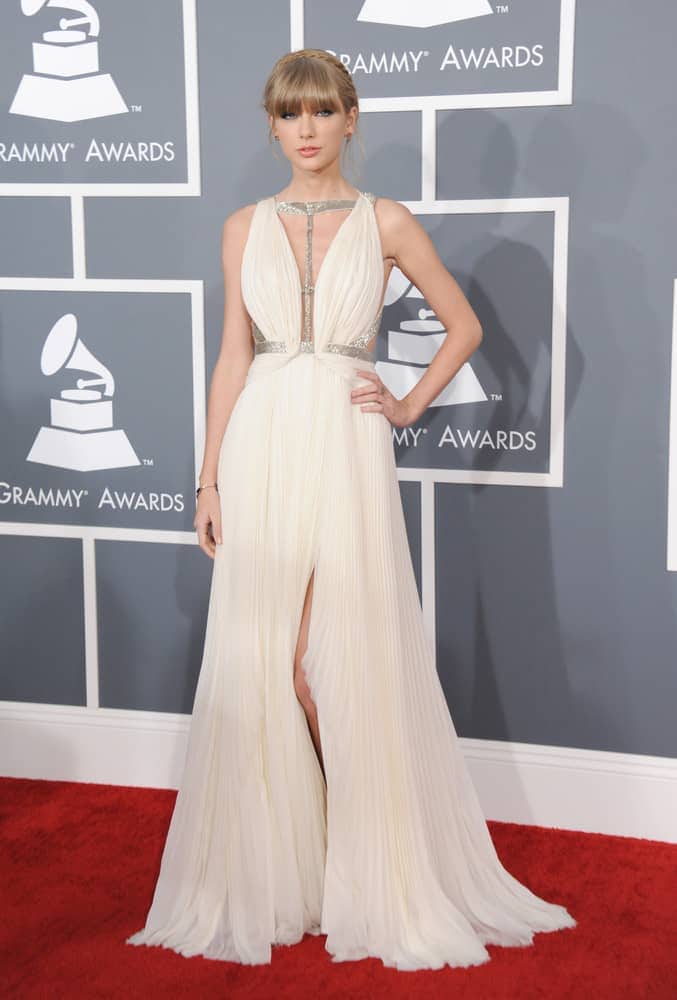 Was there another break up that we missed? The low cut dress has become somewhat of a standard for the country turned pop singer, but we weren't expecting Grecian goddess galore! Love the braid updo for a sweet and youthful finish.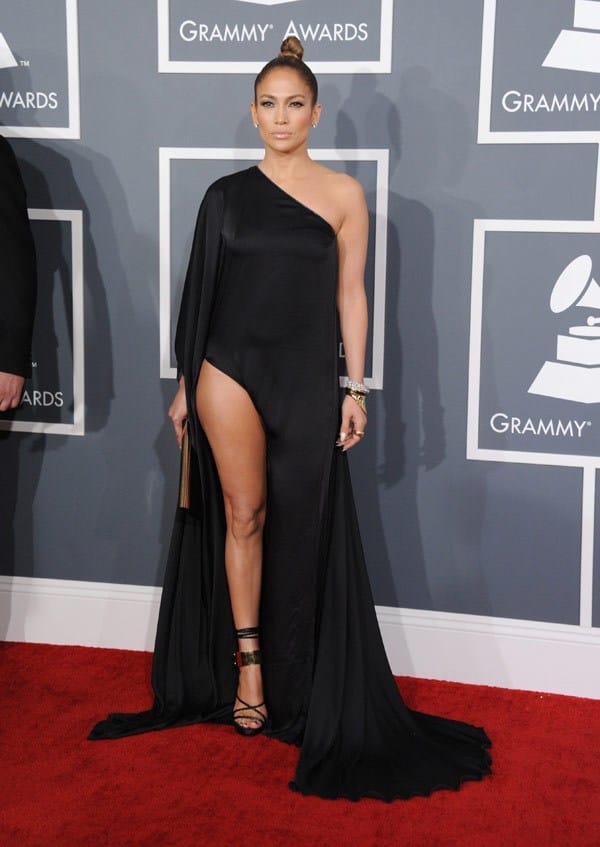 Jennifer Lopez
We knew J-Lo would push the limits. After all, it was she who stepped out in the plunging Versace. Could that outfit from 2000 be the culprit instigating the wardrobe advisory? This year the pop diva decided to play with the rules…showing some shoulder and a lot of leg. But we must confess — her outfit was baffling. Though her face was flawless, as always – the rest of her look erred on the overly assymetrical.
Katy Perry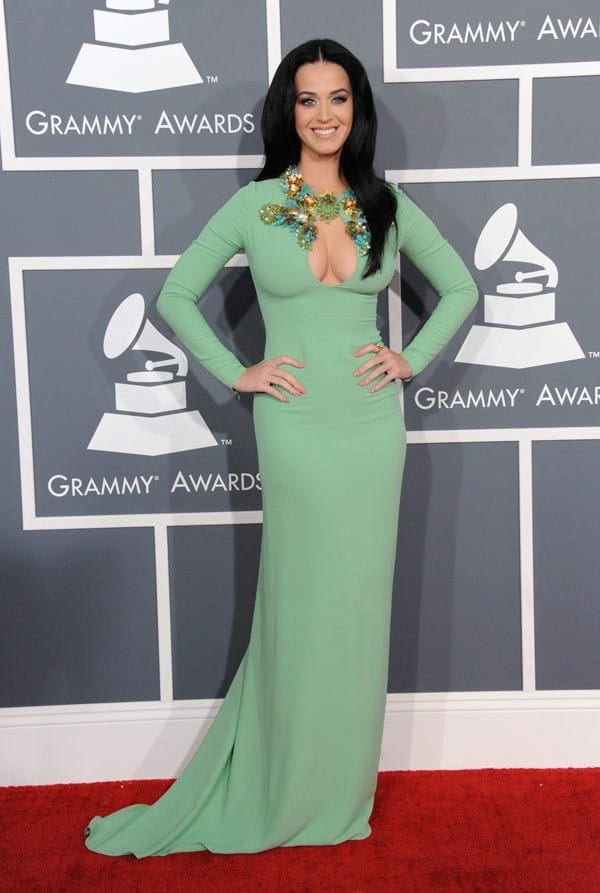 Nope, no sideboob here. But that was a very large frontal view displayed by Katy Perry. The second skin Gucci gown wasn't the worst. But it was far from being the best.
Kelly Rowland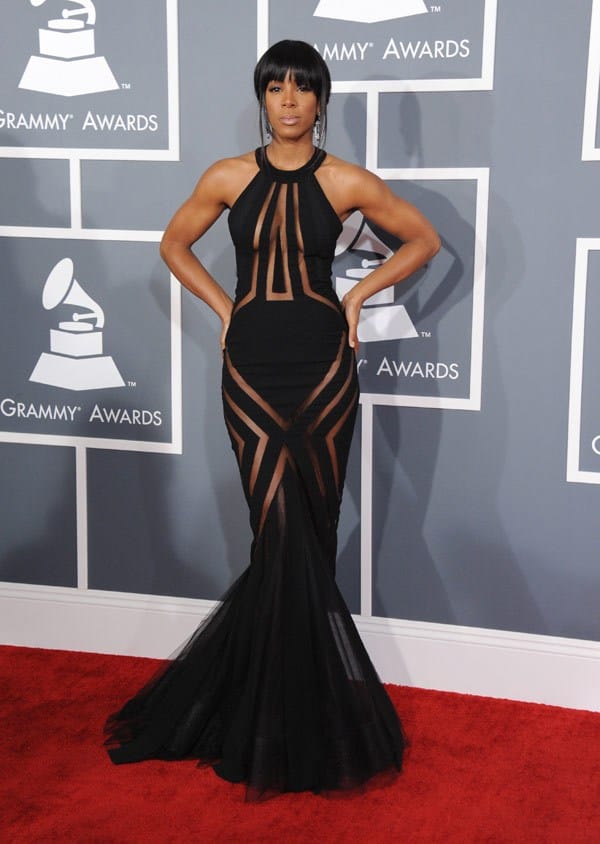 The former Destiny's Child decided to go for it on the red carpet. Clearly disregarding the nudity ban, she stepped out in a severely cut out number — saying she's no back-up singer!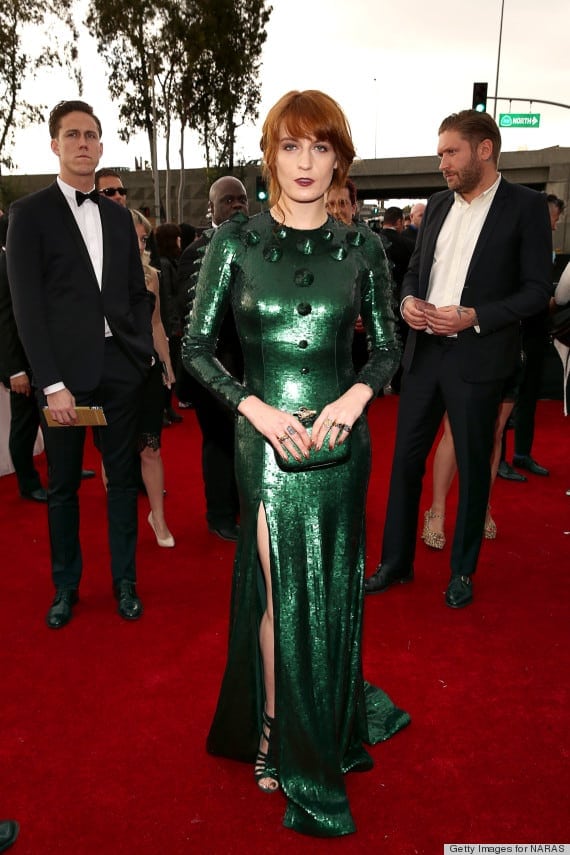 Florence Welch

Yes, we know it's the Year of the Snake. No, we don't want to see it embodied on the red carpet, thank you very much!
Adele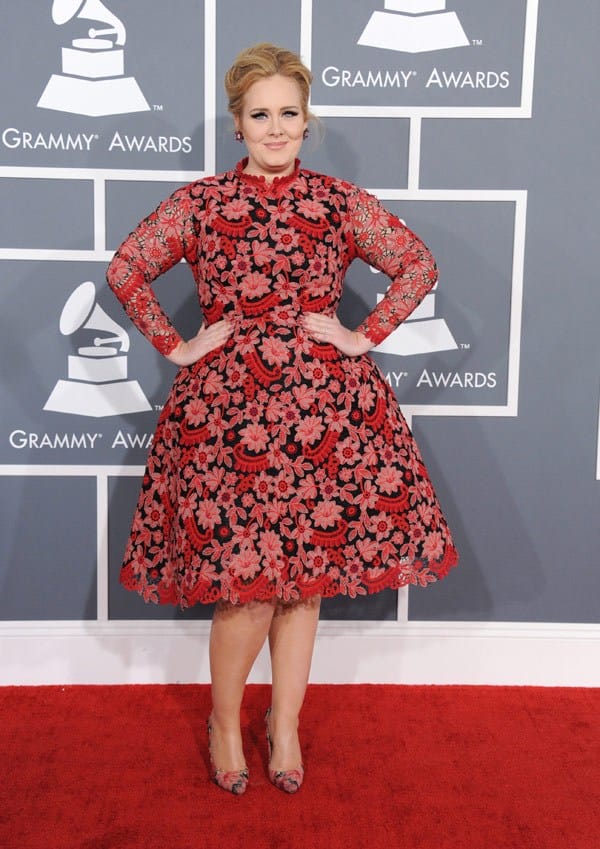 Adele, we realize noone can beat you out of winning yet another award. But this floral frock doesn't say much for a night of success.
Kimbra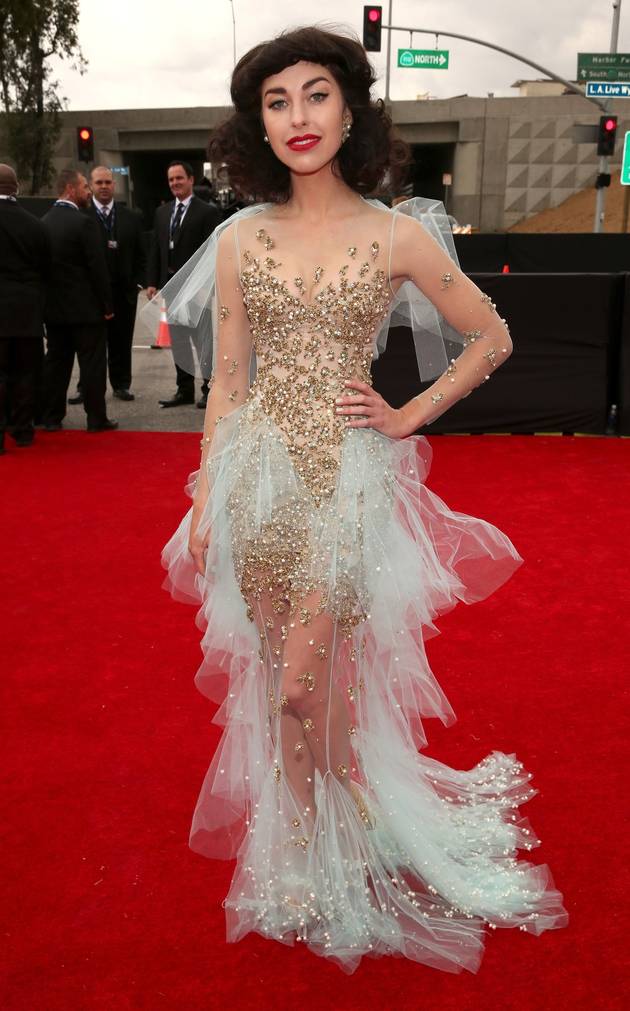 We didn't spot Bjork who was nominated for a Grammy. So we'll look to Kimbra for our quirky fix. We love that she took home an award for best record, but somebody needed to tell the New Zealand native it wasn't an Ice Capades event she'd be attending.
Carrie Underwood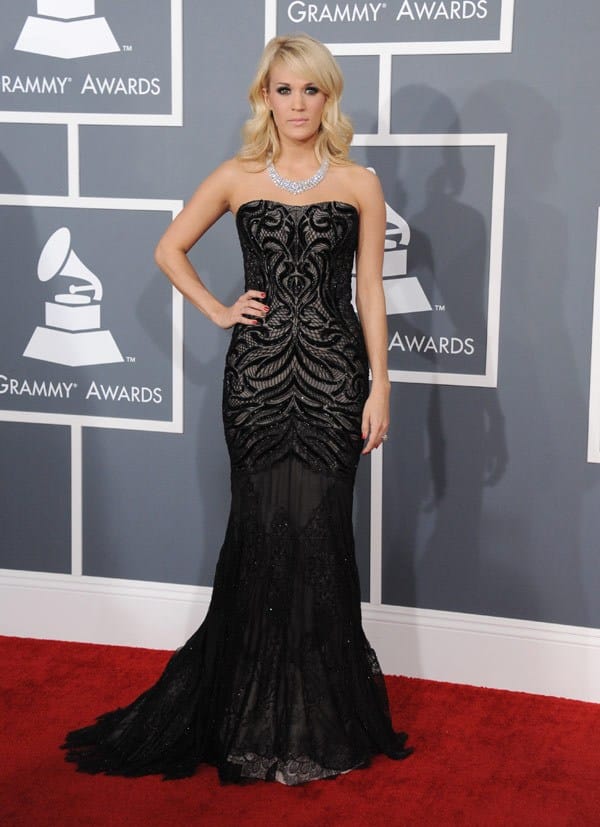 Among the sea of Cavalli gowns on the carpet, Carrie Underwood wins the prize. It didn't hurt that she accessorized in a huge way (was the necklace really worth more than the country singer herself?). Oh, and her performance tech gown definitely needs its own twitter account.