People will stare. Make it worth their while.

Harry Winston
These are the famous words of legendary American jeweler Harry Winston. His advice seems to resonate with stars and celebs, especially when they all gather to celebrate their work in dazzling awards ceremonies.
Of those ceremonies, the Grammys often push the boundaries of style the hardest. I won't guess why that is, but musicians seem more likely than actors to take their Grammy fashions to the extreme. Top-of-mind examples include Lady Gaga's outer space look of 2010 and Jennifer Lopez's plunging neckline of 2000.
Sadly, extreme is not synonymous with wearable or even stylish. As you know Grammy looks can range from wow to what were they thinking? Still, looks that are over-the-top can have inspiring elements. For example, Gaga's space outfit used a structured bottom half to emphasize her perfect proportions. And JLo's great plunge was so flattering to her skin tone.
The takeaway here is when you see a celeb rocking something interesting, you don't have to dismiss it straight away as "not wearable." Look for what works and see if it gives you any ideas for your own wardrobe.
You can test out that thought process on these amazing Grammy fashion looks that date back to 2012.
Grammy fashions retrospective
Beyonce in glitter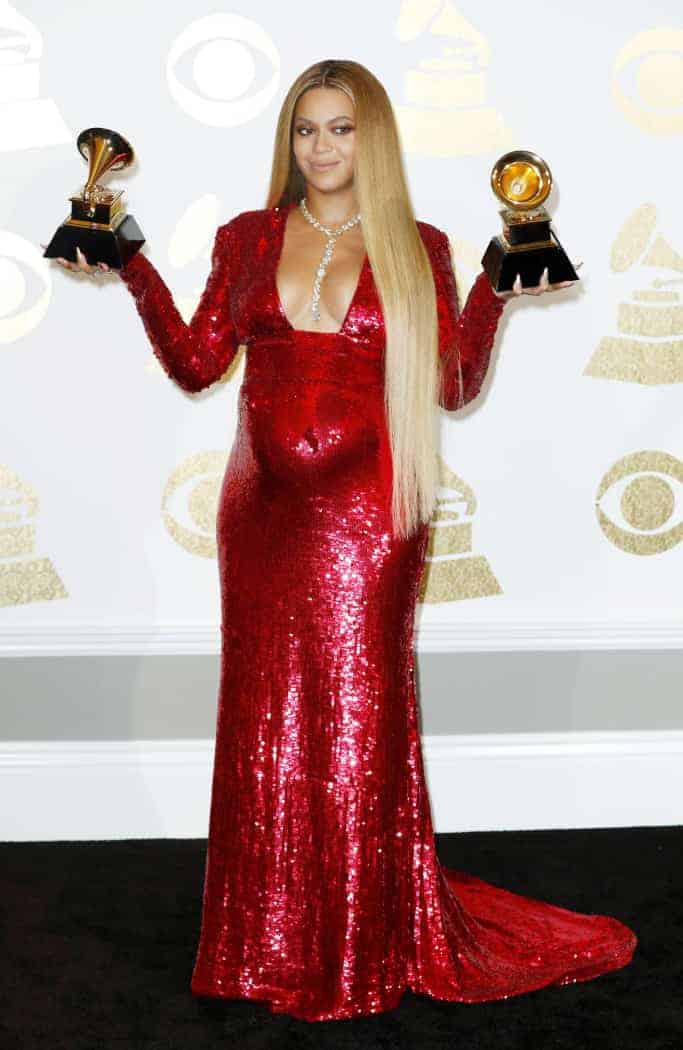 Remember when the Lemonade singer stole the show with her red dress with its deep plunge and cleavage-bearing bodice? The dress hugs her most important curves (baby bump) and the rest of her signature hourglass figure. And what better way to accessorize than with two awards on your arms? (OK, so maybe that's not practical, but if anyone can pull it off, it's Queen B.)
Demi Lovato in netting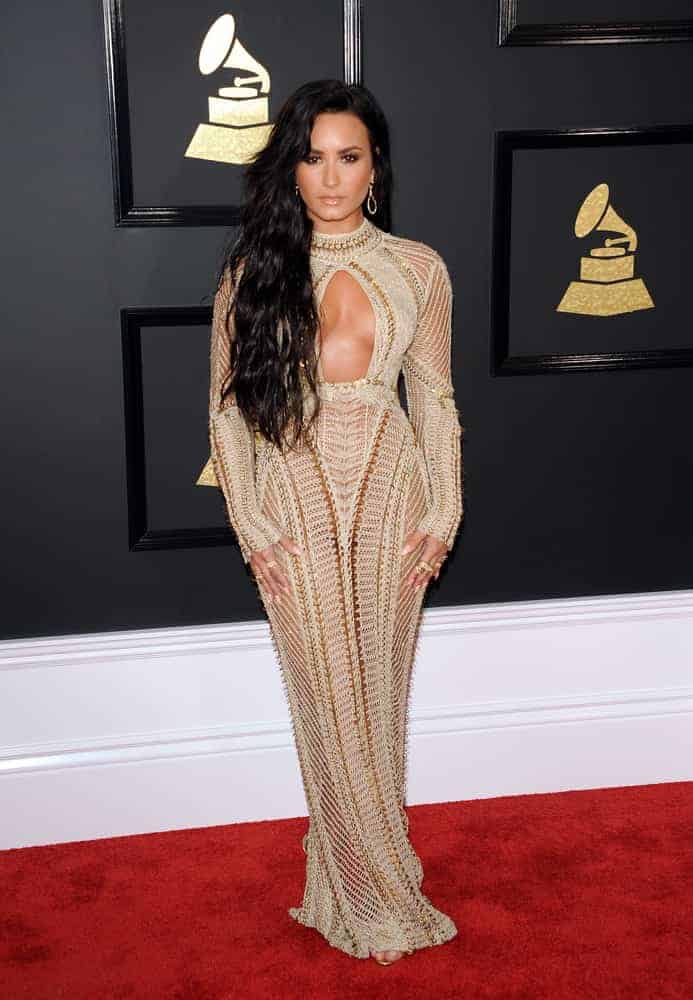 Here, Demi turned heads in her long form-fitting gown, featuring an open-knit that provides "sneak peeks" of skin up and down the dress. Demi's stylist said the actress wanted a gown that would show off her figure. Mission accomplished, right? The high neckline, long sleeves, and length all work together to accentuate Demi's curves.
She also chose simple accessories — allowing the dress to dress to be the center of attention.
Rihanna rocking separates
Rihanna's two-piece, crop top combo in orange and black is something of a standout party dress gone formal. The black skirt is full with a wavy texture, while the orange top pays homage to Rihanna's slim torso and slender arms.
Adele, the green goddess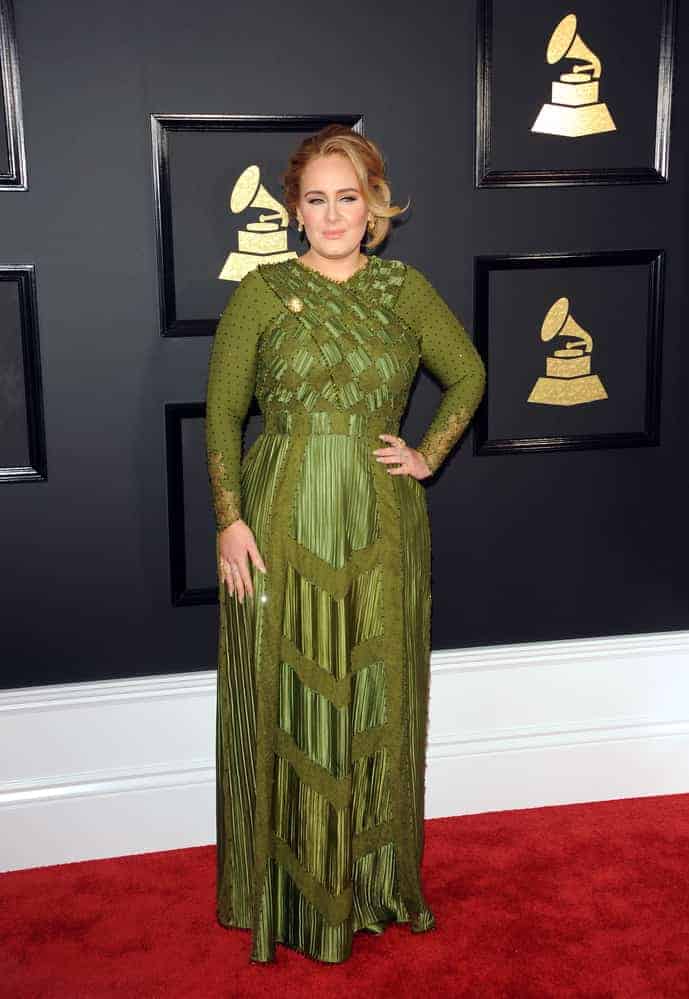 Adele wore this classy, forest-green, custom Givenchy Haute Couture gown by Riccardo Tisci in 2017. The dress is full of detail, with beads heavily sewn on the sleeves and down the front and side panels. With so much happening on the dress itself, the singer is smart to make simple beauty and accessory choices. The updo, gold earrings and rings let the dress take the main stage.
Halsey in parachute pants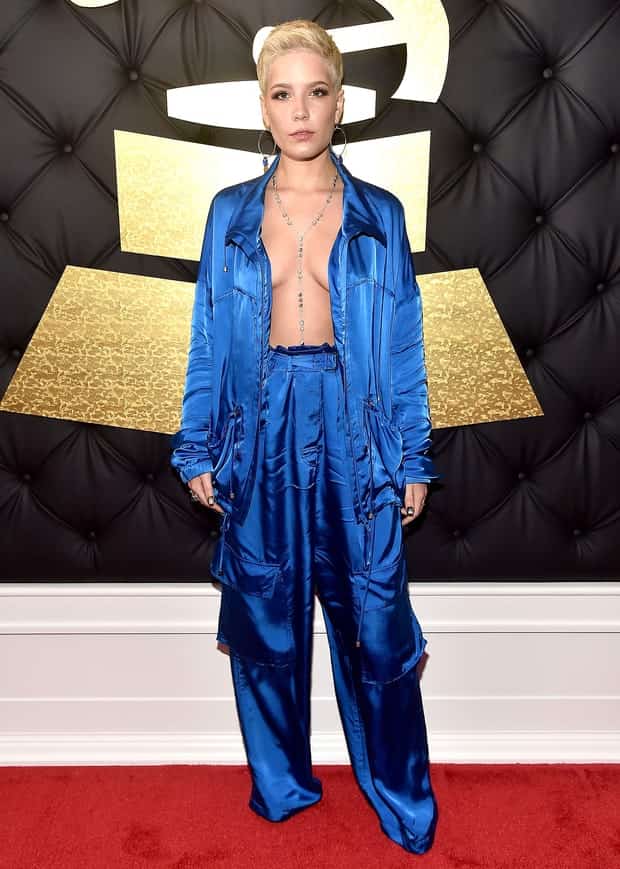 Halsey's royal blue jumpsuit was relaxed and fashion-forward. We didn't know you could wear parachute pants to the Grammys! The singer told Giuliana Rancic on E!'s Live from Red Carpet that she was going for a look that was "sexy and androgenous." If anyone can pull this off, it's Halsey.
A key style choice here is that necklace. It adds much-needed sparkle to the outfit and keeps Halsey from being too chesty.
Ciara in Pucci
A pregnant Ciara said she felt comfortable in her metallic Pucci gown. I say she looked gorgeous, balancing a bold garment with simple hair and makeup.
Taylor in chain mail
Taylor Swift hit it hard in her Gucci chain mail suit of armor.
Katy Perry Couture
Katy Perry was feeling the music in this straight-off the-Valentino-Haute-Couture-runway look.
Rita Oro dazzles in green
Rita Ora took a cute and glitzy stance in Lanvin with lot and lots of rings.
Cyndi dons a cape
Cyndi Lauper rocks an all-black cape-and-pants ensemble as a background for her gold jewelry.
Miranda's classic choice
Miranda Lambert brings on the bombshell in a body-hugging red sheath.
Alicia feeling blue
Alicia Keys goes deep in a royal blue gown by Armani Prive.
Rihanna in red
Ri Ri's 2013 Grammy style was spot-on. She was simply gorgeous in that custom, red Alaia gown.
Taylor Swift, goddess
The low-cut dress has become somewhat of a standard for the country-turned-pop singer, but we weren't expecting Grecian goddess galore! Love the braid updo for a sweet and youthful finish.
Kelly Rowland in cutouts
The former Destiny's Child decided to go for it on the red carpet. Clearly disregarding the nudity ban of 2013, she stepped out in a severely cut out number — saying she's no back-up singer!
Carrie in Cavalli
Carrie Underwood looked incredible in this Cavalli gown. It didn't hurt that she accessorized in a huge way (was the necklace really worth more than the country singer herself?).
Rihanna (again!)
Rihanna channels her inner disco-diva in this slinky, Giorgio Armani gown with deep-v and slit. The metallic accessories and bohemian jewelry are the perfect addition to the Studio 54 homage.
Hillary Scott shows some leg
Hillary Scott does Lady A proud in this eggplant, ombre' strapless. The Monique Lhuillier drapes the singer in all the right places, and the strappy Giuseppe Zanotti heels add an unexpected wow factor to balance out the sweet and simple look.
Kelly Rowland, sexy with class
Kelly Rowland is so wow in this slim Alberta Ferretti applique number. The blush coloring looks gorgeous against her skin tone and the opaque decolletage is a prime example of how to do classy sex appeal.
Kimberly Perry gets Parisian
Kimberly Perry of The Band Perry looks Parisian chic in Moschino. Her messy updo pairs perfectly with the soft tulle and delicate sparkle, bringing a casual and angelic look to the ball gown.
Kelly Osbourne goes metal
Kelly Osbourne proves crazy colorful hair doesn't have to mean an automatic fashion fail. The punk wunderkind turned full-grown fashionista glows in a metallic, one-shoulder Tony Ward that accentuates her curves and clings to her assets.
Lily Aldridge maxes out
The Grammy's is the perfect time to have a little fun on the red carpet and no one did that better than Lily Aldridge. Floating down the red carpet in this large-scale floral print by Gucci, Lily showed off her baby bump in a flowing maxi dress that was the perfect nod to Spring's bold color and print trends.
Adele in Armani
The neo-soul singer looks vintage-fab in her floor-length Giorgio Armani. The three-quarter sleeve, belted-waist gown is stunning on her shape, and has just the right amount of sparkle to avoid taking away from Adele's flawless face.