Kalon Clothing recently sent me a selection of fashion-friendly sports bras to try out. They're cute and super-comfortable. With Mother's Day coming up, I was inspired to write this review and guide.
First, let me make something clear. A fashion sports bra is not for every woman. If you're shopping for or with your mom, take a deep breath and do some critical thinking. You might even take a good, hard look at mom's silhouette and ask yourself: is she too curvy?
You see, fashion sports bras — the budget variety anyway — are light on support. So if mom has it going on up top, a dainty sports bra will leave her with too much droop. And that's not usually a great look.
If mom passes the boob test, then read on for tips on how she can (responsibly) get in on the athleisure trend. Then gift her a girls' shopping trip for Mother's Day and show her how to add new life to her workout style.
5 Ways for Moms to Wear a Fashion Sports Bra
Under the loose-fit tank
The classic approach to a fashion sports bra is to pair it with a loose-fit tank. A white tank will show off a brightly colored sports bra, but white workout tops don't have a long lifespan. If mom is actually working out in it, the white tank will be a sweat-stained rag in no time.
Go for a bright color that coordinates (but doesn't match) the bra. Caveats on this look: mom has to be comfortable baring her arms, shoulders and back.
Under a open-back workout tee
If mom doesn't like to show off her guns, direct her to a more conservative, open-back workout tee. Her cute bra will peek through the back, without revealing too much of mom's bod.
Under a mesh windbreaker vest
Another conservative option is the sleeveless hoodie. If mom wants more coverage, point her to the hoodies with full-length sleeves instead. The trick is to keep it mostly zipped, offering just a hint of the bra underneath. An unzipped hoodie over a bra usually only works for younger fashionistas.
Under a sheer, patterned top
Sports bras aren't just for the gym. Mom can show off her fancy bras just like she would a bralette — under a casual, sheer top for fun, street wear look. The best approach is to choose a loose-fitting, patterned top. (The alternative, a tight, super-sheer top, can leave mom's belly button exposed to the world, which may not be the look she wants.)
Kalon Sports Bra Review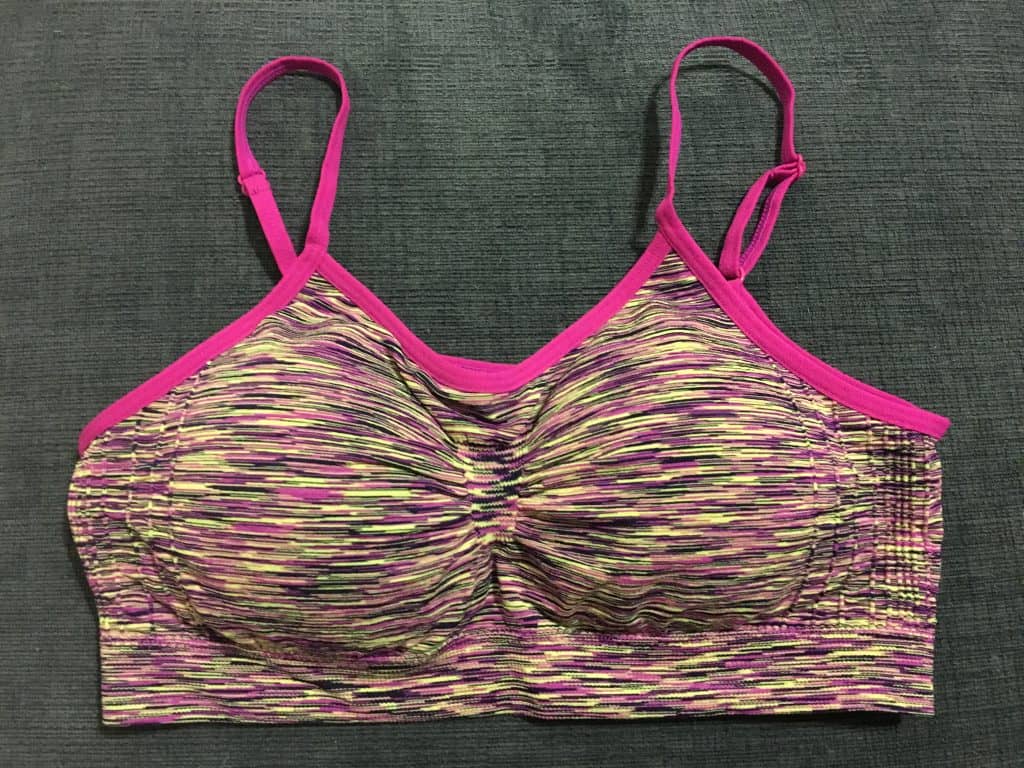 Now that you know mom can wear those cute, high-fashion sports bras, I'll fill you in on my experience with the Kalon bras. I like the fun, multicolored designs, plus the comfort fit. Another benefit is the padding. I've never owned a padded sports bra before, as that seems a little high-maintenance for my taste. BUT now that I have them, I'm kinda hooked. In truth, a regular ole sports bra is pretty unflattering, for both small- and large-chested women.
As I mentioned above, these bras are wholly designed for the smaller-chested woman. And I would not wear them for high-impact sports either. Advise mom to stick with lighter workouts (and looking sporty while running weekend errands of course).
You can find Kalon bras on Amazon.