So, about our budget fashion and style advice: We sometimes use affiliate links, so we might earn a buck or two if you click and buy :) !
10 Great Coats for Fall 2011 under $200
The Texture of the Season: Ruffles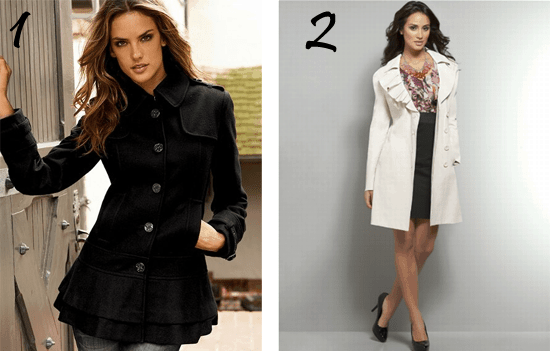 1. Guess Ruffle Hem Wool Coat, via Victoria's Secret, $148
2. New York & Company, Ruffle Lapel Trench Coat, $89.95
Perfect for: Weekends and After Work
Goes with: Jeans, Stilettos, heeled boots
This season, you'll find ruffles on coat lapels, belts, sleeves, and especially hemlines. We love this look because it's carefree, fun, and yet still classic enough to wear for several years.
We Salute Fall: Military Inspired Coats
3. Banana Republic Textured Military Jacket, $150.00
4. Target, Military Knit Jacket, $39.99
5. Target, Belted Military Style Jacket, $49.97
Perfect for: Casual Outings, Shopping
Goes with: Pretty blouses and jeans
Military styled coats and jackets are all over the runways this fall. However, before you splurge on a $300.00+, check out these gorgeous jackets from Banana Republic and Target. What we love about these military styled coats are the classic buttons, clean lines, and nice structure. While it may seem that these coats would be best with tailored pants, they actually look amazing with comfortable jeans or khakis and bright accessories.