It may not be time to break out the earmuffs and gloves just yet, but the air is certainly cooler and crisper. For great transition pieces, try one (or two or three) of these fabulous coats this fall. We love fall coats because they are typically versatile, fashionable, and work well with a variety of styles and tastes. This season, keep an eye out for great texture, military coats, classic trench coats, capes, and even a twist of animal print.
10 Great Coats for Fall 2011 under $200
The Texture of the Season: Ruffles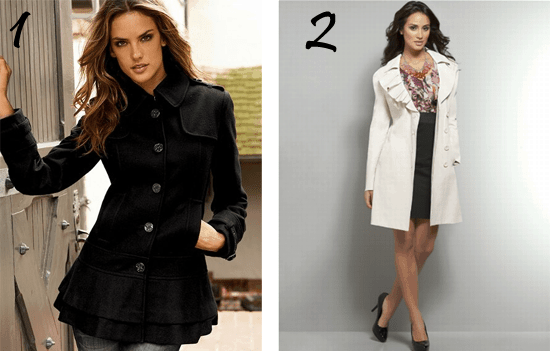 1. Guess Ruffle Hem Wool Coat, via Victoria's Secret, $148
2. New York & Company, Ruffle Lapel Trench Coat, $89.95
Perfect for: Weekends and After Work
Goes with: Jeans, Stilettos, heeled boots
This season, you'll find ruffles on coat lapels, belts, sleeves, and especially hemlines. We love this look because it's carefree, fun, and yet still classic enough to wear for several years.
We Salute Fall: Military Inspired Coats
3. Banana Republic Textured Military Jacket, $150.00
4. Target, Military Knit Jacket, $39.99
5. Target, Belted Military Style Jacket, $49.97
Perfect for: Casual Outings, Shopping
Goes with: Pretty blouses and jeans
Military styled coats and jackets are all over the runways this fall. However, before you splurge on a $300.00+, check out these gorgeous jackets from Banana Republic and Target. What we love about these military styled coats are the classic buttons, clean lines, and nice structure. While it may seem that these coats would be best with tailored pants, they actually look amazing with comfortable jeans or khakis and bright accessories.
Trendy Trench Coats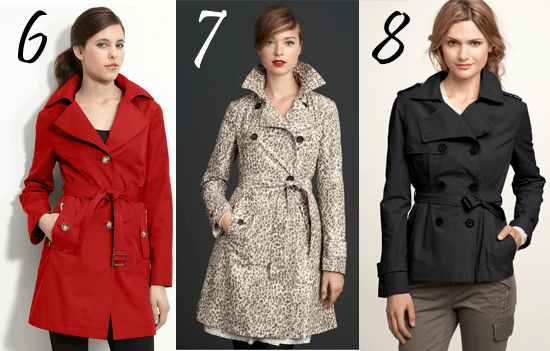 6. Michael Kors Single Breasted Trench Coat, $168.00
7. Banana Republic, The Madmen Collection Leopard Print Trench, $198.00
8. Gap Tie Trench Coat, $53.97
Perfect for: Anything(That's why trench coats rock.)
Goes With: Dresses and heels, jeans and boots, leggings and flats
What can we say; we love the silhouette that trench coats create with their cinched waist. Perhaps the most versatile of any coats, this type of outerwear can be easily dressed up or down (depending on your mood). To add a bit of spice to the outfit, we suggest adding a color flower pin to the lapel of the coat or wearing the coat with a bright scarf.
New This Season: Capes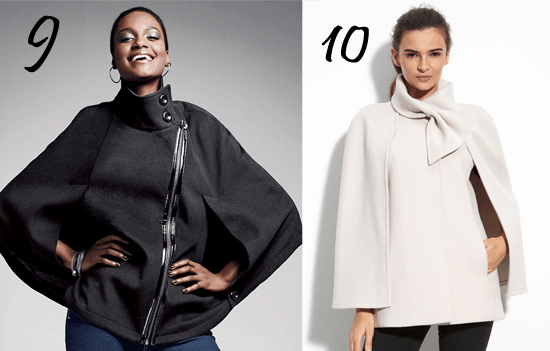 9. Tahari Belle Capelet, $148.00
10. Via Spiga Asymmetrical Cape, $138.00
Perfect for: Casual Outings
Goes with: Tight jeans, cozy boots
The loose, airy nature of capes adds a touch of sophistication to casual jeans or leggings. This season, you can find capes in styles ranging from a more classic, tailored look to edgier, fashion forward finds.
Get more Budget Fashionista