Every September, millions of women set forth on what is perhaps the most challenging sartorial quests of their lives: to find the perfect fall boot. Many are lost on the journey, trekking through the snow in rain boots and subjecting their feet to poor arch support and wetness.
Friends, this year the quest shall be different. We now have a beacon, a light that can help guide us on the quest to find awesome fall boots (without having to raise our own debt ceiling) and that light is the Nordstrom Anniversary sale. From the updated bootie to the over-the-knee boot, Nordie's has some awesome boots on sale.
Top Fall Boot Trends At Nordstrom Anniversary Sale
The Updated Bootie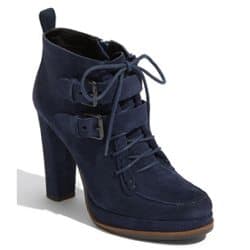 DV by Dolce Vita 'Wyatt' Bootie
on sale for $79.95 (regular price $129.95)
This updated bootie from DV by Dolce Vita is the perfect way to add a bit of the navy trend into your wardrobe without the high price. Now, I know some of you may be thinking, "can I really wear navy as a neutral?" and the answer is a resounding yes. Pair the bootie up with a cute pair of jeans or wear it with a pair of navy blue tights and knit dress.
The Winter Boot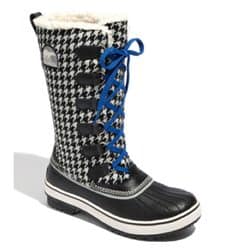 Sorel 'Tivoli High' Waterproof Boot
on sale for $99.90 (regular price $139.95)
Okay, I hate to bring this up when it's 90 degrees outside, but snowy weather is, well, almost here (still trying to put last winter out of my mind). Don't make the mistake I made last year and wait until the last minute to scoop up a pair of winter boots (let's just say my feet are still not talking to me because of the abuse they took during winter 2010). I'm loving this pair of Sorels, which are waterproof, warm, and stylish.
The Over the Knee Boot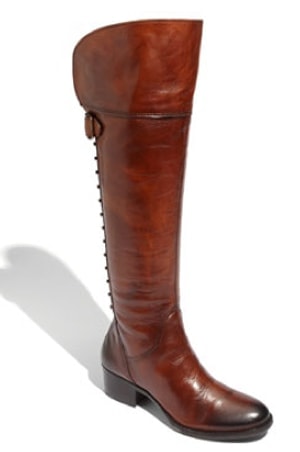 Vince Camuto 'Bilco' Boot
on sale for $159.90 (regular price 229.95)
The hot new trend inspired by Pirates of the Caribbean isn't eyeliner for guys, but the Pirate Boot. The boots, which can be worn over the knee or folded down at the knee, are super comfortable (because stilettos and walking the plank don't mix). Score a pair in a basic color like black or brown to make sure you reach your cost per wear.
The Everyday Boot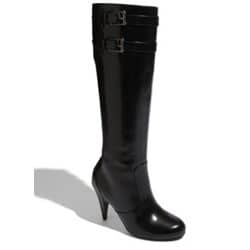 Cole Haan 'Air Jalisa' Leather Tall Boot
on sale for $189.90 (regular price $298.00)
Every woman needs a "go-to" boot in her closet and this boot from Cole Haan is it. Seriously, you'll put this boot on in September and you won't take it off until next winter. Why? The boot has Air technology cushion soles from Cole Haan's partnership with Nike (yes, that Nike), so it's like wearing a sexy version of your sneakers.
The Drool Worthy If I Win The Lotto Boot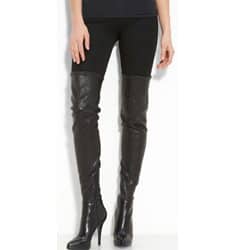 Vera Wang Lavender 'Olivia' Over the Knee Stretch Leather Boot
on sale for $449.90 (regular price $750.00)
It's good to have dreams, no matter how far out of reach they may be, and I've been dreaming about this pair of thigh stretch leather boots since we first saw them at Nordstrom this past weekend. The boots, by friend-in-our-head Vera Wang, are made of the softest black leather.
*Sigh*
Regardless, it doesn't hurt to dream, so I included them on the list so we could dream together.
This post is sponsored by Nordstrom. Shop the Anniversary Sale: Next Season on Sale Now. Prices go up August 1.