Our content contains affiliate links, so know that we might earn a buck or two if you click and buy :) !
Look for layered silk chiffon's in those infamous Spring Pantone colors for the simplest palette to color block or showcase a bold bag. An all-over color dress also pairs perfectly with Spring's large-patterned lace trend. Top your drop waist dress with a lady-like lace jacket or slip a lace top over your dress and turn it into a drop waist skirt/blouse combo.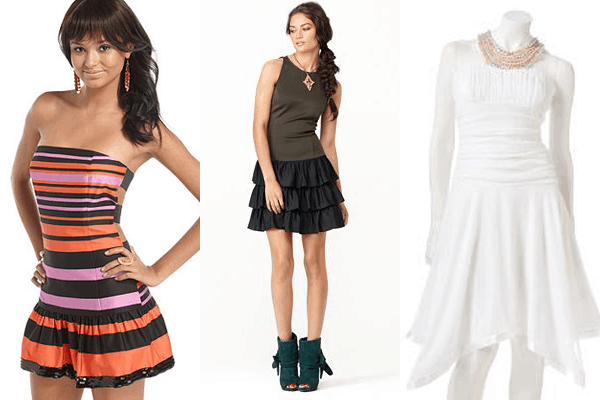 1. Baby Phat Strapless Striped Ruffled Sequin Drop Waist Dress, Now $47.99 from Macy's
2. Drop Waist Ruffled Lisa Dress, Now $79 by Rachel Roy
3. City triangles Embellished Drop-Waist Dress, $89  from Kohl's
For print, pattern, and texture junkies, take a cue from Cavalli and add some spunk to the bottom half of the drop waist trend. Look for dresses with a basic top half, like strapless or short sleeve neckline, and leave the pizazz to the skirt of the dress. Pick your poison of embellishment styles, as pleats, paillettes, feathers and fringe were all represented on the runway and are ready to be shopped from trend to high-end department stores. Giving your outfit some sweet Spring whimsy doesn't have to be limited to print, so look for soft and ultra-feminine touches to achieve the coveted 1920s glam.