Jenni gives us step by step instructions on how to make a a gold trimmed clutch using spray paint. Steps after the break!
Note: if you are having problems with the spray paint sticking to the leather, try painting with Jacquard Lumiere Metallic Paint, works like a gem!

Steps on Making a DIY Gold Clutch
Tape off the area that you would like to be gold.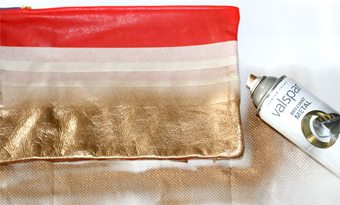 Holding the spray paint at least 6″ away, spray a thin layer, covering the bag. Let dry for at least 1 full day. Make sure to put newspaper or an old cloth under the bag to protect the surface below.
For more do-it-yourself projects check out Jenni Radosevich's website www.ispy-diy.com.