So, about our budget fashion and style advice: We sometimes use affiliate links, so we might earn a buck or two if you click and buy :) !
Coachella is an unofficial holiday to alt music lovers and marks the start of their favorite time of year, festival season. Veterans make Coachella styling look effortless thanks to a few tricks of the trade, and we've got the inside scoop to keeping it festival fab in the heat. Dancing in the desert isn't exactly the best time to go all divalicious with your beauty routine. Instead, channel your inner Woodstock and keep your product packing simple.
Beauty Survival Tips for Festival Season
1. Wear SPF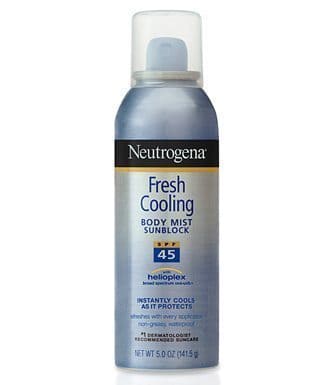 Fresh Cooling Body Mist Sunscreen, now $7.99 from Neutrogena
If you haven't learned by now, sunscreen is your friend. You're about to be in the sun for a minimum of 36 hours over the course of the weekend… potentially longer if you're camping *shudder*. Do your skin a favor and use a sensitive SPF for at least your face and shoulders. Nothing's worse than getting a burn the first afternoon and suffering through it in the crowd when you'd rather be getting your groove on.