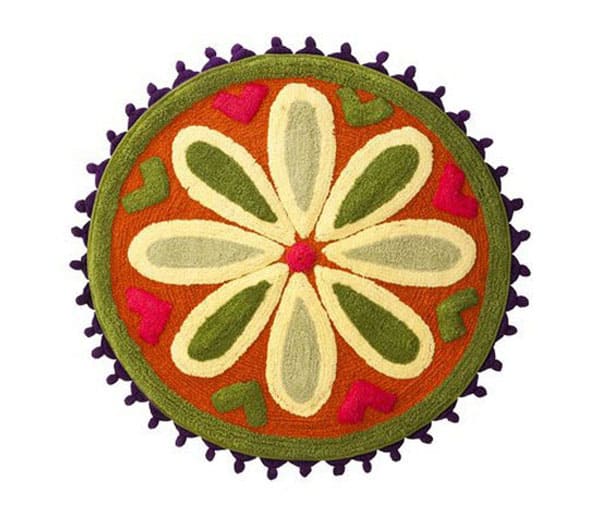 When it comes to home décor, I feel kinda bad for rugs. It seems like they're an afterthought: "We have the perfect wall color, pillows and statement lamps. Oh. (Nose crinkle). Guess we better choose a rug. (Eye roll)." Or, they're enough to make us break out in hives: "I can't take the stress of searching anymore. It's just a carpet anyway, so that one over there is good enough."
Ladies, it's time for rugs to have the (wait for it . . . ) floor.
Toss the "good enough" notion. Instead of trying to find the right rug after everything else is decorated, why not try it the other way around? Resist those adorable bookends and vases (for now) and build around a fantastic accent and area rug.
Another thought worth tossing? That square and beige are the only choices. Go bold and have fun. There are tons of colors, patterns and shapes that'll transform any room.
We found 13 cheap home decor rugs, guaranteed to floor you.
Awesome Cheap Home Decor Rugs on a Budget
Go Wild – Animal Prints
Lions and tigers and bears, oh my! Let loose with these cat and giraffe-inspired rugs. I think they're fun and for under $75, they're affordable.
Flower Power – Florals
Forget about flowers in a vase. I'm ready for large blooms to make a splash on my hardwood floors instead. There's one problem, though. I want all of them. Sigh.
Do the Wave – Contemporary
Trust me, these contemporary rugs are anything but blah. Swirls and waves abound. Go for it, girl!
Round 'em Up – Round Rugs
For years, I was in a "square only" rug rut. I had it in my head that it had to match the shape of the room or else everything would look distorted. Then a friend suggested trying a round area rug. Who knew? I was surprised at how well it pulled the room together while adding a unique charm.
Tell us, are you in a rug rut? What kinds of new rugs would you try? Do you have a favorite store for cheap home decor rugs?