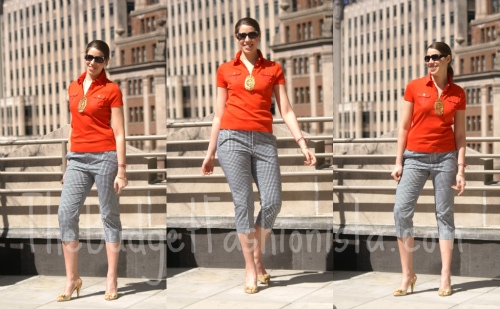 This is a sponsored post from Chaps sold exclusively at Kohls. All opinions and thoughts are 100% mine.
I'm a HUGE fan of Audrey Hepburn's style (less Roman Holiday, more Breakfast at Tiffanys) and nothing is more "Audrey" than a pair of classic capri pants. So, when I had the opportunity to style and shoot Suzanna in a pair of capris from Chaps, I jumped at the chance.
When styling a person, I always try to think of her lifestyle and her budget. Model Suzanna is a young, hip New Yorker who resembles Alexa Chung, but is from Connecticut, which is more "Muffy" than "Alexa." So, I took two decidedly different approaches to styling the capris. One approach was more traditional and the other a bit more funky — to give her two distinct looks from a single pair of capris.
I chose to work with a pair of Chaps Gingham Capris from Kohl's, because they were Connecticut (think Rodney Dangerfield in CaddyShack), while also being very New York. Plus I'm obsessed with patterns and prints.
Look 1: Connecticut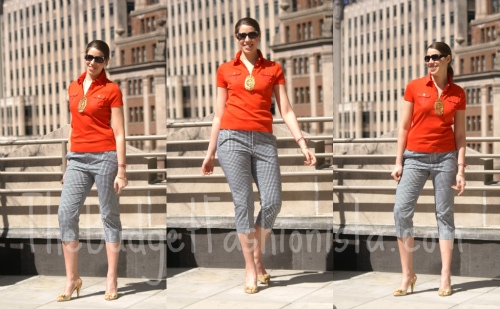 This first look is a bit more of a traditional preppy look, a logical style choice when looking to wear capris. I thought about mixing patterns (something I love to do in my own everyday style), but wanted to give Suzanna a look that could easily be replicated (mixing patterns is an acquired skill) and worn outside New York City without getting strange looks.
So, I went with the next best thing, which is to pair the capris with an bright orange updated polo shirt from Chaps. The bright color of the shirts adds contrast to the outfit (you could also try this look with a bright green or hot pink top), while staying in the style comfort zone. The bright color top also balances the pattern of the capris by drawing the eye upwards, which is important for those who love patterned bottoms, but have a bit of junk in our trunk.
Look 2: New York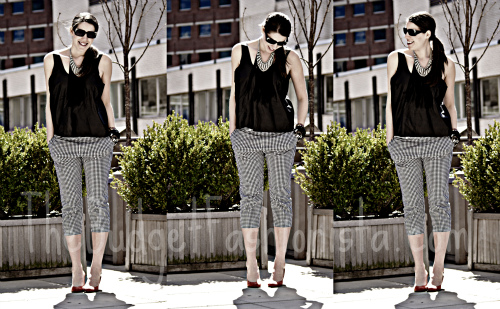 I wanted to show that you can alter the look of pretty much any piece, regardless of where the piece is purchased (to lower the Cost Per Wear of the pants). We raided Suzanna's closet to find something of her own to pair with the capris for the "New York" look. The classic nature of the capris gave us quite a few options- an awesome black vest with silver braiding, a "Chanel-like" houndstooth cropped blazer a basic white tank, and a black leather tank that Suzanna purchased at a crazy discount.
I, of course, chose the black leather tank (but the "Chanel" blazer was a very close second) and mixed it with heavy metal accessories from my own collection (all pieces under $10)- including my sunglasses purchased for $2 from a flea market in Mexico City.
Once we had the basics of the outfit, I was confronted with an issue faced by most, too much black. I love black as much as the next New York Fashionista, but black can get really boring, so I advocate adding a bright shoe (in this case we went with a pair of melon colored suede pumps from Faryl Robin..purchased on sale of course) to bring a bit of color to the outfit.
Model: Suzanna Schmaucher
Location: Wall Street, New York City