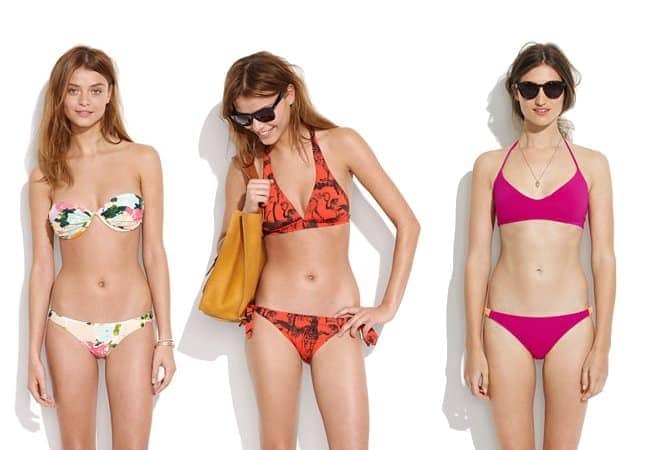 Not news to anyone, it's swimsuit season! Of course, somehow it's suddenly June, the sun is high and all I feel like wearing is whatever is light, cool, and sweat-free. Sadly, as an adult it's not really appropriate to live in a bathing suit, but a gal can dream—so whether you're taking a day at the beach, hanging in the backyard, or lounging by the pool – here are my favorite bathing suits for all shapes and sizes for summer 2013!
TBF Adores these Budget Swimwear Choices!
1. Victoria's Secret: While it's no secret that VS sells seriously sexy suits in all styles for every shape, you also probably know that the suits usually price around $75 per suit. However, as a budget fashionista always knows, there is nothing like a good sale – and this summer, VS has a wicked clearance of 60% off. Check it out here! I love this Twist Bandeau.
2. Forever21: In true fashion, you can get like two suits for the price of one VS suit. We love F21 for the variety of colors, style, and of course – the price so low that you feel like you're getting two for one. I'm obsessed with this black retro bikini (about $30).
3. Gap: No matter what my mood, I'm always on search for an adorable one-piece. This summer, I found one that I simply must share- and impressively, it's from Gap! Bright Stripe one-piece is $64 and flattering for all. Grab it while it's still hot!
4. Roxy: I love Roxy swim, but I don't love the price. However, if you are savvy, you know that you can shop Roxy without spending over $75 – just check out the sale page online. Check out this striped orange number ($16/piece).
5. JCrew: Every lady loves JCrew swim. But like VS, the suits are usually at least $75. So, what's a gal to do? Shop the sale, duh. JCrew has a great sale, and often there are those coveted suits. I'm rather keen on the pink polka dot!
Get more Budget Fashionista