Super Bowl parties should be fun and low key, but most importantly, they should be awesome. Unless you have VIP box seats in Dallas to offer your peeps, your awesomeness must center around food and atmosphere (yep, ours too). Just remember, this is football, not the Tonys — forget high-brow and go with guy-friendly.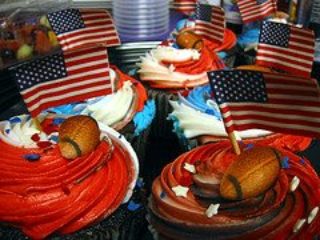 Football Field Centerpiece. Okay, we did this last year — but we STILL love Hostess with the Mostess' great centerpiece idea with wheat grass and little plastic football guys. Want to go more budget? Buy a small swag of artificial grass "carpet" (available at craft stores) and pick up some plastic football dudes at the dollar store or actual "Football Guys" at amazon.com. Even MORE budget? Take a simple sheet cake, ice it in green and put your plastic men on top. Now you have a centerpiece that is gridiron-worthy — and delicious.
Yummy Chili. The can't-go-wrong main food event? Chili. You may already have a tried-and-true recipe, but may we suggest this one from Epicurious.com? The chili cheddar shortcakes are optional — and if you don't have a food processor OR a butcher (see the recipe) get a "Mix N' Chop" (only $10.50 at Pampered Chef!) to get your ground beef super-ground.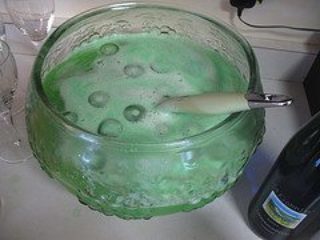 Fun Drinks. Of course beer is the go-to, but sometimes you want something a little more festive — The Neelys have a great recipe for "Gina's Super Bowl Punch" — and punch tends to stretches your resources, for more bang for your buck.
Spectator Games. Print off these trivia questions and hand them out to your guest for a little added fun while you're waiting for kick-off. The only cost is paper and printer ink — and to up the ante, offer a prize (pick up an official Wilson football for around $15 from Walmart — or a Nerf ball if your budget is even tighter) for the guest who gets the most correct answers. Tally the results during half-time.
Photos from Flickr: Here, here and here
Get more Budget Fashionista