This post may contain affiliate links. See our privacy policy.
Out with the old, in with the new!
If you're feeling the urge to spruce up your living space with some new home décor but have been scared off by unpronounceable, multi-syllabic designer or store names (whose price tag renders you just as speechless), have we got some ideas for you.
Read on to discover some great places to find home décor on a budget.
Great Budget Home Decor Shops
Bed, Bath & Beyond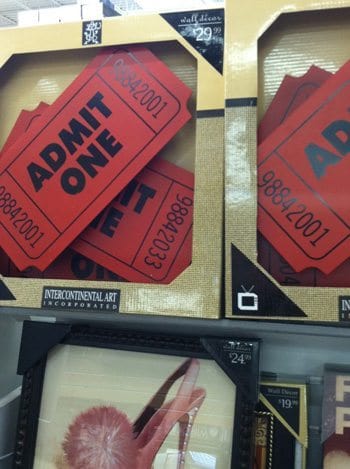 It's the "beyond" that we love. You're bound to find just what you need here.
We're digging their 3D-themed wall décor–like a pair of large, red "admit one" movie tickets ($29.99) and their abundance of decorative pillows, all oozing with ruffles, mixed colors and unexpected patterns (typically under $30). We especially like the blue 18"x18" "Magnolia Patch" pillow ($24.99) and the 22"x22" rose/lime/purple in their "Pinkberry Spring Fling Fixture" ($29.99) pillow.
Even their wastebaskets are not under-cabinet worthy; shimmering metals ($12.99) and colorful ones made from recycled paper ($9.99) make us want to use them more as an entertaining focal point than as a hidden-from-view embarrassment.
Note: Do not go beyond (pun intended) the front door of BB&B without a coupon. Check online at bedbathbeyond.com to find out how to score one.
Macy's
Four words: Heart of Haiti Collection.
Do we ever love their earthy elegance. Their original Croix-des-Bouquets bring Haitian craftsmanship to countertops, shelves or stands. Plus, the story behind the craft is pretty cool, too– for example, the hand-cut angels in their Angel Collection were made from oil drums that washed ashore after WWII (figurines and tea light figurines, $18 each). Plus, the Heart of Haiti Collection helps support Haitian artists and communities.
Christmas Tree Shops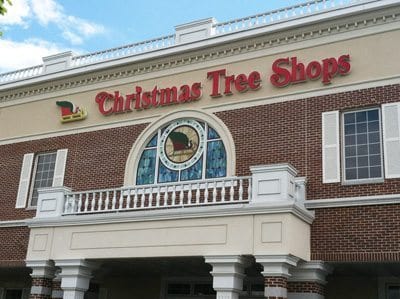 Huh? Christmas Tree Shops? Yes, Christmas Tree Shops.
We know, we still can't shake the notion that one day we'll walk inside and the entire store will be filled with little elves running amok in some Charlie-and-the-Chocolate-Factory-meets-Buddy-the-Elf scenario. Truth is, it's not some 24/7 winter wonderland. The store boasts an eclectic blend of everything from nail polish to olive oils…which means there's plenty of home décor in between.
Cute and funky seems to be their home décor theme, at least when we recently visited. Whimsical 10"x10" beach-inspired decorative mini-pillows ($3.99 each) caught our eye. With too-cute prints of lobsters and beach umbrellas, we want to snap up a few, even if we call home a bustling city. We think these would be great for peeking up from the inside corner of a wicker basket in a sunroom, perched inside a bookcase shelf, or tucked between a few other pillows we already own.
The lamps at Christmas Tree Shops are another bright spot (pun intended) on our home décor mission. Styles ranging from conservative beige with standard scalloped shades to more funky ones sporting bubble bases with patterned box shades (most lamps are no more than $39.99) left us feeling more than ready to redecorate our whole house. (Except for that pesky thing called "time." So it goes).
And speaking of time…we also like their funky/mod countertop and wall clocks, whose faces sprout rustic wire swirls and spokes. Many we saw were as low as $12.99!
Target
We recently declared our love for Target, and it went way beyond our excitement over their roomy aisles, on-trend selections and overall quality.
We could write a story about their home décor alone. In particular, we're fans of the flame: we simply can't get enough of their candle selections. From long-lasting soys, flameless ones, layered pillars or pretty sets, most are in the $20-or-under range. The more elaborate and bigger ones, of course, put you nearer the $20 mark than the tinier ones with more basic scents. Some were packaged so prettily, we almost lost track of the candle housed inside; their decorative tins and boxes are intriguing enough to adorn your mantel or nightstand (candle, what candle?!) But you'll definitely want to break out the lighter–our favorite is the layered Tahitian candle from Target Home (vanilla, amber, and sandalwood) complete with decorative band (a mere $4.99 for a 3"x3" pillar).
Target's rugs also gave us plenty of "oooh, that one" and "check this one out" moments. Check out an online burst of fun: their "exploded flowers" rug (under $80) and the soft geometrics of their other selections (less than $100). You can't go wrong at Target.
Marshalls/T.J. Maxx/HomeGoods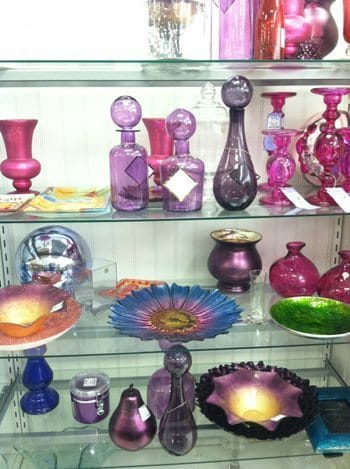 Marshalls, T.J. Maxx and HomeGoods (they're all owned by the same company) are like home decor heaven.
Aisle after cheery aisle boasts colorful, whimsical accents while still maintaining an air of elegance. We're wild about their glass bowls and vases, brimming with brights. A sunflower plate ($12.99 each) caught our eye, mainly because it was so, well, "unsunflowery" (new word). Instead of the typical yellow and black colors, this one had gold, rose and blue hues spilling outward from its center. Stunning!
We also enjoyed the wide selection of frames (most under $20). Everything from nature scenes to modern swirls made us take notice. One with a bright pink background and bold white "Keep Glam and Rock On" wording seemed perfect for its girly, yet grown-up edge, especially if placed as an unexpected, playful addition in a roomful of beiges and whites.
Searching for decorative pillows? HomeGoods' selection went on almost as far as the eye could see. Patched-on fabrics? Yup. Silhouetted birds on a limb? Check. Most were under $15.
Plus, HG is pretty much the ONLY place to buy high-quality sheets, with most sheet sets under $50. We also love their selection of furniture, which is better quality than IKEA, but priced lower than, say, Ethan Allen.
A.C. Moore Arts & Crafts
Break out your glue gun and unleash your creative side!
We think A.C. Moore is a fun, DIY place for fashionistas seeking to grace walls and halls with their personal touch. Guaranteed, no one but you will have precisely the same aqua and silver beads around their mirror's border. There are more beads, paints, stencil kits and fabrics (from felt to leather) than you can shake a stick at (where'd that phrase come from, anyway?), so there's no excuse for you not to wow your living room guests—or yourself.
Home Depot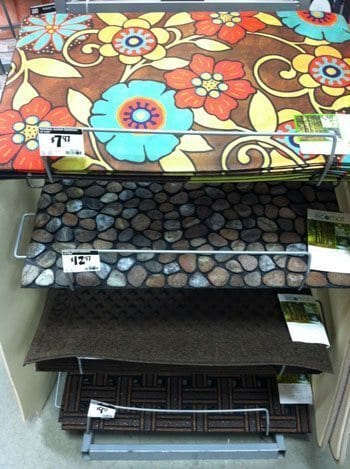 Now before you think of plywood and drill bits, stop! From decorative ceiling fan chains to pretty plug-in night lights, this place surprised us with its home décor options.
We came across three fun finds:
A pendant light ($64.97). This earth-toned, mosaic-patterned light would look amazing suspended in a corner to gently illuminate that frame you just made with crafts from A.C. Moore (see how this all comes together?!)
For the DIY gal, we found pretty, thin strips of hardwood molding with delicate styles like embossed vines and twisted rope designs. Great bare or ready for a little paint, you need not break out your Home Projects 101 handbook. Who says you have to use it for its intended purpose? Cut off a piece and adhere it to whatever floats your stylish, creative boat—give more texture to the perimeter of a bookcase or create an unstructured, layered effect by gluing a portion to just one border of a picture frame.
Even their doormats impressed us. You can imagine our surprise when we spotted groovy lime, orange and red floral patterns, or ones covered with a pebble design. Why not embrace the "who says" attitude again? Who says they have to be used as a doormat? These 18"x30" mats would be great accents for garden rooms, on patios or even in front of your stove or sink! And for less than $8? Even groovier!
Thrift Stores!
We recently reposted about our love of the Salvation Army and even wrote about how to find awesome finds in The Art of Thrifting. If you haven't guessed by now, we're wildly in love with the stylish, very affordable finds at such stores.
If you're still hesitant about thrift stores, let it go. Nix the notion that everything smells like a relative from the '70s; there are so many incredible finds that beg to be hung on your walls or showcased on your coffee table. From vintage colored-glass vases that would look beautiful perched on a sunny kitchen window ledge to art-deco clocks, psychedelic prints or a weathered-in-all-the-right-places wooden spoon rack (why not?) you can get as old-school, modern or cutesy as your heart desires.
The deals truly are a steal, too–most of the time you guess one price only to happily discover the actual cost just moved your imagined decimal point to the left! Your anticipated $15 for that statue? Try $1.50! One thing's for sure: you WILL become addicted to the outstanding collection of home décor you can find on a budget at thrift stores!
So, budget-conscious fashionistas, have you shopped at any of these places for budget home décor? Let us know what incredible finds landed on your tabletops and shelves (although we bet you'll be too busy shopping at Macy's. And Target. And…)