Our content contains affiliate links, so know that we might earn a buck or two if you click and buy :) !
4. Zulily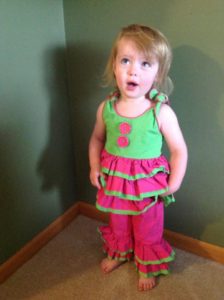 "I like Zulily  as it avoids looking like all the other kids at the park!" says JoEllen Elsing-Graber, mother of the adorable Lexi (seen above). "I buy dark colors and patterns as it hides everyday messes and like to buy cotton or cotton blends to avoid ironing. Lastly, I like to stick with a lot of basics that can be mixed and matched so that dressing on days when mom is not available is easier for dad!"
5. Man Clothes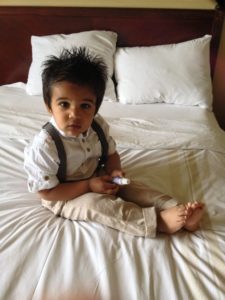 Monal Patel knows how to make her already adorable baby Sanay catch even more eyes. She dresses him in little man clothes like baby suspenders. For cute clothes like these, try the sale section in Le Petit Kids.
6. Target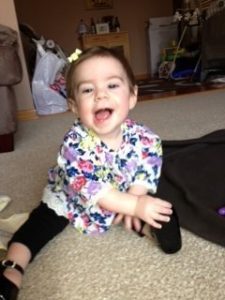 "We love to shop at Target for great deals on baby clothes, there is always a sale!" says Becky Tessari, mother of smiley Eleanor seen above. And I'll second that, I've gotten adorable blazers, golf hats, and khakis at Target for my son for under three bucks!
7. Hand-me-downs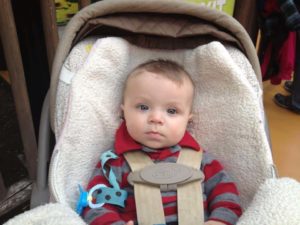 Never underestimate the power of hand-me-downs. "After talking to a few women around the office, I was amazed to see how many were suddenly ready to rid themselves of adorable outfits now that they were done having kids. Works for me!" says Jordan Mills, mother to rugby-ready Alex seen below. Don't know anyone with stuff to give? Then try Craigslist.
What's your favorite budget baby fashion trick?