Take off that mask and you might remember the way life used to be. You know, when it was less acceptable to wear old tees and sweats every day. If it's time to upgrade your summer look on a budget, you'll want to see this collection of the best Amazon tops. All are highly rated, available with Prime shipping, and — the piece de resistance — carry a price tag of $30 or less.
1. Poplin summer top for $22
Add easy polish to your denim shorts, skirt, or pants with this cotton button-down. It's available in 14 colors and patterns, including a few takes on the blue stripe plus a polka dot on navy. But I love the classic gingham.
Tuck it in with a belt for a dressier look or tie it in front on more casual days. If you're wearing it with jeans, add loafers. Reach for a block-heeled sandal to finish the outfit if you're wearing a denim skirt. Shop this poplin top here.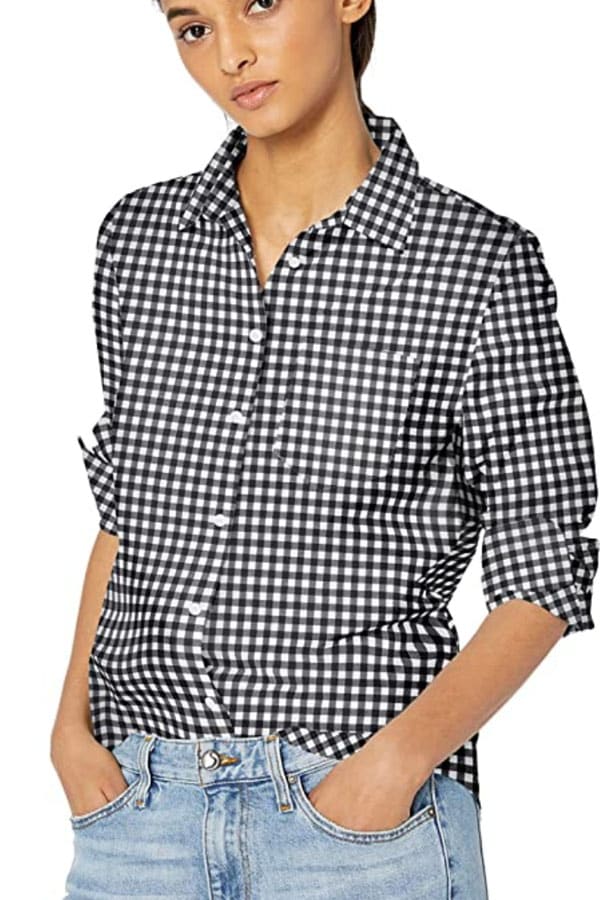 2. Upgraded summer t-shirt for $21
How about a super soft t-shirt with some flair? The criss-cross detail at the neckline lets you off the hook for putting on a necklace. This top also has a longer length and curved hemline so you can stay classy while wearing it over leggings. It's made out of rayon, too, so it'll drape nicely over your shape.
The other advantage of this top is the thorough sizing chart provided by the maker. That's something you don't always get when buying a t-shirt online, but it definitely improves the chances you'll get the one that fits. Perhaps that's why this top has a 4.3-star rating with more than 11,000 reviews. Shop it on Amazon here.
3. Summer sleeveless tank for $20
I have a couple of tanks with a similar style — pleating at the neckline, a slight flair, and a hip-length hemline. It's incredibly versatile. Back when I worked in an office, I'd wear these tops to work under a blazer and also on the weekends with jeans. Mine were both Calvin Klein pieces and more expensive than this top even though I bought them on sale.
Prices range from $12 to $20 depending on size and which of the 30 colors or patterns you pick. Buy this tank on Amazon here.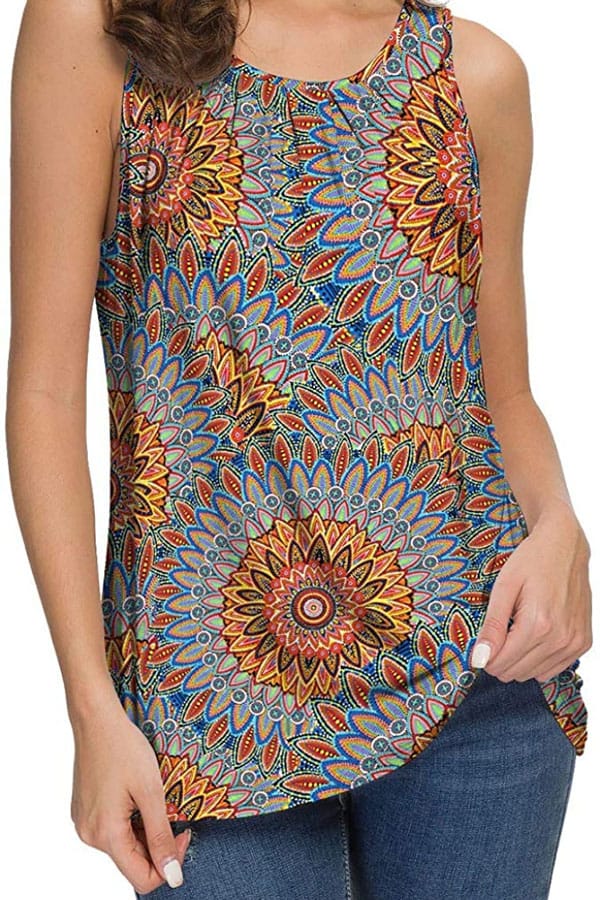 4. Twist front summer top for $20
The twist at the front of this piece mimics the curves of a balanced female body. Even if your shape has some flaws, a top like this could very well camouflage them. The short raglan sleeve also provides more coverage than a tank, which you'll love if you are sensitive about baring your shoulders.
Here again, you have a size chart to help you pick the right one. Look for the chart in the pictures, because it is different from the Amazon generic size chart.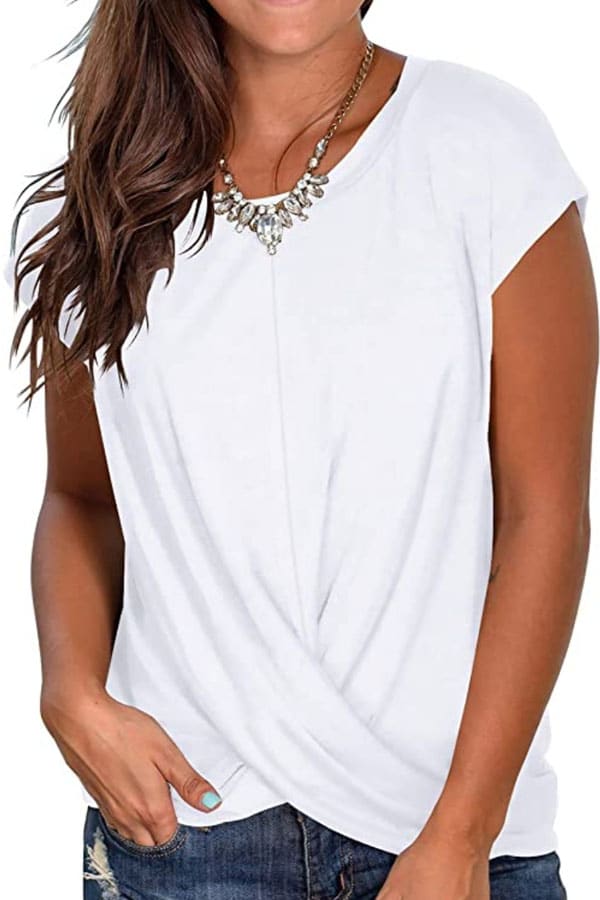 The twist front top is made of polyester, rayon, and spandex — so it should be low maintenance, too. Shop this top on Amazon here.
5. Waffle weave top for $20
The wrinkles in the product photos bug me, but clearly 1000s of women have been able to overlook them. This waffle weave top has 4.4 stars from nearly 4,500 ratings.
This piece is less versatile than the first tank I featured (Number 3 above) — it's clearly made for casual, weekend wear. And that is A-OK. The high-low hem and slightly off-centered front twist would go perfectly with a messy beach wave hairstyle, shorts and converse. Don't forget the wayfarers, either. Learn more about this top on Amazon here.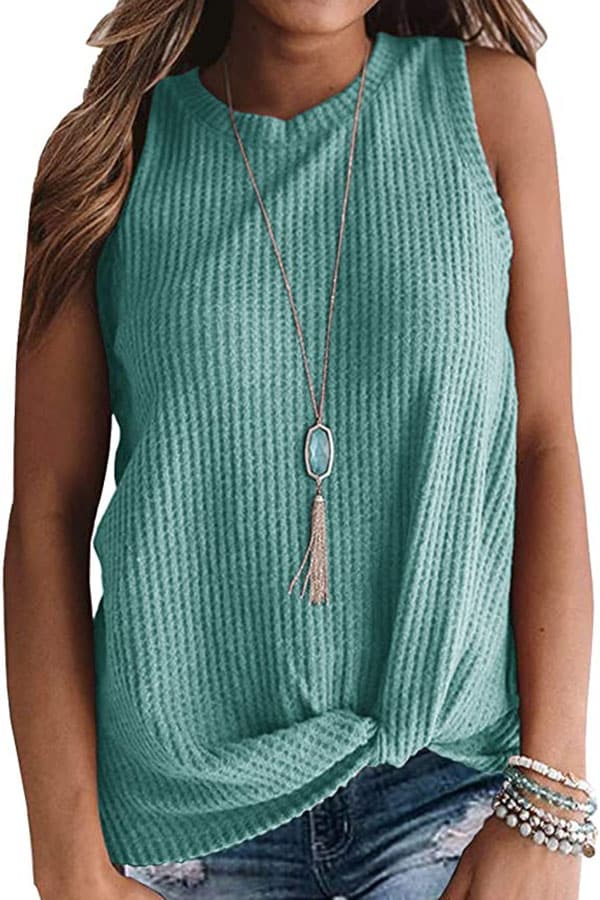 6. Racer back cami for $16
Here's another style that's most definitely a knock-off. Express used to sell a very similar tank, with the halter neck and racer back. If you don't like the way tank tops look on you, try one like this. The exposed shoulder bone is very flattering. This is a mostly cotton top so you can expect wrinkles. It's also hand-wash only.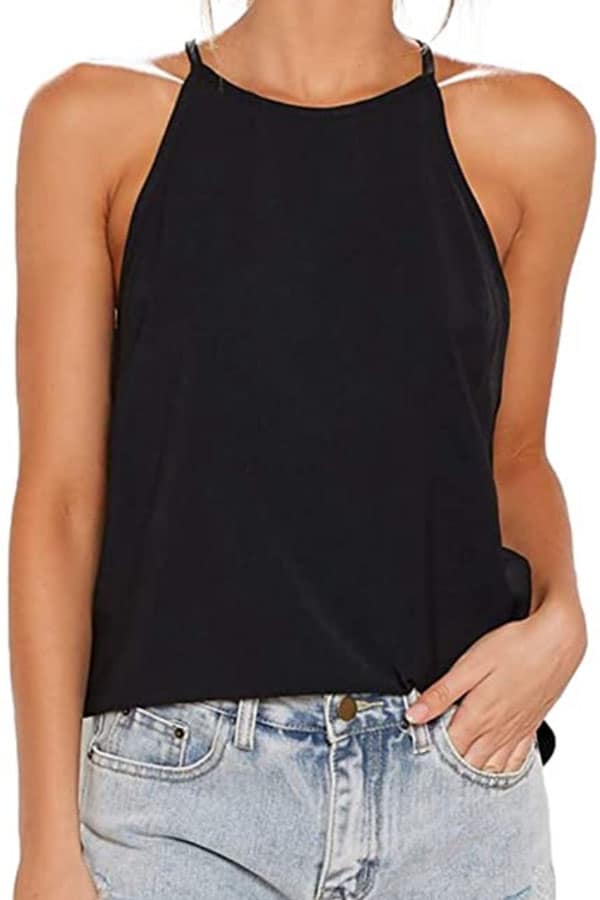 Offsetting those inconveniences are the price ($16!) and the selection of 36 different colors and patterns. Shop this halter top here.
7. V-neck tunic tank for $19
At this point, you've probably noticed some features showing up repeatedly in this list — especially the hip-length, curved hemline. That's not because love that detail (even though I do). I picked these tops from the quantity and rating of reviews. Consider it a very informal gauge of what's trending.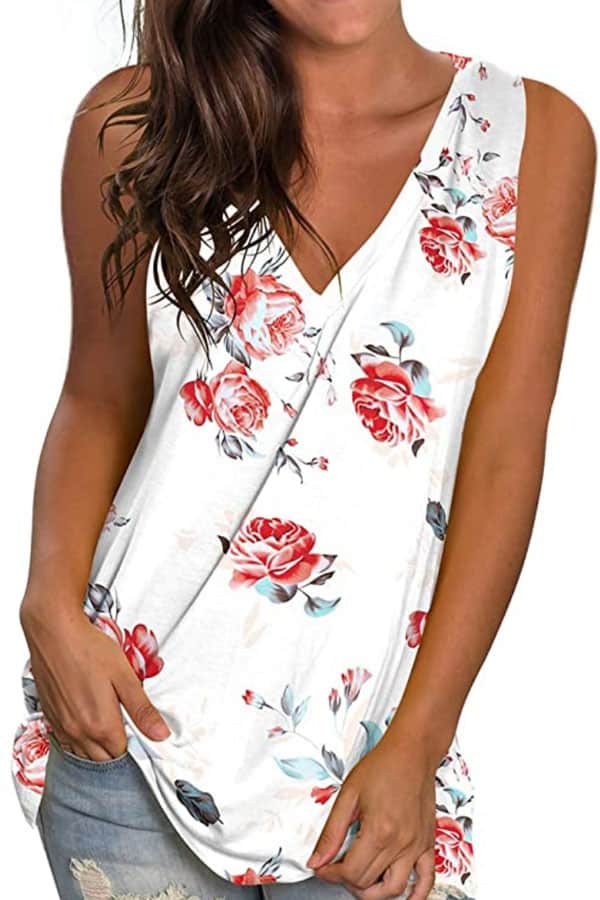 In any case, if you like a relaxed fit floral — so easy breezy for summer! — this one's a hit. The V-neckline is deep enough to be a shade seductive, but the looser silhouette keeps things casual and classy. Shop this top here.
8. Striped t-shirt for $19
The combo of stripes and blocks of color is a statement maker, even though this is a very casual top. Choose from nine different colors, all paired with the grey stripe. Note the sizing chart on this one too — it looks like it runs roomy.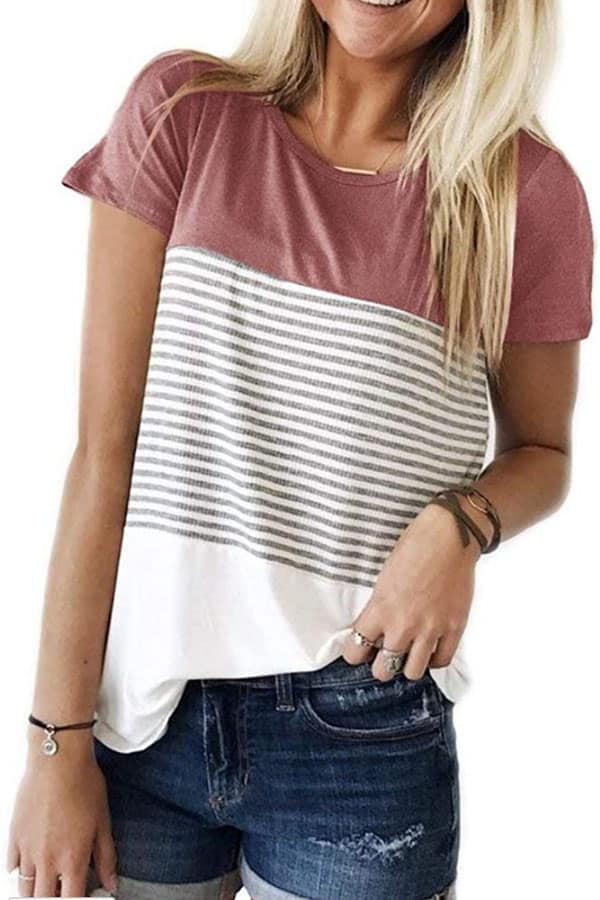 Amazon shoppers are loving this t-shirt, rating it 4.4 stars from 33,000 reviews. Shop it here.
9. Tunic t-shirt with buttons for $22
The side buttons and ruching add a little something extra to this easy tunic t-shirt. It'll show off your waist and your curves. As one reviewer confirms, it hides muffin top!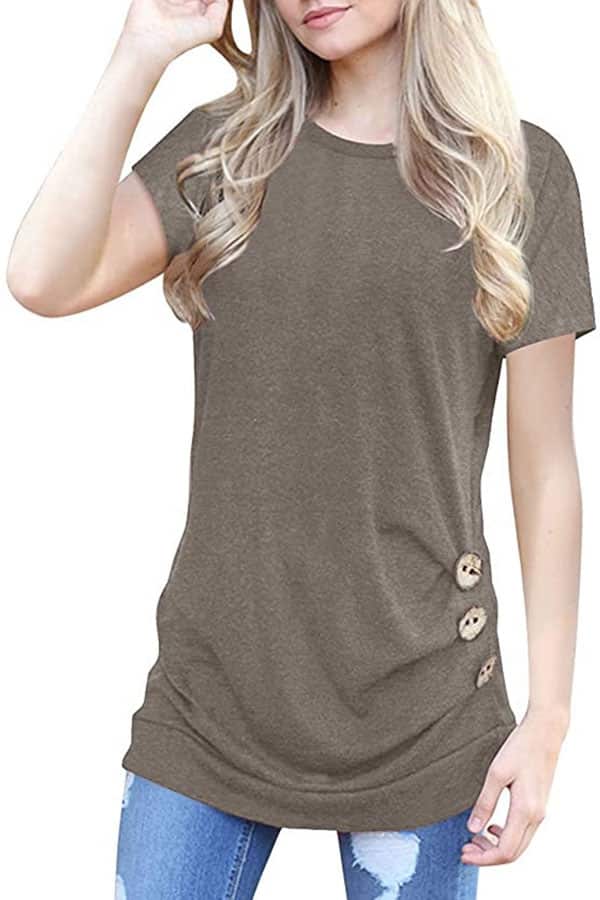 Wear it with leggings or skinny jeans, or a skinny capri pant. Shop it here.