We've hit the tail end of summer where marketing is wholly focused on the school year ahead. Which is great, if you're a kid, or maybe you have kids, and get to partake in the fun (and it is fun) of back-to-school shopping. But for the rest of us? Honestly, it's kind of a bummer. You reminisce the days when you were showing off a few new outfits and scrawling on the empty pages of a fresh notebook.
In an effort to squash the FOMO that hits those of us who aren't heading back to campus, I like to join in on the fun and take the traditional back-to-school time to replace a few items of my own.
Since I'm usually buying clothing all year round, I tend to focus on the essentials for back-to-school. For starters, that means a new bag, usually for work (so I can justify it). Nothing like a little rationalization, right? Like many women, I lean towards multi-tasking work bags that can help ease a long commute. The fall work bags to buy now take you from morning coffee runs to meetings and the after-hours workout, and give you that brand-new back-to-school feeling to boot.
6 Picks for Work Bags
The Classic Tote
Street Level Reversible Faux Leather Tote & Wristlet, $48, Nordstrom
Two neutral styles for one, with a coordinated wristlet for the small stuff. This classic is a beauty for work to weekend.
Tech-Friendly
LoDo Medium Backpack, $89.99, Case Logic
For sportier styling, a contemporary, tech-friendly backpack makes things easier for those biking to work and beyond.
Convertible Bohemian Bag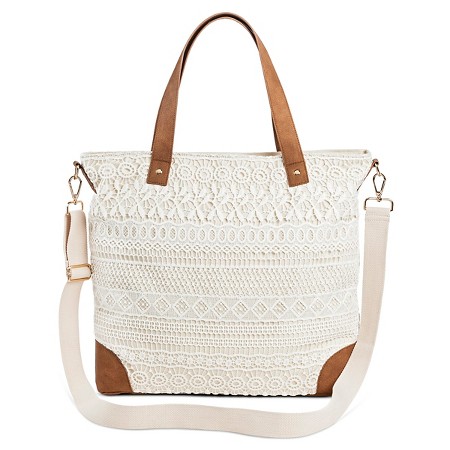 Merona Women's Crochet Overlay Canvas Tote Bag with Removable Crossbody Strap Handbag Cream, $29.99, Target
Crochet work and faux leather trim details bring a vintage feel to the office in this convertible carryall.
Fringe Backpack
Mossimo Supply Co. Women's Backpack Faux Leather Handbag Black, $29.99, Target
A glamorous take on the backpack fad, this tasseled brass hardware bag makes your mark as the office trendsetter.
Striped Messenger Bag
Nila Anthony You Better Work Messenger Bag, $34.80, Nasty Gal
High-fashion meets the messenger silhouette in this roomy block striped shoulder bag.
Animal Print Satchel
Liz Claiborne Lillian Dome Satchel, $52.50, JCPenney
Risk takers will love the subtle multicolor snake print of this uniquely shaped convertible number.
Which of these back-to-school bags would you want to carry this fall?
Melissa is creative communication professional with 9+ years of experience writing for the beauty and fashion industries.