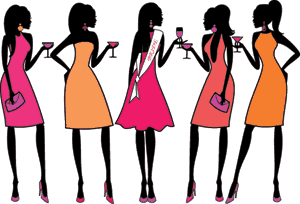 This post may contain affiliate links, which means I earn a small commission if you click and buy something (at no cost to you). See our privacy policy.
It's here, and we're in the dead middle of it: the season of groomzillas (Yes, they're real), matching A-line dresses in petunia, and something old, borrowed, and blue. It's that time affectionately known as "wedding season," and while we love open bars and our dearests finding their life partners, we don't love the hefty bill that's associated with weddings.
Previously, we wrote about bridal shower entertaining on a budget (since we're all about partying like a boss on a everyday gal's budget), and when our friends at Simply Orange challenged us to rethink an article we wrote in the past, we were up for it. Here's how to throw an amazing, oh-there-will-be-pictorial-evidence-on-Facebook bachelorette party that's crazy fun on a budget, and wait for it, Simply Orange is also giving away $100 Amex gift card and coupons to try their fun new flavors. Read on!
Fun and Frugal Bachelorette Party Ideas to Try!
Skip the paper invites: Dare we say that tangible invitations are obsolete? We live in a digital age of pinning, liking, tweeting, vine-ing, and insert-latest-social-trend-here. Go paperless (It's more environmentally friendly), save some cash, and still have a great time. We love Paperless Post for bringing the artsy-ness and class of traditional invitations to the digital age.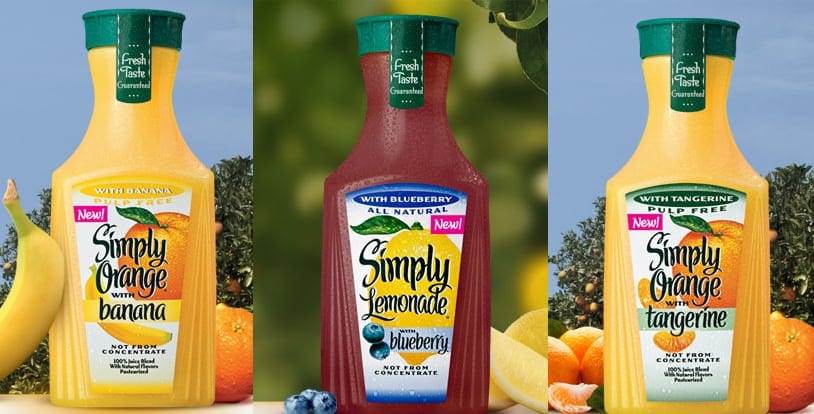 Pregame at home: Midori sours and cosmopolitans add up. Instead, bring the bar to your home/hotel for pregaming fun, or a night in with the chicas. You may not have a seasoned mixologist in the group, but no worries, set up your own DIY bar with staples like vodka, tequila, champagne, beer, etc. Don't forget garnishes like mint, lemons, and lime. Throw in a couple of juices, so guests can concoct their own cocktail masterpieces. With summer's heat wave (Hello 100+ degrees of humidity), we're loving the new Simply Orange flavors: Simply Orange with Banana for the quintessential tropical blend; Simply Orange with Tangerine for your classic OJ with a twist of citrus; and Simply Lemonade with Blueberry for the perfect blend of sweet and tart. For a refreshing, summer-appropriate cocktail, mix your choice of Simply Orange drink with a bit of vodka and lemon to top it off.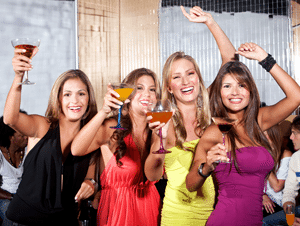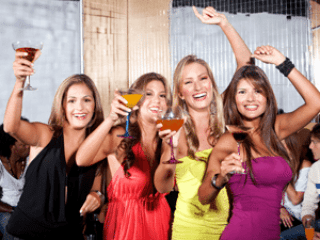 Photo via: Shutterstock
Color Code: Instead of printing "Mrs. Smith's Bridesmaid" tee's," color code your party instead. Printed tee's are cute, but will most likely be relegated to the Goodwill pile. Think bridesmaids wear all black, while the bride wears turquoise.
Themes are fun: Costumes are fun. Period. And there's no need to run to your local Party City as long as you can get a little creative. Here are some thought starters to get your creative juices brewing.
Recycle a Bridesmaid's Dress: When else are you going to rewear your bridesmaids dresses of yesteryear? The bigger, the pinker, the better. Game on, ladies.
Cartoon Hero: Who doesn't want to rock green as a Ninja Turtle? Use eye shadow to create the red, purple, blue, and orange bands. Now the hard part, who gets to be Michelangelo?
Go back to class: With a large enough group or flash deal sites, learning something new doesn't have to be so pricey. We're loving the new trend of painting classes with wine (since nothing stimulates art better than a glass of chardonnay). Or try trapeze classes or a Bollywood-inspired workout class. The sky's the limit.
Stage a Photoshoot: Engagement shoots are a staple these days, so why not do a similar shoot with the bridesmaids (minus the awkward kiss-y shots). Craiglist is full of art students and burgeoning photographers who are quite affordable. Want to step it up a notch? Go for a music video. Bonus points for bridal parties with choreographed dancing and over the top costumes. We suggest the Spice Girls' Wannabe.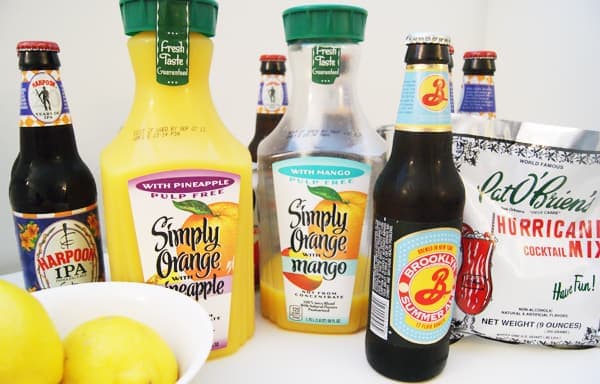 And if you're all out of ideas, invite Ellen to crash your party

Simply Orange Juice Company has asked me to help promote the new product(s). I am being compensated for my participation in the program but all opinions expressed in the post are my own and not those of Simply Orange Juice Company.