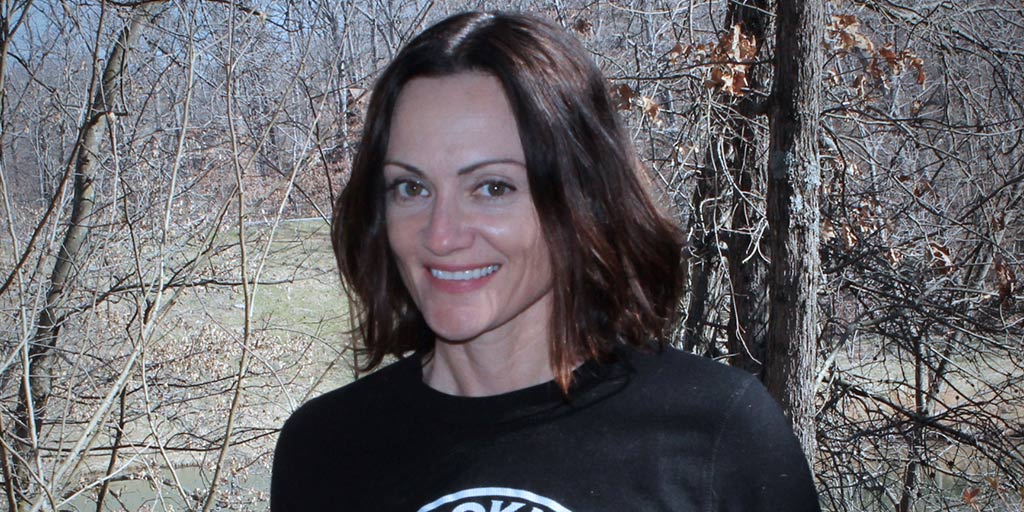 This post may contain affiliate links, which means I earn a small commission if you click and buy something (at no cost to you). See our privacy policy.
Thank you to the Smile Brilliant team, who collaborated with me on this Smile Brilliant at-home teeth whitening review and giveaway. All opinions are my own.
Short on time? Skip to the Smile Brilliant giveaway details here.
I think it's fair to say that no one wants a smile that shows off a love for coffee and red wine. And yet, as much as I dislike the look of off-white teeth, I dislike the thought of foregoing two of my favorite beverages even more.
As a result, I'm mildly hooked on tooth whitening products. I've used all types of at-home teeth whitening products, from whitening toothpaste to strips to brush-on formulas to whitening lights. I've also used custom whitening trays ordered from the dentist.
As you can imagine, the most effective of these — the custom trays — was also the most expensive. The trays were also fairly uncomfortable to wear, as they were made of a hard plastic. I later lost those trays in a move, and I wasn't that sorry to see them go.
[contextly_auto_sidebar]
Smile Brilliant Review
Given my high interest in teeth whiteners, I jumped at the chance to review the Smile Brilliant whitening system. I didn't know much about Smile Brilliant at first, and so I had no expectations about what was involved.
The overview is this: Smile Brilliant is at-home teeth whitening system that includes custom trays, whitening gel and a de-sensitizing gel. You make the impressions for your custom trays at home — so there's no visit to the dentist required.
Send in those impressions and Smile Brilliant makes your trays and ships them right to you. You then apply the whitening gel and de-sensitizing gel using your custom trays.
Making Smile Brilliant impressions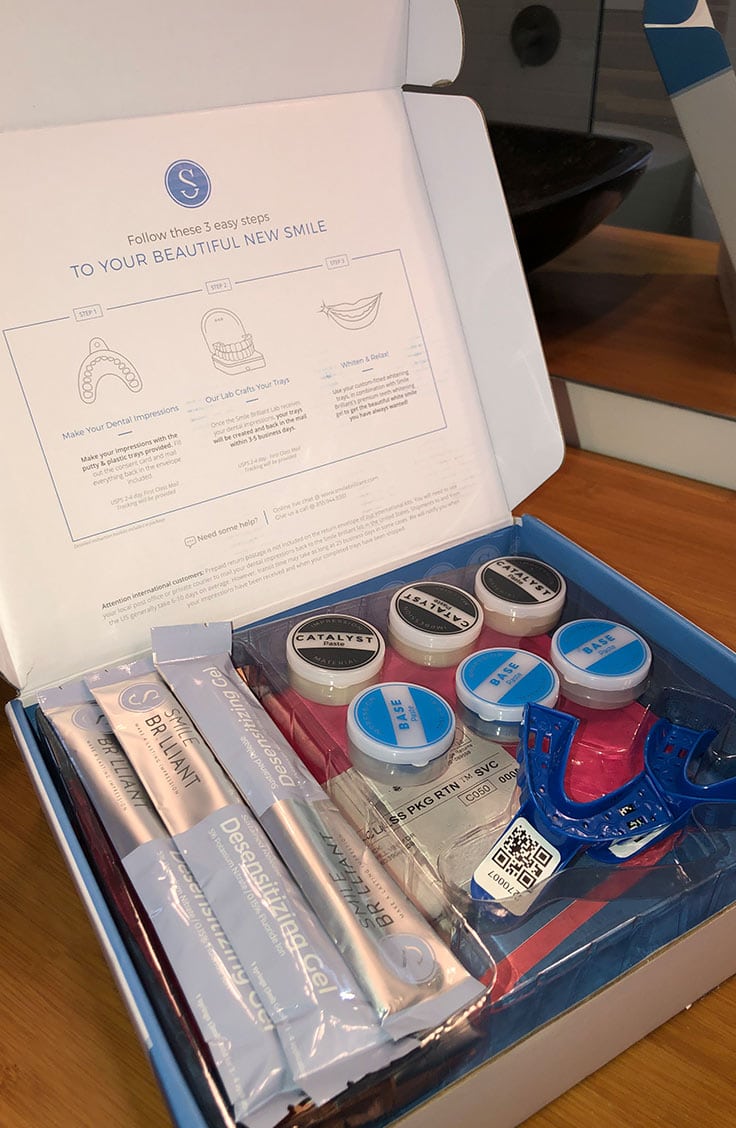 When you order your Smile Brilliant kit, you'll receive your at-home impression supplies, plus the whitening gel and de-sensitizing gel.
Your first order of business is to make your impressions. This part was kind of weird and fun at the same time. You basically mash together two different substances that feel like Play-doh and then put them into a plastic tray. Pop the tray in your mouth and mush the Play-doh stuff around your upper teeth to create the impression. Hold it in place for a bit until it starts to harden. Repeat for your bottom teeth.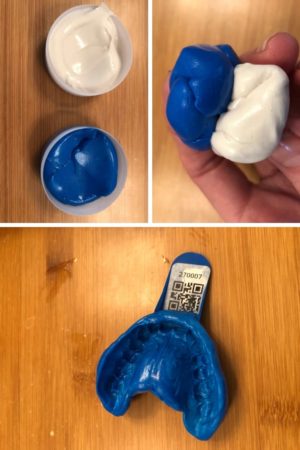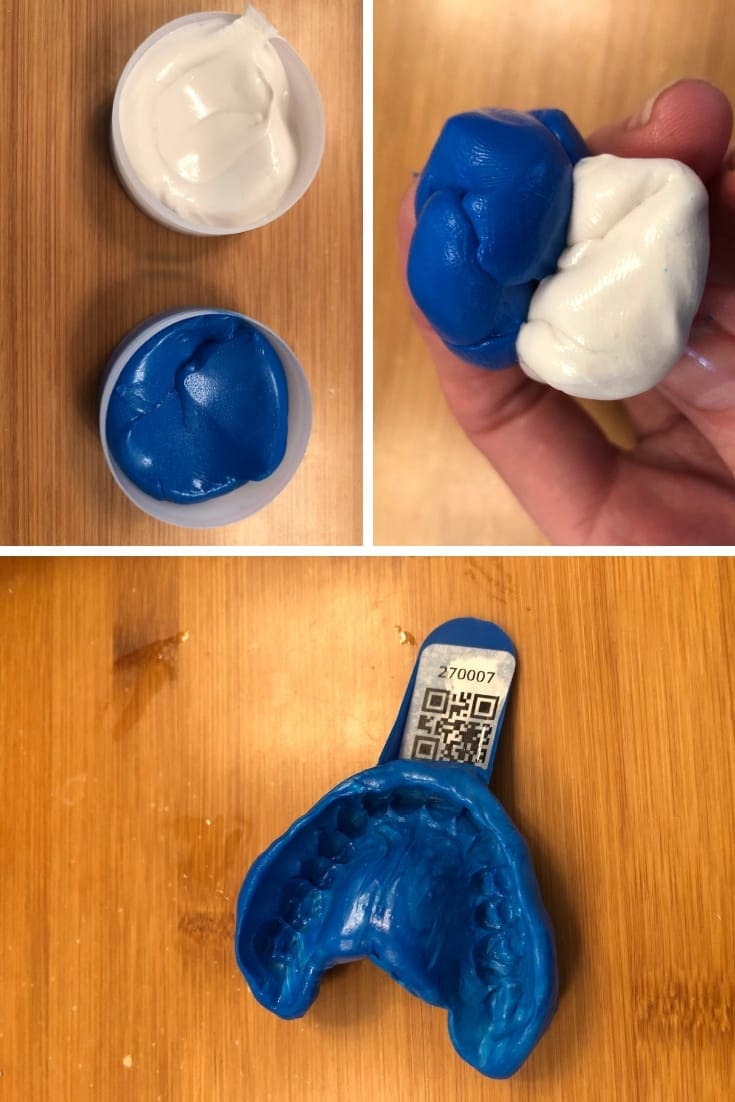 You do get enough impression material for an extra set, just in case something goes wrong on your first try. I didn't have any trouble with the impressions and didn't use the extra material.
At-home teeth whitening process
I received my custom trays two weeks after I sent in the impressions — which seemed like a fairly quick turnaround. With trays in hand, I got to work with the whitening. That process goes like this:
Brush your teeth with water only.
Apply a line of whitening gel to the inside of the custom tray. The gel comes packaged in a syringe-like container, so it's easy to get it into the tray. Simply point the syringe into the tray and push gently on the plunger. I only used about a third of a syringe for each application.
Pop those trays in your mouth and let the whitening begin. You can coat your gums with coconut oil first if you're worried about sensitivity. I did this a couple times, but mostly skipped that part.
Leave the trays in for at least 45 minutes. Smile Brilliant recommends whitening at night before you go to bed, but that schedule didn't really work for me as I tend to eat dinner pretty late. I settled in to whitening in the afternoons (working from home has its advantages), when I could leave the trays in for an hour and a half.
Follow with the de-sensitizing gel for 15-20 minutes. Between the whitening and de-sensitizing steps, I'd brush my teeth with toothpaste, and clean and dry the trays. Then, the de-sensitizing gel goes into the trays, and the trays go back in your mouth.
Take out the trays, spit out the gel, and wait at least 30 minutes before eating or drinking.
Smile Brilliant results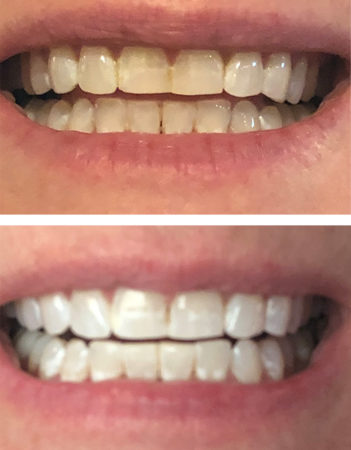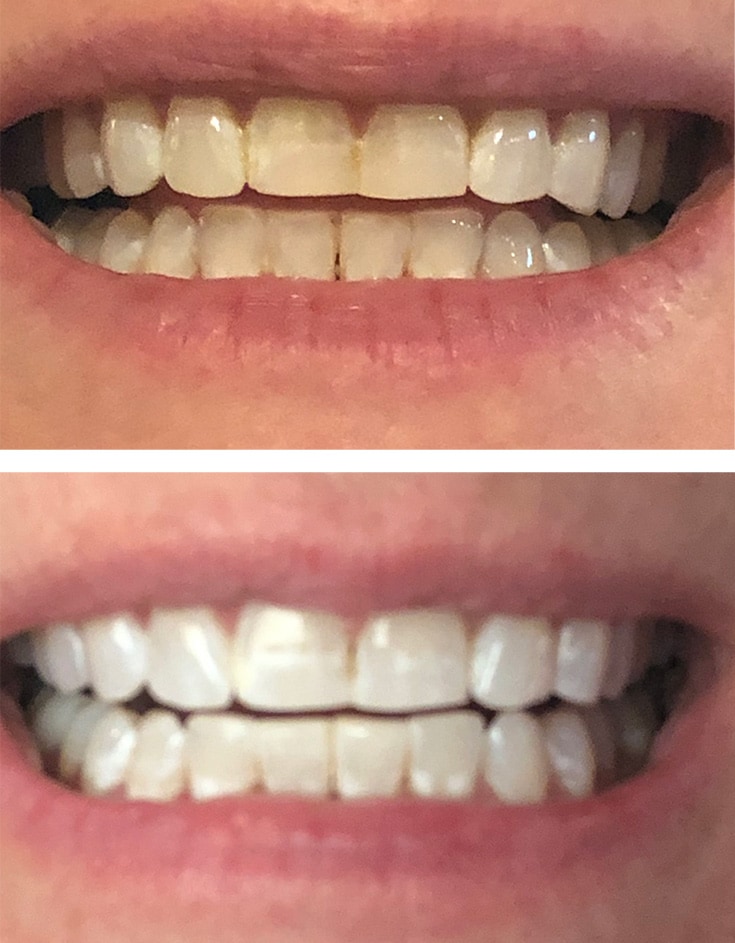 So, does Smile Brilliant actually whiten teeth? In my case, yes. I saw a noticeable difference after one use. And then my teeth got whiter with every application.
Overall, Smile Brilliant exceeded my expectations — particularly because I took some, well, shortcuts. I didn't whiten every day, I didn't whiten at night just before bed, and I definitely didn't give up coffee and wine.
I ended up whitening three or four times a week for three weeks before taking the "after" picture above. I also drank my fav beverages through a straw, and whenever possible, brushed my teeth immediately after.
Smile Brilliant pros
The whitener works. I saw a difference after the first use.
You don't have to go to the dentist, which is awesome.
The impressions for your trays are easy to make / hard to screw up.
The trays themselves are made of a pliable material, so they're comfortable to wear.
You may snack less — when I did my whitening at night, I would forgo any after-dinner sweet treats.
The Smile Brilliant team does a great job keeping you updated on the status of your order and your trays.
You'll pay much less for a Smile Brilliant kit ($149+) than you would for a kit from your dentist.
Smile Brilliant cons
Whitening takes time. Each session should be at least 45 minutes, and then you follow up with 15-20 minutes of the de-sensitizing gel. And then, you can't each or drink for at least 30 minutes.
Keeping a tray in your mouth for 45+ minutes produces a lot of saliva. I kept a paper cup handy for spitting.
You may have discomfort if you have sensitive teeth. Try applying coconut oil on your gums before whitening, and that should help.
You'll pay more for Smile Brilliant ($149+) than you would for, say, white strips. But then, the results are much better in my opinion.
Smile Brilliant at-home teeth whitening kits start at $139, and that includes your trays and nine whitening applications. If you're worried about sensitivity, try the $149 kit which also contains de-sensitizing gel. Save 15% with coupon code budgetfashionista15.
And, you do get to keep those trays, so you can always restock on the whitening and/or the de-sensitizing gel. That's my plan for keeping my teeth 'Smile Brilliant' white in the future.
Do you have questions about this Smile Brilliant review? Let us know in the comments!
Professional Teeth Whitening