While sunscreen should be the most important step in your daily beauty regime, if your complexion is acne prone you may hesitate in applying the heavy cream. What's considered to be the number one reason for healthy skin is also the number one cause for breakouts!
Thankfully, many brands have reworked their greasy SPFs into something lighter, and less likely to give zits. What a relief! Because healthy skin should be a non-negotiable.
Aveeno Active Naturals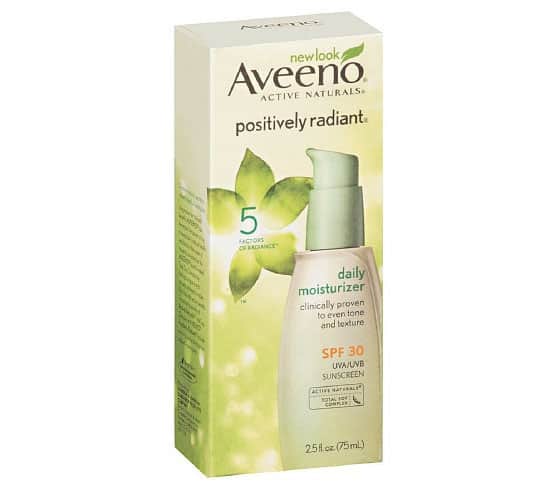 With both UVA and UVB protection, Aveeno Active Naturals Positively Radiant Daily Moisturizer SPF 15 works triple duty. It provides SPF, moisturizes, and gives great coverage to even out your skin. No matter what sunscreen you buy, reapply after a couple hours in the sun, and always wash it off at night!
California Baby Super Sensitive
Minimize irritation by sticking to simple ingredients in your facial sun cream. Try California Baby Sunscreen Lotion, and treat your sensitive skin like a baby — literally.
Cetaphil
Dermatologist recommended, Cetaphil Oil Control moisturizer SPF 50 goes on smooth under your make up, and is sheer enough for daily use. It's an awesome way to start your day!
Clinique City Block Sheer
Though a bit less in the SPF department, Clinique's City Block Sheer Oil-Free Moisturizer is a great option for those days when sun exposure is limited.
Neutrogena Clear Face
To keep breakouts away, choose a sunscreen targeted for the face. Look for labels that read non-comediogenic (translation: won't clog pores) and oil-free. Neutrogena's Clear Face Break-Out Free feels like a moisturizer, and absorbs quickly without leaving greasy residue.
Readers, what are your favorite brands for facial sunscreens? Tell us in the comments!
Get more Budget Fashionista