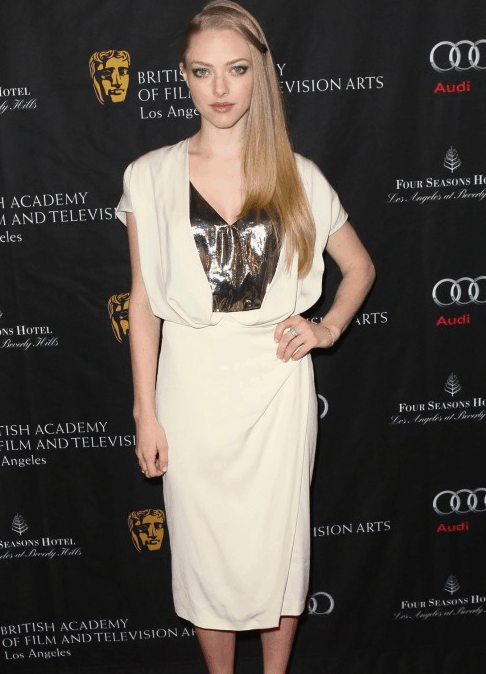 We've loved Amanda Seyfried ever since she first shared her gift of "ESPN" with Lindsay Lohan in Mean Girls. The multi-talented actress (did you know she writes songs?) has exploded into the limelight since then, taking on starring roles in blockbuster hits and best-dressed lists alike. We don't know her secret for stardom, but we do know her secret for dressing the part. Read on to see no one can get enough of Amanda and her style.
Get Amanda Seyfried's Style
Stick to what works
Credits: Jon Furniss/WireImage, Humberto Carreno/Startraks, Evan Agostini/MTV/PictureGroup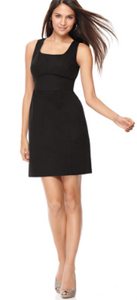 When you've got a head of hair like Amanda, you don't have to go over-the-top with your dresses in order to get attention. In fact, it's sometimes best for her just to stick with basic black, as the dark hue is perfect for offsetting her golden locks and fair skin. Have similar features? Perfect. Then black is the hue for you.

ABG Squareneck Sheath, $28, Macy's
Form, function and fun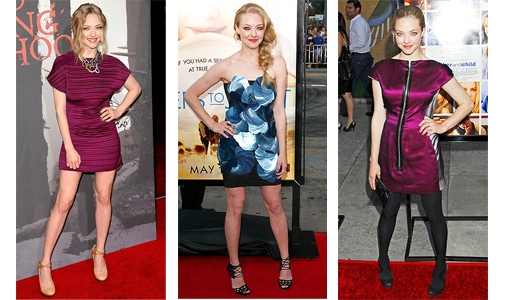 Credits: Jason Merritt/Getty, Juan Rico/Fame, Russ Einhorn/Splash News Online
Amanda loves basic black, but she knows how to have fun with her clothes to. Still, when she steps out in an eye-catching number, there's a reason for it– besides the fact that it looks pretty. Blue frills on a fun mini bring out her baby blues, while a long zipper in the front of a dress (which, actually, she's wearing backwards) elongate her slim frame. Take a cue from Amanda and have fun with features that accentuate your own.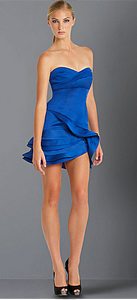 BCBG Max Azria Ruffle Dress, $155, Lord & Taylor
Make a statement with pants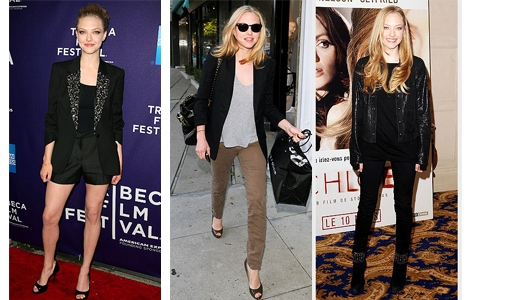 Credit: Amanda Schwab/Startraks, Jean Baptiste Lacroix/WireImage, Dominique Charriau/WireImage
Too many celebs her age are making headlines for not wearing pants at all, so we applaud Amanda for going the other direction and turning heads in chic pants and shorts. When it's time to dress up, you don't actually have to put on a dress. Do something a little daring and mimic Amanda's hot jacket and pants combos.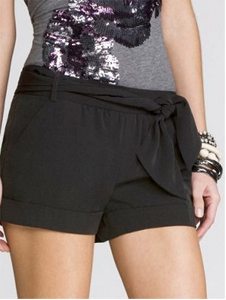 Belted Shorts, $60, Express
Play Peek-a-boo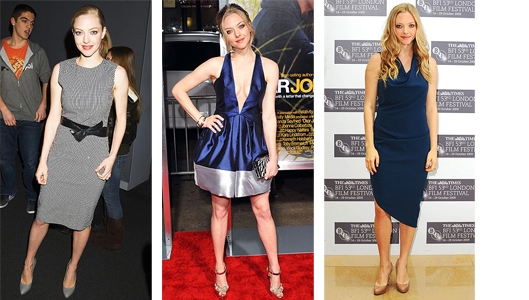 Credits: Justin Campbell/BuzzFoto/FilmMagic, Jon Kopaloff/FilmMagic, Doug Peters/EMPICS Entertainment/ABACA
Newsflash: It may be your best feature, but you don't have to show it off all the time. We can grow so tired of seeing celebs always drawing attention to their butts in bandage dresses, or their cleavage in plunging numbers. Amanda's proud of her big bust, but she knows it's a lot more appealing when she doesn't put it on display every time she steps out. Whatever your favorite asset it, cover it up on occasion. That will, it will be much more impressive when you show it off.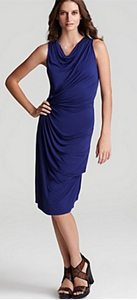 Nola Z Sheath Dress, Bloomingdale's, $108
Forget jewelry. Make your pet your accessory.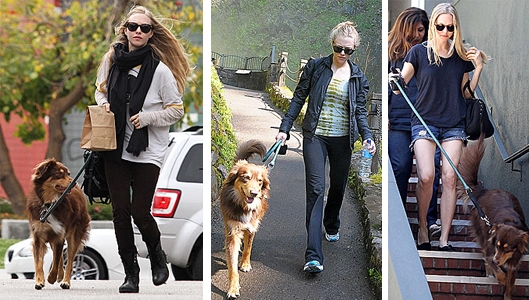 Credits: INF, Jonathan Friolo/National Photo Group, WENN
No toy togs for Amanda Seyfried. She's always getting snapped by the paparazzi with her big dog, Finn,and we love it because it shows off a side of her that people might not otherwise know. If you love your pet, why not take him around with you? Not only will you get a workout, but you'll give onlookers a peek at your playful, loving side.
Need some more celebrity inspiration? Check out why we love Kris Jenner's style.
Want to incorporate some celebrity style into your wardrobe? Take a look at Red Carpet Dresses Under $100.