Our content contains affiliate links, so know that we might earn a buck or two if you click and buy :) !
Reading time: 4 min. Overview: 5 budget gift ideas that involve BOGO, GWP or loyalty rewards offers.
I'm laying down a budget fashion challenge, and I hope you'll accept it. This year, stretch your holiday shopping dollars as far as possible by strategically working Buy One Get One (BOGO), Gift with Purchase (GWP) and Loyalty Rewards Points offers. By strategically, I mean using these holiday shopping offers to save you money (vs. using them to collect some free stuff that you don't really need). I'll share some inspiration to get you started, with my top five budget gift ideas below.
How to Use BOGO and GWP
You can work the BOGO and GWP offers in two ways:
Buy strategically and end up with two gifts for the price of one.
Keep the freebie for yourself only if it's something you would have bought anyway.
About Those Loyalty Points
Loyalty rewards points take a little more creativity to work in your favor, simply because it takes time to accrue points. My strategy is to earn the points this season, and then use them for holidays and birthdays next year. This works out well with three caveats:
Know the expiration and redemption rules of your points program.
Don't get spread too thin. It's tough to earn points in five different programs at once. Consolidate your purchases as much as possible so you're earning max points in one or two programs.
Be organized. It's easy to forget that you have $50 worth of points sitting in an account somewhere.
Now, for a little shopping inspiration, here are my five picks for the best budget gift ideas.
5 Budget Gift Ideas
1. Spa Week Gift Card (12% Off + 2x Points)
Buy it for: mothers-in-law, sisters, aunts, besties
Gift cards are a lovely choice for fashionistas who tend to be picky and want to buy their own things. The downside of a gift card is the recipient knows exactly what you spent — unless you get a discount off the card's face value. That's why the Spa Week Gift Card is my top budget gift pick with this deal: Save 12% off + 2X MyWellnessRewards Points! Use Code: BLOG2X
On top of that savings, you also earn 2x loyalty points in Spa Week's My Wellness Reward Points Program. Note that you can also rack up points for connecting with Spa Week on social media and other activities, besides just buying stuff. Points earned are worth about 1 penny each, and you can redeem them for more gift cards, plus other products and perks.
2. Urban Decay Naked Basics + 2 Freebies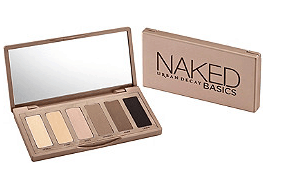 Buy it for: friends, sisters and cousins
The golden rule of buying makeup for someone else is to stick with a neutral color palette. Urban Decay's Naked Basics is just that, a set of eye shadows in tones that women are forever restocking.
I love Urban Decay product for the colors and the ease of application. But this set makes my list because when you buy it at Ulta Beauty, you also get two freebies that are makeup-bag essentials: mascara and Urban Decay's version of a BB cream. I do buy mascara and BB cream on the regular, so I'd save some cash by keeping these freebies for myself. This offer ends on Nov. 17.
3. Sally Beauty Free Tote
Buy it for: coworkers and friends
Between now and Nov. 30, you can get a free tote bag (normally $30) from Sally Beauty when you buy three full-size hair care products. I would buy the three products for me and then give away the tote bag to a coworker, or use it to make a custom grab bag for a good friend.
The three products I put in my cart were: Strength 'n Silk Coconut Heat Protection Spray for $8.99, Volume Renewing Dry Shampoo for $7.49 and So Gorgeous Volumizing Root Mouse for $8.79. These are all things I could use for myself or as gifts for my daughters and nieces.
4. Benefit Gift Set + Free Primer & Highlighter Set
Benefit packaging is super fun and colorful! And that, IMHO, enhances the gift-opening experience. Through Dec. 1, you can Get a FREE mini primer + highlighter trio set with orders over $60. Use code GALSTRIO. Those sets can be great stocking stuffers or gifts for teenage daughters and nieces. To get over the $60 hurdle, I like the Kissy Missy Lip Set for $26 and the custom kits starting at $55.
5. MAC Brush Set + Free Samples
Every fashionista needs a fresh set of tools. The Nutcracker Sweet Basic Brush Kit is a travel-friendly set of five makeup brushes, ideal for everyday application. With this purchase of $52.50, you'll also get a cosmetics bag with 1 oz. each of Pro Eye Makeup Remover and Prep + Prime Fix + Finishing Mist. That adds up to around $50 for two gift-able kits from MAC— which counts as a pretty nice deal.
Have you run across any BOGO or GWP offers that are too enticing to pass up? Share in the comments!