We don't know about you, but every time a new year rolls around, we feel the need to change our hair. This might include new highlights or a different haircut. Either way, we just love a fun change and something about the new year always inspires us to make it. It can't be just us, so if you're searching for some of the top hair trends for the upcoming year, look no further than the looks gathered below.
Top Hair Trends for 2012
Go Old School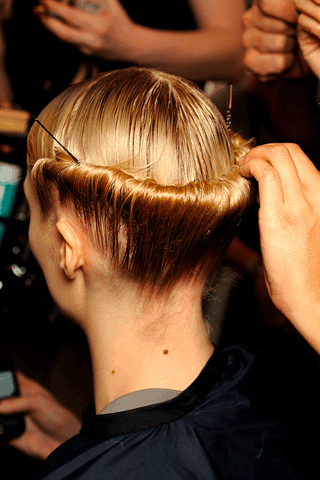 Many retro hair styles popular in the 50's and 60's are coming back, from beehives to several looks involving rolled hair. There have even been a few frizzy, crimped hair photos popping up in magazines.
To get in on this retro style, break out the hot rollers in the morning, utilizing a generous amount of hairspray while you roll so that it stays up all day. When you take your rollers out, grab small curls from the front and pin with bobby pins to the back of your head.
The goal is to keep your hair looking full but styled and tidy at the same time. If there's one thing the 1950's women did right, it's that their hair and overall style was always picture perfect.
Hats and Scarves
Wrapping scarves and wearing hats are hot trends this season. Give it a try by purchasing an inexpensive scarf and wrapping it around your head like a headband while your hair is down. You probably have one friend that loves to wear hats and you think you'd never pull it off as cute as she does. But, trust us. You can, and you should.
Slicked Back Hair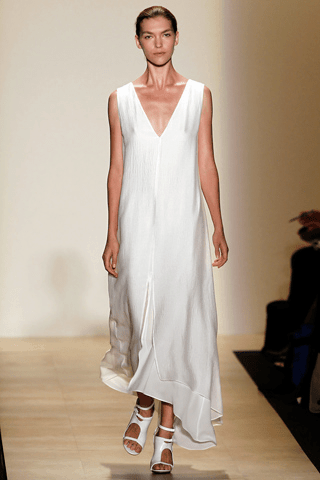 Several fashion designers for 2012 presented their models with this slicked back hair look. On many, it almost appeared as if their hair was slightly wet. To achieve this look for more day to day fashion, use a fine comb and pull your hair back to a high ponytail.
If you have bangs, pin them back with bobby pins. Spritz with an inexpensive gloss spray. This will give your hair a sheen but will also mimic the slightly damp look seen on the runways.
Center Part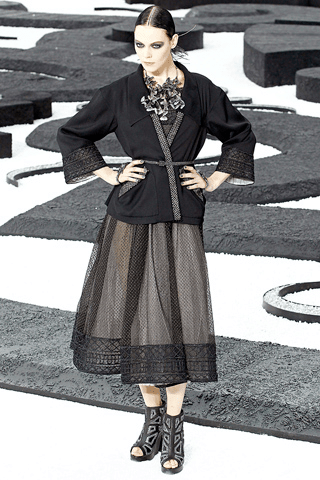 If Chanel does it, then it must be so. The center part is back. Pair it with the slick back trend and you have a very classic, professional new look to wear to work.
One thing to remember is to keep your roots touched up regularly if you color your hair, as the center part is always more revealing than a side part.
Loose Braids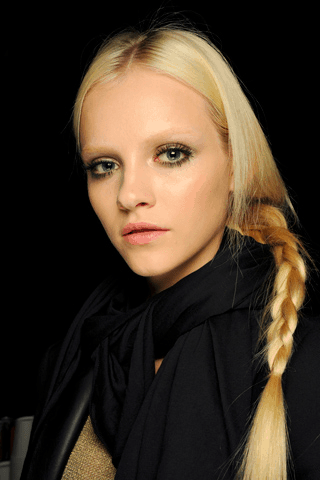 Braids are such an easy and quick way to dress up your hair if you are in a rush. One of our favorite styles for 2012 is to braid your hair at the nape of your neck, curving it to one side as you braid, and wearing it over your shoulder during the day.
For short hair, try parting it on the side, braiding a small section in the front, and pinning it back.
Foam Coloring Products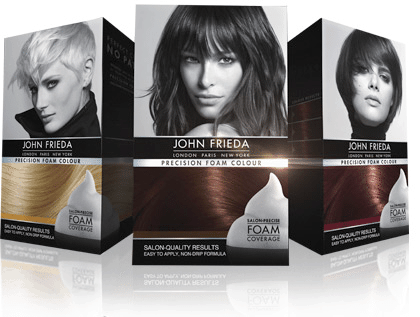 Rounding out the top hair trends for 2012, it would only be fair to mention a cool new product. For all of you budget conscious beauty lovers out there who dye their own hair, behold foam hair dye.
These new products will be hitting the scene in 2012. For now JohnFrieda.com and a few other well-known brands are among the first to offer these products. You don't have to make a mess with hair dye anymore. The foam technology makes the dyeing process neat and clean with similar results.
Get more Budget Fashionista