One of our greatest pleasures in life is fashion (obviously). The innovations, inspirations, intricate creations of fashion designers..we love it all. Another amour? Great cinema!
We love being transported to another time, another world or just someone else's life for a few hours. So, (and we can bet you know where we're going with this, assuming the title hasn't given us away!) we compiled a list of ten of our favorite fashion movies.

Top Ten Great Fashion Movies!
1. The Devil Wears Prada – Costume designer Patricia Field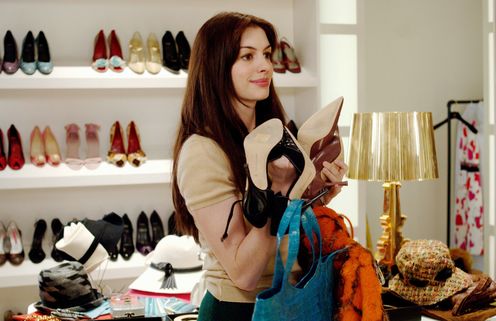 We know it, we love it, we've read the book and seen the film (some of us countless times), and though it has permanently instilled the fear of — ahem — Miranda Priestly a.k.a. we-all-know-who in us, it cannot be disputed that this is one of the best fashion films to come out in the last ten years.
Meryl Streep's "blue sweater" monologue (you know the one) is pure cinematic and screen writing genius, and may be the best scene in the movie. That is all.
2. Annie Hall – Costume designer Ruth Morley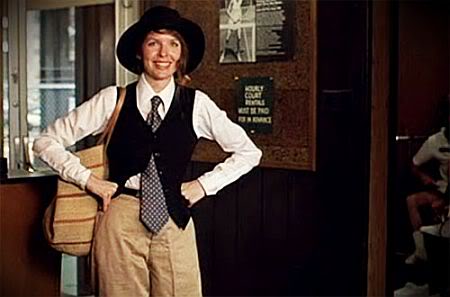 We bet Woody Allen would be surprised to find one of his movies on a list of fashion films, but it's thanks to the divine Diane Keaton that Annie Hall makes the cut. It is clear that she brought her personal style to this now classic, if not initially unorthodox, love story.
And it's Woody's (and costume designer Ruth Morley's) genius in giving her room to do so that has made it one very fashionable film.
3. Breakfast at Tiffany's — Costume designer Edith Head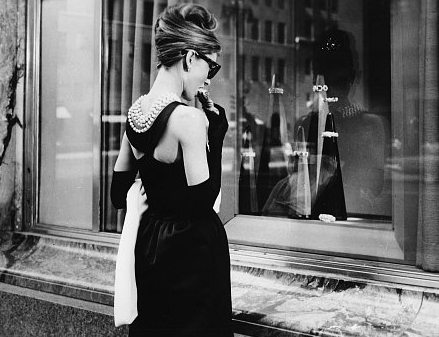 No list of fashion films could possibly be complete without "Breakfast at Tiffany's." Perhaps the most remarkable thing about this film is that its fashion continues to be emulated today.
Over half a decade later, women are still sporting dark-lensed, black framed sunglassses, liquid-lined cat-eyes and, possibly the most recognizable image from the film, the Givenchy created Little Black Dress. Even Audrey's haute hair style is still much sought after.
4. Desperately Seeking Susan — Costume designer Santo Loquasto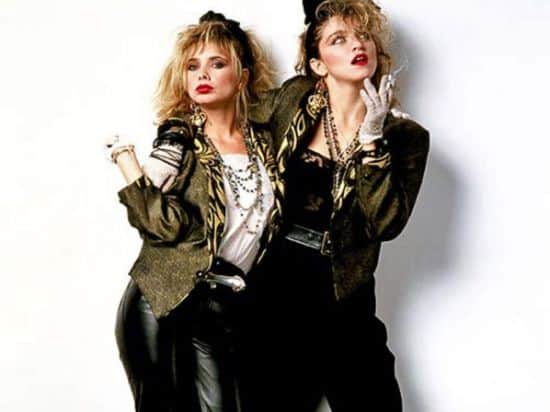 Securing her place as a fashion icon, Madonna showed off her personal style in this classic 80's flick. And it wasn't just Rosanna Arquette's character who was desperate to dress like the Material Girl.
The release of this film saw women and girls from all parts of the globe sporting fingerless gloves, rubber bracelets, and "Boy Toy" belt buckles.
5. The September Issue — (documentary; costume designer N/A)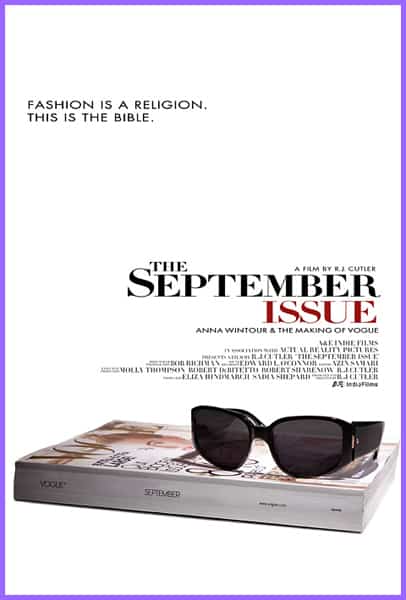 A once in a lifetime inside look into three of the industry's icons: Vogue, Anna Wintour and the assembling of the all-important Vogue September issue – the biggest (literally and figuratively) magazine issue of the year for all fashion publications.
This film is in a class of its own because of the access it gives mere mortals like us into the world of Ms. Wintour and all things Vogue.
6. Bonnie & Clyde — Costume designer Theadora Van Runkle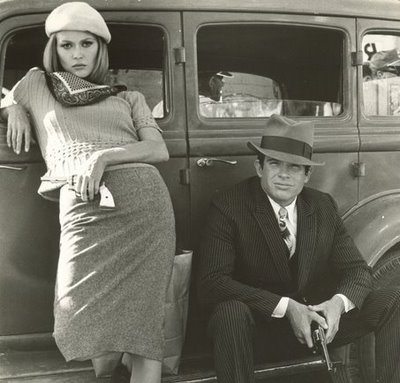 The beret! The scarf! The pearl-handled revolver! Faye Dunaway, gorgeous as ever, catapulted to fashion icon status with the release of Bonnie & Clyde in 1967. The combination of her pencil skirts and short sleeve sweaters with silk blouses and berets gave Bonnie the perfect juxtaposition of a (very) bad girl in good girl's clothing.
7. Clueless — Costume designer Mona May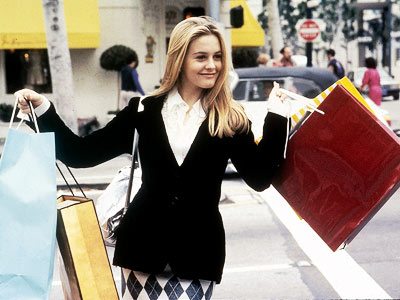 The skirts were short, the socks were over-the-knees and the computer program that mixed and matched Cher's wardrobe was enviable! Goodness knows we have had many a day when, after the pain of the morning alarm clock wears off, we would have loved to have a computer choose our outfit for us! Plus, Cher's line about her party clothes being "too binding" is priceless (and all too relatable!).
8. Pretty Woman — Costume designer Marilyn Vance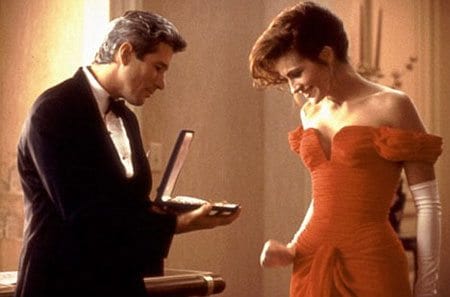 Like Audrey's LBD, the red gown and white gloves worn by Julia Roberts in Pretty Woman have become iconic and synonymous with this classic film. Not to mention one of the best fashion film montages accompanied by the oh-so-fitting "Pretty Woman" by the legendary Roy Orbison and the unforgettable and glorious "I have to go shopping now" scene (after Julia's character Vivian is initially turned away by snooty shopgirls).
Who was it that said looking good is the best revenge?
9. Scarface — Costume designer Patricia Norris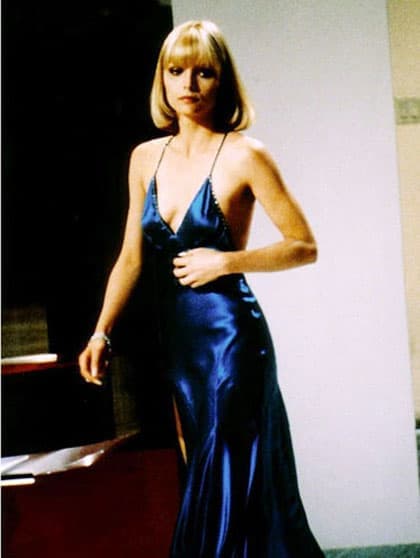 With her relentlessly plunging necklines, perfectly banged bob and shiny red lips, Michelle Pfeiffer's Elvira Hancock has style for miles. Still referenced today in magazine spreads and by celebs alike (remember Rihanna's red carpet look from this year's Grammys?), the character's entire look is glamorous and chic, with an edge.
The movie may be a titch on the violent side, but it's Elvira's ensembles that are truly killer.
10. Sex and the City — Costume designer Patricia Field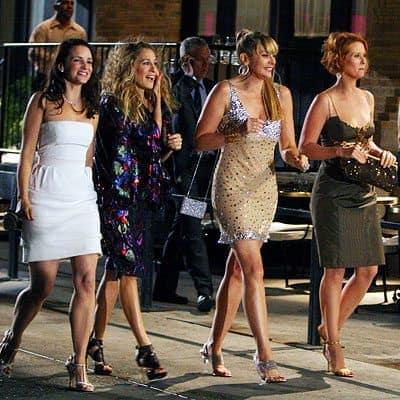 It's no surprise that after its reign as the most fashionable show on television, that SatC the Movie would be assured a place on this list. We tuned in to the TV show so we could see not only what was happening in their love lives, but even more so to see what the girls would be wearing.
SatC was fashion forward and inspired many a trend, from the nameplate necklace, to the oversized flower pins to the never-ending parade of luxury shoes; we loved them all (even when we hated them). And when the fab four hit the big screen, we were there to see every dress, every accessory, and every dshoe. Natch.
BONUS – 11. Pret-a-Porter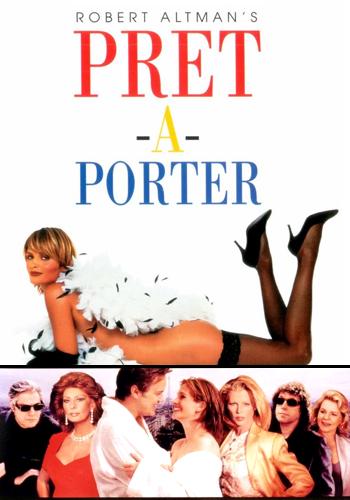 Costume designer Catherine Leterrier with Jean-Paul Gaultier, Sonia Rykiel, Christian Lacroix, Thierry Mugler, Robert Altman's foray into the world of fashion may have struck some people as a little too avant garde, but there's no question that this is one of the great movies about the industry. Smart and at times irreverent, it is a look at fashion through the eyes of one of cinema's all-time great directors.
Though some may consider "Breakfast at Tiffany's" to be the quintessential fashion film, we think that, like most great collections of any art form, all these movies offer us such great fashion moments as a collective, as opposed to one being the clear ultimate fashion film. Like fashion itself, all these films feed off each other, the older ones inspiring the newer ones and the newer ones showcasing the older ones in a new light, from a modernized perspective.
So, why not get your friends together for a fashion film festival? Your closet (and quite possibly your soul) will thank you!