We love ooh-ing and ahh-ing at all the fabulous ladies walking the Red Carpet, but critiquing celebrity fashion? It's also a tough, tough job. Yup, that's right. It's tough sipping on homemade cocktails and channeling our best Joan Rivers (Minus the gratuitous botox.) at the Academy Awards. Kidding aside, it does pain us to put some of our fave ladies on the Fashion FAIL list, but someone's gotta do it, right? We love ya gals, but please, it's the Oscars. Find a better stylist next time.

8 Fashion Flops at the Academy Awards
Melissa McCarthy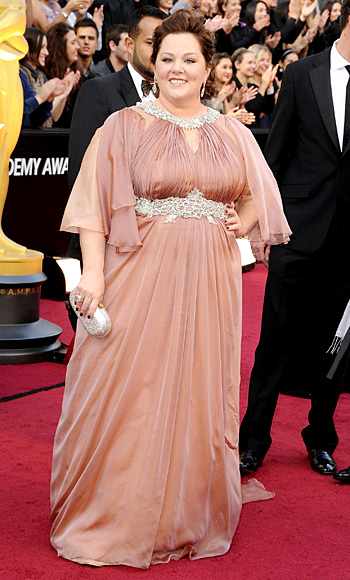 Source: Steve Granitz/WireImage
Oh, the pain and agony! We hate, hate to do this because we love, love her, but we weren't feeling Melissa's dress… at all! There's just too much going on (and not in a good way) in this custom Marina Rinaldi gown, and the dress totally eclipses the fabulousness of Melissa McCarthy.