E is for Embracing texture – Like deconstructed shapes, playing with texture is another marvy way to update your work wardrobe. Wear a lace skirt with a silk blouse and leather blazer. Or how about wool trousers with a chiffon top and a silk blend cardi? Better yet, a suit that's mostly wool with leather accents? Ruffles, when worn in moderation, are another great way to texturize your ensembles. The possibilities are endless, and this is a great option if color just isn't your thing.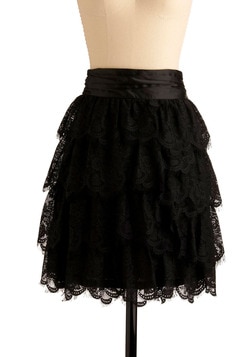 Black lace ruffled skirt $69.99 from Modcloth
Just because you're required to wear formal work attire, or even business casual, doesn't mean you have to wear the same old uniform. Implement these ABC's and up your pizazz quotient; you might just find Friday rolling around sooner than you expected.