With fall right around the corner, there's no better time to assess your wardrobe and decide what clothes you can donate this season. We recommend donating clothes that (be honest with yourself) no longer fit, aren't in style, or clothes that you simply never wear (regardless of how much you paid for them!) If you have trouble deciding what to donate, here's some tips.
How to Donate Clothes
If You Haven't Worn it in the Past 3 Years Let it Go.
Yes, we know that you're going to loose those 3 pounds, but you haven't lost it yet. Rather than beating yourself up over weight, let the piece go and focus on dressing for the wonderful person you are at THIS point in your life.
Use the Tailor Ratio
The Tailor ratio helps you to decide whether or not an item is worth getting fixed. The ratio is simple: Divide the cost of the repair or alteration by the number of times you wear the items in a given time period (usually a month or year is a good measurement).
Tailor Ratio= Cost of Repair/# Times you Wear it
So, if it costs $20 to alter and items and you wear it 20 times per year, your Tailor ratio is 1. If you wear it 40 times a year, your tailor ratio is .5. You always want to shoot for a tailor ratio below 1. If the tailor ratio is above 1 for an non-special occasion item, then let it go.
Do Not Donate your Garbage
If you would use it for a rag, do NOT donate it. Not only is it insulting (seriously what does it say about you that you would give someone your garbage as a gift), but real life people have to shift through these items and possibly touch your icky stuff. If you wouldn't want to touch it, then throw it directly in the garbage.
Where to Donate Clothes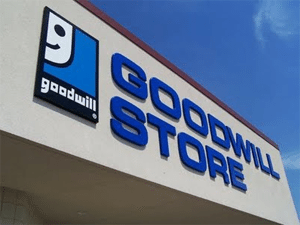 After you've spent some time deciding what can be donated, please consider these excellent organizations to give your belongings to.
Dress For Success
Dress For Success is an amazing international non-profit group that helps disadvantaged women gain meaningful employment. That skirt, blouse, or blazer in the back of your closet could help someone else get their next job.
The Women's Alliance 
The Women's Alliance is another organization that focuses on helping women gain employment. They ask for monetary donations as well as used office attire that they pass on to women who will be interviewing for positions. You can find a participating Women's Alliance non-profit organization near you by going to their website.
Vietnam Veterans of America 
The Vietnam Veterans of America collects clothes for all veterans and their families, especially homeless, disabled, and minority veterans. Not only are you donating to men and women who have given so much to our country, the organization comes to your home and pick up your donation.
Career Gear 
Convince the men in your life to part with some of their old work clothes. Similar to the organizations that focus on women mentioned above, Career Gear provides business suits to men who are interviewing for gainful employment. Once you donate your man's old suit, Career Gear donates it to someone else along with interview coaching sessions to help them get the jobs they need.
Goodwill 
For years people have been donating their old clothes to Goodwill. Almost every community in America has one with many cities having convenient drive thru drop off service. In 2010 alone, the clothes donated to Goodwill helped employ 2.4 million people around the world, with a focus on people with a variety of physical and mental challenges.
Salvation Army
The Salvation Army (aka "Sally's boutique") operates thrift stores in a large number of US cities (and abroad as well. Kathryn once shopped a Salvation Army in Denmark). Donations to the thrift store help support the christian based organization's services such as support and counseling for those suffering from addictions, homelessness, and other social issues.